Krakow boasts a rich history, stunning architecture, and a charming atmosphere. But the city's appeal extends beyond its sights and sounds to its vibrant culinary scene.
In this blog post, we'll explore three of Krakow's coolest (traditional and non-traditional) restaurants: Morskie Oko, Veganic, and Sakana Sushi & Sticks.
Lets go!
Morskie Oko – A Rustic Polish Experience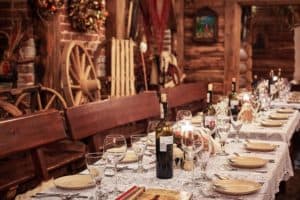 Morskie Oko is a rustic restaurant located in the heart of Krakow's old town. As you enter the restaurant, you'll feel like you've stepped back in time to a traditional Polish home. The decor is a mix of wooden beams, brick walls, and antique furniture. The restaurant's name translates to "Sea Eye," and it's named after a stunning lake in the Tatra Mountains.
Morskie Oko serves traditional Polish cuisine, and their pierogi are a must-try. These dumplings are stuffed with various fillings, such as cheese and potatoes, sauerkraut and mushrooms, or meat. The restaurant's menu also features a range of hearty soups, stews, and grilled meats. The portions are generous, and the prices are reasonable.
If you're like us and love to explore places with amazing traditional food experiences, be sure to check out our list of  '8 Must Try Traditional Naples Foods'.
Veganic – A Plant-Based Heaven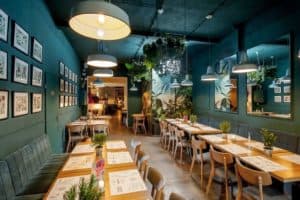 If you're a vegan or vegetarian, you don't have to miss out on the culinary delights of Krakow. Veganic is a plant-based restaurant that serves delicious food without any animal products. The restaurant's mission is to provide a healthy and sustainable dining experience for everyone.
Veganic's menu features a range of vegan dishes that are bursting with flavor. Some of the highlights include their vegan burgers, falafel wraps, and quinoa bowls. The restaurant also offers vegan versions of traditional Polish dishes, such as pierogi and potato pancakes. For dessert, try their vegan chocolate cake or cheesecake. The restaurant's decor is modern and minimalist, with plenty of natural light and greenery.
Also, if you're a fan of both travelling and vegan food, don't forget to check our blog posts on "9 Restaurants for Vegetarians and Vegans in New York!" or "Vegan Paradise in the Heart of Bangkok".
Sakana Sushi & Sticks – Sushi in Krakow? Why not?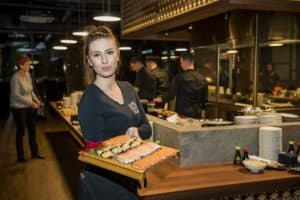 If you're a fan of Japanese cuisine, you'll love Sakana Sushi & Sticks. This restaurant serves a range of sushi rolls, sashimi, and grilled skewers. The menu is extensive, with plenty of options for meat-eaters, vegetarians, and pescatarians.
The restaurant's decor is sleek and modern, with wooden panels and dim lighting. The atmosphere is relaxed, and the staff are friendly and knowledgeable. Some of the must-try dishes at Sakana include their spicy tuna roll, salmon sashimi, and chicken teriyaki skewers. They also have a range of vegetarian and vegan options, such as avocado rolls and grilled eggplant skewers.
In conclusion, when you travel, one of the best ways to experience a city's culture is through its culinary scene, and Krakow is no exception. While the city is known for its amazing traditional foods, there are also less obvious options that locals love, and visitors should definitely try!
Morskie Oko, Veganic, and Sakana Sushi & Sticks are just three of the coolest restaurants in Krakow that offer different experiences and showcase the city's diverse culinary offerings. Whether you're in the mood for traditional Polish cuisine, plant-based options, or Japanese delights, these restaurants have something for everyone.
Venturing beyond obvious and well-known restaurants can offer a fantastic opportunity to explore various aspects of the cities you visit. It allows you to uncover unique flavors, interact with locals, and experience a different side of the city. So, don't hesitate to step off the beaten path and sample some of the local hidden gems. You never know what delightful surprises await! If you find yourself in Krakow, make sure to add Morskie Oko, Veganic, and Sakana Sushi & Sticks to your must-try list!