Naples is a perfect city for foodies. To start you off, here are the eight traditional Neapolitan dishes you should try out when visiting this fantastic city!In the old Partenope, as they call it in Italian, an outsider could quickly feel like something might be missing from the pages of history. These buildings' unique architecture and design leave you stunned, not to mention the beautiful art pieces on every corner you turn to.It might be a perfect city for foodies because of the delicious pasta, but that would be a lie. The Italian cuisine here is always something new and tasty that you won't want to miss out on, and that's exactly what can be said about each of these eight traditional Neapolitan dishes.You should try them all when visiting Naples. Once you know what to look for, you won't be able to leave, indeed Italians love to say that a tourist coming to Naples is going to be crying twice: when they reach it for the first time and when they have to leave it.
Naples Food tours are a great way to get to understand what a great Food Tour is all about. You will be able to see local sights and taste some incredible dishes.
8 Must Try Traditional Naples Foods
1. Pizza
Pizza is something you can find all over the world, but Naples is the place where it all began. You'll want to make sure you try out one of their famous pizzas when visiting this crazy city. An authentic Neapolitan pizza should be round, baked in a wood oven at 430 degrees and have specific ingredients on it. To get that authentic taste, you'll want to pay close attention to how the dough should be. You don't want to miss out on trying out pizza Margherita: it's the original pizza that Raffaele Esposito invented in 1889, in the Spanish Streets for the Queen Margherita.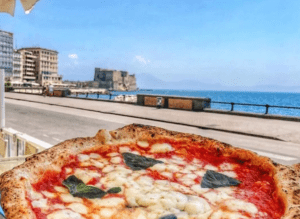 2. Minestrone napoletano
Minestrone is a soup. It's made up of vegetables and legumes, along with some small pasta. It's better if served warm; either way, it tastes delicious. You can also find some delightful variations of minestrone. Some examples are the Minestra maritata("Married Soup"), made up of green veggies and some special version of local broccolis. If you're looking for something healthy, you'll love this dish! While in Naples, try this soup to get a taste of what the locals would love to have on winter time, but remember: local winter might not really look like a winter to you!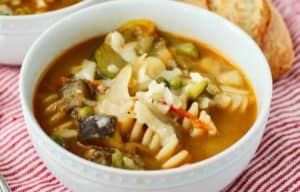 3. Ragù
Ragù Napoletano is one of the great dishes of the region, and perhaps encapsulates the spirit of Italian cooking better than any other. It takes time and love to prepare, with various cuts of meat carefully prepared in different ways before cooking in a rich tomato sauce for many, many hours, kept at the perfect, barely bubbling temperature. While we might associate meat ragùs with pasta alone, this one is actually designed to provide a multi-course meal in itself, with the sauce used to dressed pasta for primo, and the meat saved for slicing and serving as your secondo.
4. Buffalo Mozzarella
Mozzarella di Bufala from around the Campania region even has a DOP (Denominazione di Origine Protetta or Protected Designation of Origin) label, assuming that it's produced by one of the dairies belonging to the consortium that oversees the creation and promotion of the local product. So, unsure of what you had till reaching Naples, but, after trying the local mozzarella, you might feel like you've never really tried this product before!
The name mozzarella comes from the Italian verb mozzare, which means to cut off, the next step in the process after the silky cheese dough has been removed from the boiling water. Just as the taste of mozzarella hasn't changed much over the last 700 years, neither has the cheese's short shelf life: this dairy product is not even called cheese in Italian and it must be eaten within 48h from its production, which means? You've never tried a real mozzarella before going to Campania.
5. Pastiera
This is a traditional confection for Easter and Christmas in Naples and is made of wheat durum and ricotta cheese. It also contains candied citron, orange skin and some magical flower's water. Traditionally, it is done on Christmas Eve. If you're in Naples during this time, definitely add this delicious dish to your list! You can find a variety of Pastiera pastries all over the city – the most popular being the tiramisu rice cake. It has plenty of spices in it to give it an interesting flavour. It's not too sweet and would be great to have a warm drink with it. You can find this dish all over the city during Easter too. It's perfect for when you are visiting with family and friends, so you can share one: they are mostly quite big and the smaller versions do not seem as good as a slice of the big ones.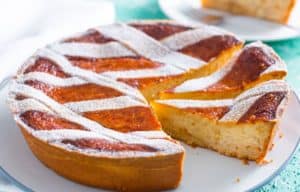 6. Mussel Soup
Mussels are one of the most popular seafood ever. Good and versatile when brought to the table they are always a great success. What we offer you is one of the classics of Neapolitan cuisine, the mussel soup. A few ingredients are enough to create a very tasty dish!
This typical Neapolitan dish has several variations, some of which are insanely tasty. For example, octopus, prawns and cuttlefish can be added to make it even richer and tastier, but the soup is excellent even like it is, in its exquisite simplicity. Local mussels are large and good. Very simple to make, it is full of taste. Neapolitans like to bring this soup to the table when mussels are in season and if you'll do it too, you won't be disappointed!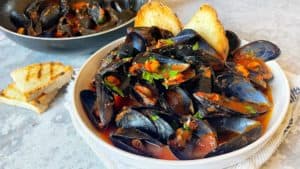 7. Frittatina napoletana
Frittatina di pasta (literally a Pasta Omelette) is a traditional starter served in many Neapolitan pizzerias, even right before the pizza itself, however it's also considered a "unique" dish that can be enjoyed for lunch or dinner. It's easy to learn how a traditional pasta omelette is made by using the required ingredients and useful tips and techniques. The filling is not as simple as you might believe by looking at a frittatina and it will surely surprise you and, above all? It'll easily fill you up. If you go to the big neapolitan beaches, you'll easily find neapolitans eating one of those during lunch time.
8. Casatiello
It is a kind of bread, but full of delicacies: it celebrates the end of lent, and each bite tells of the celebration of the rebirth of Christ. Historically, the use of milk, eggs and sheep cheese reflect the birth of Christ in the manger with the farm animals. The traditional way to prepare it is to top it with eggs that are secured with crosses of bread dough. Crosses clearly represting Christianity: you see, Casatiello napoletano was often prepared for La Pasquetta, or Easter Monday when Italians take to the countryside for picnics with friends and family. Everything people eat in this city is deeply connected with their culture: have a casatiello with a Neapolitan friend to truly understand why it is what it is!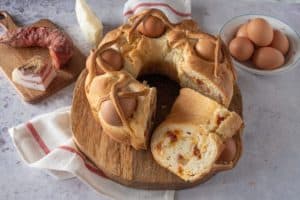 Naples is a city I love to visit. The people that live in Naples are some of the friendliest people arou. They never seem to have a bad word to say about anyone and are always willing to help you with anything about food. If you have never been or have been once or twice and didn't get around to experience all the fantastic dishes, now is the time!
I hope these 8 traditional foods you should try while in Naples will give you an idea of what you can eat around the city.
Remember that the weather in Naples is never that cold, especially if compared to the rest of Europe(not even in January)!
Naples' buildings are about 400 years old, with their roots leading back to the days of Verdi and Napoli F.C. It's hard to imagine that much history when you're just walking down the streets. However, as soon as you see a building standing there for so long and still standing proud, it hits you like a ton of bricks.
If you are heading north? We also offer Venice Food tours that will make your taste buds happy!