What is a British Traditional Sunday Roast?
Probably my favourite British food is the delicious Sunday Roast; a meal (as the name suggests) normally served on Sundays. The dish is made up of succulent meat with gravy (or nowadays there are vegetarian options), roasted potatoes, vegetables such as peas, carrots, parsnips, and Yorkshire Pudding (keep reading to find out what that is!).
Like all traditional British food it's a big hearty meal. It's our alternative to a Sunday Brunch. Normally we eat it with all the family at home or alternatively many also go to their local pub to eat there while enjoying some local beer or cider.
There are many different types of meats that we roast, the main ones are beef or chicken but it can also be any type of meat such as lamb, pork or even game such as duck.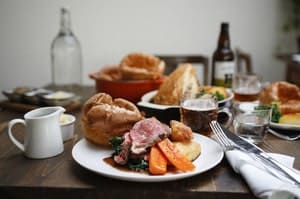 Its history dates way back to the reign of King Henry VII in 1485. Even back then the British used to consume a considerable amount of meat. So much so that the Royal guards, called Yeomen, have affectionately been known as "Beefeaters" since the 15th century. The original roasts would have been spit roasted with large parts of the cow cooked in one time, normally for about four hours. This was the easiest way to feed large households.
By the time of late 1700s during the industrial revolution, meat would become cheaper and affordable at least once a week for the majority. Just before Church, families would place a cut of meat into the oven and add in vegetables such as potatoes, turnips and parsnips so that when they came back it would be ready to eat. And today we are even more crazy about the Sunday Roast as ever, with over 60% of Britons eating it every Sunday.
One of the hardest things to describe in the Sunday Roast is the Yorkshire pudding. In the UK, puddings are not always sweet dishes and Yorkshire pudding is a British pastry made with flour, eggs, and milk. As its name suggests, it originated in the county of Yorkshire and nearly always comes with the roast. The perfect Yorkshire pudding should be soft, light and fluffy, as is perfect with lots of gravy.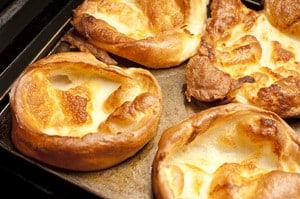 Other than gravy there are a number of other sauces that can be served with the roasts, depending on the type of meat eaten. For example, roast beef we serve English mustard (a hot, yellow sauce, much hotter than the French or American styles) or horseradish (a similarly hot sauce); with roast chicken we can have cranberry sauce; with roast lamb its mint sauce and roast pork is apple sauce.
So, if you are around in the UK and want to try this hearty and wholesome dish, we recommend you head to a quality pub on a Sunday, it's guaranteed they will be serving many people and you can just see what they are ordering and choose the same. In fact, there are even some pubs or restaurants that offer a 'carvery' meal instead, where the meals are served buffet style and you can choose between several different roasted meats (or have a little bit of all of them). Either way, make sure you have a few hours afterwards to digest and relax; afterall what are Sunday's meant for?