If you are vegetarian or vegan and you go to the USA for a vacation, New York City is clearly where you want to be at. As one of the world's most cosmopolitan cities, NYC offers plenty of choices for cruelty-free eating. Below is a list of 9 restaurants in the Big Apple that offer a well-rounded selection of vegetarian and vegan dishes to enjoy your stay in NYC.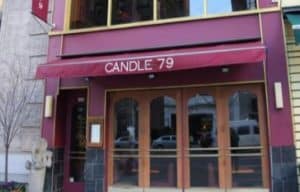 Candle 79
Candle 79 is a vegetarian venue located on the Upper East Side of Manhattan. It actually has two locations: one on Lexington Avenue and one on East 79th Street.
Candle 79 offers a wide selection of vegan, vegetarian, and gluten-free dishes, including salads, soups, pizzas, and pasta. The food is made from seasonal ingredients that are locally sourced whenever possible.
This restaurant is also known for its vegan desserts, made with fresh fruits, nuts and seeds. Many foodies say this is their favorite place to dine with friends because of its relaxing vibe.
The menu offers seasonal dishes that change with the seasons. The restaurant features dishes made with organic and locally sourced ingredients (whenever possible). Candle 79 has been voted one of the top vegetarian restaurants in the U.S. and one of the best restaurants in New York City. The restaurant has also received accolades from Secret Food Tours!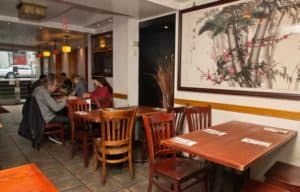 Red Bamboo
Red Bamboo is a restaurant in the East Village with a wide array of meat-free options, including red curry and veggie spring rolls. The restaurant also offers gluten- and soy-free options and many local beers, wines and cocktails.
They have an entirely vegetarian menu which includes appetizers like dumplings and spring rolls, soups, salads, and a variety of entrees: tofu, vegetables, rice and noodles will make your day. Red Bamboo also has vegan options for drinks and desserts.
The interior of the venue is mostly showing brick walls and wooden tables topped with candles; some booths are on one side of the room. They have a great atmosphere with dim lighting and a friendly staff that will make your experience enjoyable.
Check out our topic about the best vegetarian and vegan spots in-paris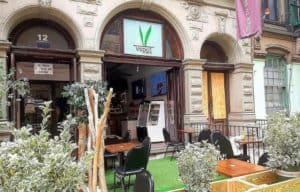 The V Spot
The V Spot is a vegan restaurant in New York City. It's pretty small, but it's filled with love and flavors. The menu changes daily, except for some staple dishes which are always available. You can also order from the raw bar, which offers oysters and clams in addition to sushi rolls.
The V Spot has a large menu, so you can order something different every time you go there. Their food is made from scratch, meaning it takes a little longer to prepare than some other restaurants on this list. But the wait is worth it because their food tastes amazing.
The V Spot has a small bar that serves cocktails and wine.
The area of St. Mark's Place in NYC's East Village pulses with life 24/7 and is full of tourists frequenting the many bars, shops and clubs, so the V Spot is a great place to seek refuge and enjoy a nice, healthy meal; for the same reason it's also great for a date night or small gatherings with friends. The restaurant sometimes hosts events like yoga classes and poetry readings. One thing to note is that this place can get crowded during peak hours due to its limited seating capacity; however, no worries, you can usually find an open table if you arrive early enough in the evening.
Check out our fantastic NYC Food Tour in Greenwich Village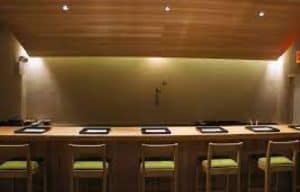 Kajitsu
Kajitsu is a Michelin-starred vegetarian restaurant in the East Village. The menu changes daily and is mostly made with locally sourced ingredients. Kajitsu accepts reservations for lunch too.
The menu slightly changes with each season, which means that the food is always fresh and delicious. There are many vegan options on the menu, including sushi rolls and vegetable dishes. Kajitsu also offers a nice selection of sake, beer, wine and cocktails to accompany your meal.
This restaurant is quite expensive, and the portions are not that big; however, it's an excellent place to take a date or if you have friends coming into town looking for a special dining experience.
The staff at Kajitsu has been trained to ensure enough variety on their menu to meet all dietary needs: they can make adjustments if needed, in order to accommodate everyone.
Léa
If you're looking for a delicious, plant-based meal and do not know what to do, just go at Léa Restaurant in New York City. This place serves some of the best food in New York City and has been recognized as one of the best places in the USA.
Léa is an upscale French restaurant that Chef Léa Linster opened on East Houston Street (just off Allen Street) and is open for lunch and dinner 7 days a week.
The atmosphere at Léa is very cozy and relaxed. They have a beautiful outdoor patio where you can enjoy your meal with friends or family. You can also try their delicious drinks at the bar inside their restaurant or outside on the patio. The vegetarian and vegan options are innumerable.
The menu offers an array of tasty dishes, including:
Salads
Soups
Sandwiches
Pasta
Pizzas
If you're feeling adventurous, try their daily special, which is always surprisingly good. Everything is made fresh daily, so no pre-cooked or frozen ingredients are used at this restaurant.
Léa's wine list is extensive, with many options to choose from by bottle or glass. Drinking at this place is highly recommended!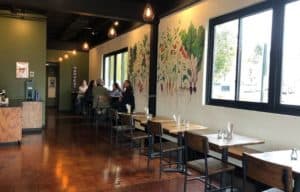 Grass Roots Kitchen & Tap Room
Grass Roots Kitchen & Tap Room is a vegetarian and vegan restaurant in New York City.
Grass Roots brings you the highest quality foods you love with the ease and speed of quick service, or what we like to call "fresh-casual."
. All the dishes are made from scratch, and no artificial ingredients are added. They also have a tap room(of course!) where you can enjoy craft beers from all over the world.
The menu at Grass Roots Kitchen & Tap Room changes with the seasons, so you can always expect new options to choose from. You will find everything from salads to burgers on their menu, as well as soups, sandwiches, and desserts too. They also offer gluten-free options so everyone can enjoy their delicious meals without worrying about whether they contain any allergens.
If you are looking for a healthy meal with no guilt, then this is the place to go.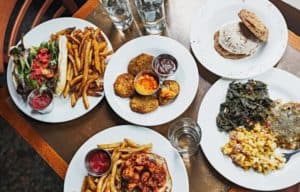 You can't beat the delicious food and beautiful scenery that's waiting for you on brooklyn food tour NYC
Seasoned Vegan
This counter-serve offers vegan dishes from organic ingredients prepared with global flavors.
They serve spicy Thai dishes and other types of Asian cuisine, made with fresh ingredients and always cooked to order.
Seasoned Vegan is pretty a great place to have a party or an event, as it can accommodate up to 70 people at any time!
Seasoned Vegan has been open for a number of years now and has been steadily gaining popularity among the vegan community in New York City. In addition to its vegetarian and vegan offerings, Seasoned Vegan also offers gluten-free meals and desserts that are free from dairy products and eggs.
Someone said that after the first bite of the po'boy with a special sauce, they regretted not ordering a second one!
The pizzas offered by Seasoned Vegan include vegetarian options such as tomato basil and vegan options like Thai peanut tofu pizza which consists of spinach, broccoli, carrots, bell peppers, and onions topped with Thai peanut sauce and served with organic whole wheat crust or gluten-free crust(on request).
Taco salads are also available on the menu, which consist of beans, rice and vegetables served over lettuce leaves with your choice of salsa topping or dressing while also offering classic Mexican dishes such as quesadillas, burritos and fajitas which can be either vegetarian or vegan upon request.
The vibe at Seasoned Vegan is relaxed and casual – you might feel like eating at your best friend's house.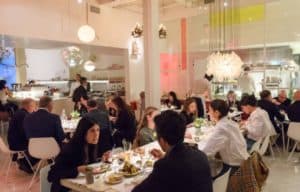 abcV
Vegan spot by Jean-Georges Vongerichten for seasonal plates, tonics & cocktails inside ABC Carpet, abcV has received much praise from New York Food Tours, who described the food as "food for the soul."
The menu at abcV offers an eclectic array of dishes, including many different types of vegetables and fruits that are grown locally. There are also plenty of meatless options for those who don't want to eat meat or fish. The restaurant's signature dish is a tofu steak with ginger soy glaze, served with romanesco cauliflower and celery root puree. The menu also includes several salads and soups, including a creamy gazpacho soup made with heirloom tomatoes and cucumbers.
The atmosphere is relaxed and casual. It's an amazing option if you are going to have dinner with friends or family members who may not be used to eating vegetarian food. The staff will help all the new green lovers to this type of cuisine, never feeling shy to show the whole menu till everyone finds something they like.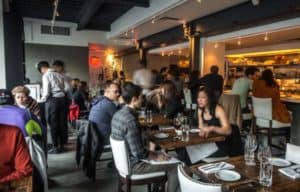 Dirt Candy
Dirt Candy is a restaurant located in New York City that serves vegetarian and vegan food. It was opened by Chef Amanda Cohen to great acclaim, with many customers coming back for more and more all the time. The menu changes daily, so there's no way to know what you'll get when you go. But it will be good, for sure!
Dirt Candy is one of those restaurants that has managed to make its way into the hearts and stomachs of New Yorkers. This venue focuses on vegetables and vegan cuisine, so if you're looking for something tasty and healthy, then this may be the place for you.
Dirt Candy isn't just a great place for vegetarians and vegans; it also serves as an excellent venue for people who want to eat healthier meals without sacrificing taste. The menu features dishes like sweet potato fries paired with garlic aioli or beet ravioli served with cashew cream sauce. These dishes are sure to satisfy even the pickiest eater.
One of the best things about living in a city like New York, which is known to have countless restaurants and food joints, is finding one that caters to specific diets.
While the choice of restaurants here could be overwhelming, most of them tend to cater to popular eating trends while maintaining a variety of options. But if you are vegetarian or vegan and want to know where you can find restaurants convenient to your needs, then the above list will be right up your alley. Each one offers a unique experience and something different for the dining table, guaranteed to please your life.