New York notoriously has a vibrant food scene with flavors from all across the globe. Between all the foods you can find in the Big Apple, the Indian one has surely greatly improved since the 90s.
The improved quality did not affect the pricing as much, you'd notice visiting the Indian buffets in almost every neighborhood in the city. Indians are surely very dedicated to their food culture. You can be sure you will be testing some of the most authentic flavors on your New York food tours.
Whether you want a casual stop or an elegant eatery serving up elevated and creative Indian fare, in NYC you won't be disappointed. But we love helping travellers from all over the globe, which is why, when you are ready to explore the tastiest restaurants around the city, these are the ones we think you should start with.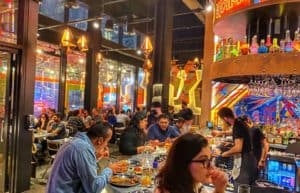 Dhamaka
Dhamaka is a very welcome addition to the Manhattan food scene. They serve delicious eats in a super colorful dining room. It's not surprising that getting into the eatery is quite hard, since the place is usually packed. They are happy to show locals the other side, or better, the forgotten side of India.
Their chefs have created recipes with foods that haven't made it across the oceans and borders. That's part of their charm because you can sit down and enjoy unique Indian flavors you nearly surely haven't tried yet. They have grills, bread and a variety of peculiar snacks, among other things. The bread is homemade, and the snacks are mostly inspired by street food.
One of their best sellers is goat biryani. But stay open-minded when you visit the restaurants and explore the wonderfully spicy menu. The interior display elevates the eatery, and you can see the colorful murals from the glass exterior which will make you feel dizzy.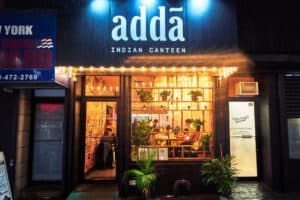 Adda
Adda means a place for people to hang out, and that's exactly what this unpretentious spot represents. This casual eatery was created in 2018. It has gorgeous mood lighting, and plenty of Indian newspapers cover one of the walls. However, it's their exemplary food that sets the scene.
Their menu includes foods and drinks inspired by Mumbai and other regions. They surely make all your favourite goat dishes. You can have a filling dinner with plenty of drinks without spending a fortune, which is always a great plus. Their biryani covered in the baked dough is one of the classics on the menu.
Bread and sides are carefully crafted, to ensure you have the best possible meal each time you visit. Beer and wine are available to pair with your meals. It is not a surprise that Adda has become a popular spot for Secret food tours. Reservations are recommended when you want to be sure to get a table.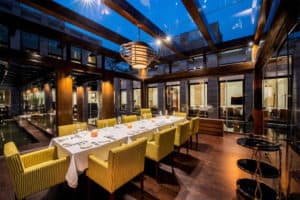 Indian Accent
Here we go, when you want to experience an upscale Indian restaurant in New York, this is the spot to visit in midtown. This fine dining establishment has redefined Indian dishes by adding a lot of flare to traditional cuisines.
Their chefs sometimes mix ingredients from other cultures to create the most satisfying meals, a little fusion touch won't bother anyone, right? They do manage to uphold the integrity of the dishes. They offer three or four-course dinners that are all a must-try. Their wine pairings go great with their vibrant and flavourful menu and vibe.
The head chef goes all out on the dinner menu with creative appetizers, mid-courses, mains and desserts. We suggest you to try the pepper chicken and tofu masala before leaving. They are highly recommended by locals and visitors who have tried the eatery. Is there a special event coming up? No worries, they accept reservations!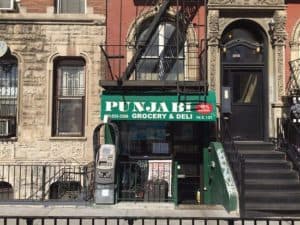 Punjabi Grocery and Deli
This counter-service restaurant has become a staple in East Village since the 90. They serve authentic Indian snacks and foods like samosa chaat, chana masala and Gulab jumun. It's one of those places that are pretty easy to dismiss until you finally try their servings. Then we are sure thar their memorable food will keep you coming back.
You can get a brown paper bag full of fried pakora to taste sub-continental scrumptiousness. If you want to step away from expensive cuisines, for a while but still eat spicy, full-flavored foods, visit this basement-level eatery. Vegetarians and vegans are the ones who have embraced and loved this place the most, that's tue, however anyone can enjoy a quiet meal at the classic establishment.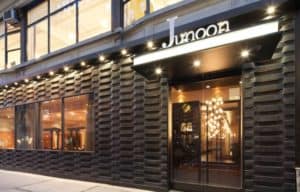 Junoon
Whenever you talk about Indian restaurants in NYC, Junoon will always come up. Their dining experience is unmatched and they are very famous for their extensive wine list. It's a lovely place to sample different Indian flavours. They merge traditional cuisines with modern delights to come up with unique dishes.
Their meals are on the pricier side, but worth every penny. Junoon has all it takes when you feel like going out and having a memorable night. Always ensure you are in an upscale yet casual dress code whenever you want to dine there. The award-winning fine dining institution has been serving New Yorkers for over a decade now.
Besides the cocktails, spirits and wines, they also sell teas and after-dinner beverages. The restaurant comes with a marketplace selling spices and other items. The lobster moilee is one of the upscale dishes on the menu. Small plates like smoked masala ribs and Saloni maachi are also enticing. Do not miss it if (you love Indian food)!
Ganesh Temple Canteen
For a casual weekend night where you want a unique dining experience, this canteen will deliver and maybe even overdeliver. Many non-Indians come to this restaurant mostly out of curiosity. It sits under a Hindu temple; crazy, but you can go and wander around the temple after your meals. That's what most people talk about, but their southern Indian food is also pretty amazing.
The restaurant started in the 90s mainly to make food offerings to the deities. They have garnered many devoted customers in the neighborhood since then. It's a very spacious location; you can easily dine here with friends and family.
Every item on the menu is vegetarian and their dosas are between the menu's highlights. Go through the gift shop on your way out and see what is worth taking with you. At Ganesh, Takeout and delivery options are also available when you don't want to sit down and dine. Netflix & Indian, anyone?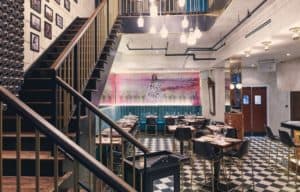 Gupshup
Gupshup is the perfect combination of a cocktail bar and a restaurant. The inspiration comes from Bombay. They combine global creativity, contemporary techniques and traditional Indian flavours. Despite the menu being filled with updated Indian cuisines, you can still taste the authentic flavoirs and the powerful spices.
The vibrant dining area is well-designed and decorated. It's one of those restaurants you never knew you needed to visit until you finally chose to try it. Their name means hanging out or chitchat, and they managed to create a space you can hang out without getting bored(this depends on your company too!).
You can try their specialty cocktails or another drink before or after your meal at the bar. Some of their mouth-watering signature entrées include Delhi butter chicken. The Bombay brunch menu has endless options, good for any any type of friend!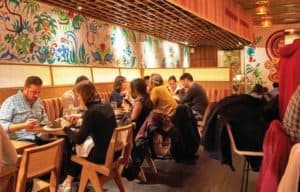 Semma
Semma is a great restaurant for date nights, birthdays and amazing cocktails in the charming west village. The restaurant is bringing Southern Indian foods to the forefront. These are meals that are rarely seen outside local neighborhoods and homes in India.
New York vegetarians might land here to try some of their exotic dishes. Their friend vegetable options have become prominent. Even the cocktails use Indian ingredients to come up with unique drink combinations. The restaurant's interior pays homage to its tropical roots. Their meaty dishes are hard to find in the city. So take advantage of their flawless menu whenever you get a chance.
Semma is yet another exceptional restaurant from the team of Chef Chintan Pandya and restaurateur Roni Mazumdar. They emphasize cooking the way it's done at home. The gunpowder dosa is among the best in the neighborhood and maybe the whole State?
Seva
Seva might easily become your favorite Indian restaurant in Queens. The all-you-can-eat weekend buffet is a feast you don't want to miss. Depending on what you like, you will taste everything from spicy to very spicy. Their three-course meals include appetizers, entrée and dessert.
They also have lunch combos that are very affordable and practical. Aside from the menu's many vegan and vegetarian options, try some of their lamb and chicken dishes. There are also a few bread options and sweets that will accompany your meals fairly well.
The restaurant can accommodate large groups, which is sometimes a great plus. You can grab your friends and family members for a fun night out with some proper Indian food. Chicken tikki masala and lamb vindaloo get a lot of praise!
Final Thoughts
These are surely some of the best Indian restaurants New York has to offer. No matter the experience you are looking for, the city is filled with unique dining experiences. Indian food enthusiasts will appreciate all the efforts these chefs are putting into creating authentic dishes.
The city is a melting pot of cultures, so it's no surprise that they have cuisines from everywhere in the world. Take Indian food tours to experience some of these restaurants.
Just so you know,
we offer amazing Food Tours in New York City with a VIP experience that will leave you hoping to get on more and more Tours!