London has so many markets. They range from Walthamstow (reputedly Europe's longest street market) where you can buy low cost clothes, fruit and vegetables, watches and pots and pans to the super expensive Leadenhall where you can buy some of the best food around.
Markets used to be called "ceaps" – it's where we get the word cheap from.
There's a Cheapside in the City (the financial district) but these days, designer shops pre-dominate and there are no stalls.
Our list is very much personal choice.
But check on opening times before you go. Later in the week is usually better. Some are Sundays only.
Leather Lane (nearest station – Chancery Lane – Central Line)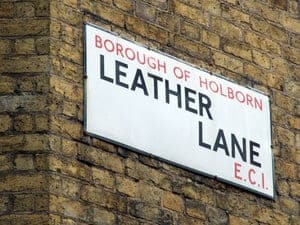 This used to specialise in leather – hence the name. Now, it's a bit of everything from low cost biscuits and chocolate near their sell-before date (at Holborn end) to fruit to jewellery. It's also a good place for a cheap meal – there are many food stalls selling street food as well as a great falafel shop towards the north end.
Columbia Road (nearest station – Hoxton – Overground)
A Sundays only market focusing on flowers and all things gardening including house plants, gadgets, flower pots and vases. It's a riot of colour – even in darkest winter – and it takes place whatever the weather. There are many places to eat and if you visit when the market is closed, you can take in the Victorian architecture. Columbia Road was originally used for driving sheep and cattle to the meat market at Smithfield.
Middlesex Street – aka Petticoat Lane (nearest station – Liverpool Street)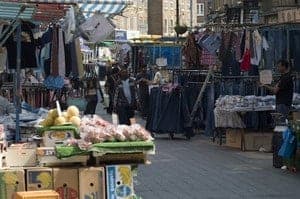 Best on Sundays when you can buy all manner of clothes, electronics, toys, bric-a-brac and food to go. It was set up around 400 years ago by French Huguenot refugees to sell petticoats and other clothing. The name was changed to Middlesex Street in the Victorian period because some objected to a street named after female apparel. The stall holders were once predominantly Jewish ( it was the centre of the "Schmutter" Trade) but nowadays it is mainly Bangladeshi. While there, you can visit nearby Brick Lane market.
Borough Market (nearest station London Bridge)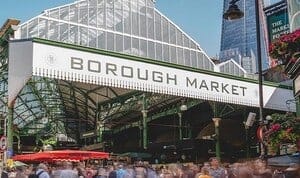 This is a great place for all foods – as well as a recent focus on eating experiences. You can spend all your life there (shut on Sundays) and keep consuming something different. Everything from wonderful cheeses to designer chocolates. It's also on the route and near the start of our Traditional Secret Food Tour of London.
Camden Market (nearest stations Chalk Farm or Camden Town – both on Northern Line)
OK, this is bold, brash, sells acres of cheap T-shirts, and is seen as very touristy by Londoners. But you have to go just to gawp! While there, you can walk the canal, stroll up to Hampstead, and eat at one of the many street stalls or, increasingly, the area's great restaurants.