The Best Vegetarian and Vegan Spots in Paris
The French capital has a wide array of vegetarian and vegan spots to choose from. This somewhat comes as a surprise, considering how daunting it was to find a good vegan-friendly restaurant in Paris around 10 years ago. What's even better about these restaurants is that each one of them relies on its own techniques to come up with insanely delicious meals.
Keep reading to know exactly where they are based across the city; their opening hours, and the kinds of vegan-friendly dishes they serve.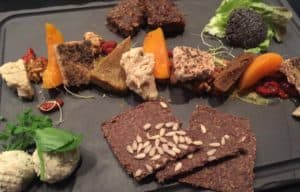 42 Degres
The name of this vegan and vegetarian spot comes from the fact that the cooking temperature in this place never goes beyond 42 degrees Celsius. The reasoning behind this is that a temperature exceeding 42 degrees Celsius may interfere with food's vitamins, nutrients, and all-important enzymes.
42 Degres is a known destination for vegetarians and vegans because all its dishes are organic, vegan, seasonal, and gluten-free. If you visit this place, you should consider ordering the Green Zebra Rawzella. This raw food has mozzarella salad and tomato.
Another dish you should be keen to try out at 42 Degres during one of your food tours Paris is the house burger. This well-thought-out meal has mushrooms in place of buns and sunflower, tomatoes, spinach, and flax seeds in place of steak.
• Address: 109 Rue du Faubourg Poissonniere, 75009 Paris, France
• Opening Hours: Noon to 2.30 p.m. and 7 p.m. to 10.30 p.m. (Monday to Saturday). Noon to 3 p.m. (Sunday brunch)
• Website: 42degres.com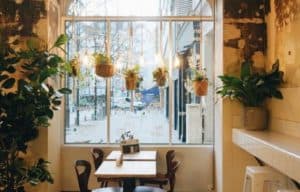 Wild & The Moon
There are plenty of reasons why Hollywood A-listers dine at Wild & The Moon. First, this vegan restaurant has an outstanding look. Green plants and natural woods dominate its décor; thereby, making it a nice hang-out spot. Emmanuelle Sawko, owner of Comptoir 101 in Dubai (a health café and concept store) is the brains behind Wild & The Moon.
That's not all; the restaurant had vegan nutritionists design its menu. And this means it ticks all the health boxes without taking away the fun of dining. Wild & The Moon is also one of the best vegan bakeries in Paris. What's more, it has several branches across the French capital. So, whether you are on one of your food tours Nice or visiting Paris for the first time, look no further than this vegan restaurant.
• Address: Located in several places across Paris. These include 55 Rue Charlot, 75003, and 19 Place du Marche Saint-Honore, 75001 Paris, France
• Opening Hours: Vary, based on the location
• Website: wildandthemoon.fr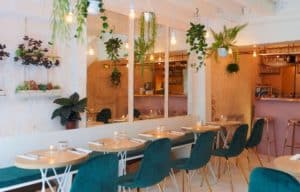 L'Abattoir Vegetal
L'Abattoir Vegetal takes vegan food tours in Paris to a whole new level. This vegan hotspot used to be an animal slaughterhouse. But that is now in the past, as L'Abattoir Vegetal is now a popular destination for someone who cannot wait to dig in on a vegetarian-friendly dish.
The restaurant is known for its classic plant-based meals. These include falafel burgers, sweet potato fries, Buddha rice bowls, and vegetable curries. It is also one of the best spots for a vegan brunch; thanks to its partnership with Chambelland, a gluten-free bakery.
• Address: 61 Rue Ramey, 75018 Paris, France and 9 Rue Guisarde, 75006 Paris
• Opening Hours: Noon to 3 p.m. and 7 p.m. to 10 p.m. (Monday to Saturday). 11 a.m. to 3.30 p.m. (Sunday brunch)
• Website: abattoirvegetal.com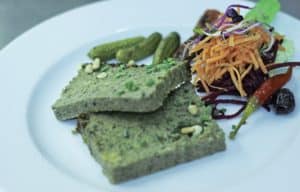 Le Potager du Marais
The dishes that Le Potager du Marais serves will instantly remind you of the popular classic French cuisine. One of these is "boeuf bourguignon", which features seitan instead of beef. Others are "pate" (made from mushrooms) and "hachis parmentier" (made from pumpkin). Located in the stunning district of Marais, Le Potager du Marais is the place to go if craving a hearty, traditional, homely meal.
Another solid reason to visit Le Potager du Marais is that the ingredients the restaurant uses are organic and sourced from local and ethical producers. In other words, if you dine at this restaurant, you will not just be supporting it but also you will be improving the living standards of local farmers.
• Address: 26 Rue Saint-Paul, 75004 Paris, France
• Opening Hours: 7 p.m. to 10.30 p.m. (Wednesday to Friday) and noon to 3 p.m. (Saturday and Sunday)
• Website: lepotagerdumarais.fr
Paris is a city of delight, and ourfood tours Paris Saint-Germain and Paris le marais will take you to some hidden gems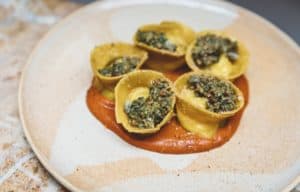 Mesa
Secret food tours can lead you to places you have never been. One of these places is Mesa. Founded by Charlotte Gomez De Orozco's own heritage, Mesa serves plant-based dishes only. And that's not all; these dishes boast a Franco-Mexican influence, which makes them incredibly unique.
Moreover, the dishes of this Parisian restaurant vary depending on the season. Plus, they have treats such as smoked mushroom ceviche with dulse seaweed and tortellini with plant-based ricotta. Others are kombucha-infused chimichurri, lemon confit, and various CBD-based desserts.
The individuals behind Mesa's exceptional menu are Carolina Rodriguez and Laurent Lovatt. Rodriguez and Lovatt are the founders of Plant Academy. That being said, the recipes at Mesa have no chemicals nor are their flavors compromised. This means they are natural, nourishing, and have what it takes to capture the hearts of even the most beef-loving individuals.
• Address: 68, Rue des Martyrs, 75009, Paris, France
• Opening Hours: Breakfast from 7.30 a.m. to 10.30 a.m. (Monday to Friday); lunch from noon to 3 p.m. (Monday to Friday), dinner from 7 p.m. (Monday to Sunday), and brunch from 11 a.m. to 4 p.m. (Saturday and Sunday)
• Website: hoyparis.com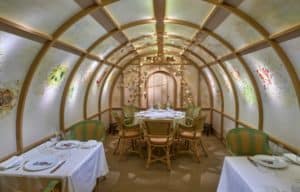 L'Arpege
As a vegan, you want an exclusive vegan experience every time you go on food tours Paris. Well, that is where L'Arpege comes into play. This French vegan hotel boasts a Michelin Star and has Alain Passard, a renowned French chef, in its kitchen. According to Passard, creating plant-based dishes differently is a challenge he happily embraces.
Prices at L'Arpege are a bit higher, plus the hotel is not exclusively vegetarian. However, these two factors should not stop you from coming here. After all, the restaurant heavily relies on veggies to come up with many different mouth-watering dishes. The restaurant even has its own farms where it gets fresh vegetables on a daily basis.
Some of the dishes at L'Arpege are asparagus with pink pomelo, candied orange tart, vegetable-stuffed dumplings, black truffles, and smoked potatoes with horseradish mousseline. If you are looking for fine dining in the French capital, then this Michelin-star hotel in L'Arpege is for you.
• Address: 84 Rue de Varenne, 75007 Paris, France
• Opening Hours: Dinner from Monday to Friday
• Website: alain-passard.com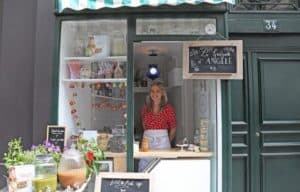 La Guinguette d'Angele
After your food tours Nice, do not forget to visit Paris to dine at La Guinguette d'Angele. This trail-blazing plant-based restaurant is managed by Angele Ferreux-Maeght, superfood queen and co-author of a recipe book titled "Fetes Vegetables". Angele manages the restaurant with the help of Alain Ducasse and others.
It is important to note that the restaurant's menu changes every day. Nevertheless, this should not prevent you from looking forward to its dishes. Well, meals here are not just delicious but also well-balanced for maximum satisfaction. They include seaweed tartare and grated carrots, smoked tofu and turmeric hummus, and a gazpacho of cucumber, rice vinegar, strawberry, and courgette.
Another reason why you may want to visit La Guinguette d'Angele is that its recipes are according to naturopathic principles. This means the restaurant gets the food it prepares for its visitors from local, organic suppliers. As if that's not enough, this vegan-friendly Parisian restaurant tries to recycle waste into compost. Plus, it uses eco-friendly cleaning products not to mention relying on green energy for operations.
• Address: 7 Rue Cadet, 75009 Paris, France, and 34 Rue Coquilliere, 75001 Paris, France
• Opening Hours: 9.30 a.m. to 3 p.m. (Monday to Friday) and 10 a.m. to 3.30 p.m. (Saturday)
• Website: laguinguettedangele.com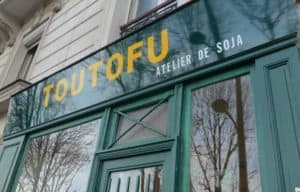 Toutofu
Vegans who love to take part in vegan food tours will tell you that making delicious tofu is tougher than imagined. This may come as a surprise, given that tofu is almost a staple in vegetarian cuisine. Toutofu roughly translates to "all tofu". Therefore, if you do not want to be disappointed, visiting Toutofu to enjoy tofu in Paris, France, is the wisest decision you will ever make.
This restaurant makes its own tofu using its own soy milk drinks and organic soybeans. Toutofu is also known for other sumptuous vegan dishes such as pan-fried dumplings, flatbreads, scallion pancakes, ramen soups, and more.
Another good thing about Toutofu is its décor. Unlike the décor of most restaurants around the city, that of Toutofu is simple enough to make sure you are not distracted while digging in. Additionally, the dishes in this restaurant appear to be prepared with care, plus they feel fresh and inviting. Toutofu's prices are pocket-friendly too.
• Address: 11 Rue Moret, 75011 Paris, France
• Opening Hours: Noon to 3 p.m. (Tuesday to Saturday). But closed on Sunday and Monday
• Website: toutofu.com
Conclusion
Whether you are on one of your secret food tours or just randomly looking for a place that offers vegan-friendly foods, this list of the best vegetarian and vegan spots in Paris, France, is for you. We have reviewed different restaurants, including those with Michelin stars, so you can easily spot what best curbs your craving for vegan or gluten-free foods.