Krakow is a beautiful city, but it's not the kind of place that most people think of when they consider European cities. After all, this is the city where Poland used to be brutally oppressed by the occupying powers. But despite having a difficult past, Krakow food tours have become one of Europe's coolest cities and an ever-rising culinary destination.
If you're in search of excellent restaurants and enjoy Secret Food Tours, dine in, and extend your taste palette, these options will certainly do for you:
Szpitalny Rynek, Krakow, Poland.
WOMAI Kraków Centrum Nauki i Zmysłów in Krakow
Restauracja Gody (restaurant year), Krakow, Poland (from the team at Sazka).
Art Restaurant in Krakow
Czarna Kaczka/ Black Duck restaurant in Krakow
Farina Restaurant in Krakow
Garden Restaurant in Krakow
Starka | Restaurant & Vodkas in Krakow
Cyrano de Bergerac in Krakow
Szara Gęś w Kuchni Restaurant in Krakow
1. Szpitalny Rynek, Krakow, Poland
Szpitalny Rynek, Krakow, Poland, is an amazing restaurant to try out anytime you want to experience dining with a touch of history. The food tours are fantastic, and the location is gorgeous. Service is also remarkable, with a large outdoor deck overlooking the market square. It's also located in one of Krakow's most historic and picturesque buildings, which you'll soon find out when you take your first step inside!
It is a fantastic place to dine, with its modern interior design and historical exterior design using traditional materials like stone and wood – it looks almost perfect! It has a relaxed atmosphere, character, and a delicious menu. They have a highly recommended coffee too!
2.WOMAI Kraków Centrum Nauki i Zmysłów
WOMAI Kraków Centrum Nauki I Zmysłów is an amazing restaurant because of how inclusive they are. They have a variety of dishes that are perfect for vegetarians and those following a vegan diet.
This specifically-moderately-priced Polish restaurant has dishes ranging in price from €6 to €12, such as hearty soups, fried jacket potatoes with mushrooms, or salads – all of which are high quality and made from ingredients you would use yourself. With a wide collection of wines, beer, and desserts to match the food, you'll be coming back here again and again! The ambiance is warm and cozy – perfect for an intimate date or a family meal.
3. Restauracja Gody (restaurant year), Krakow, Poland (from the team at Sazka)
Another fabulous venue to try with amazing food, a lovely outdoor area, and a great atmosphere is Restauracja Gody (restaurant year). Krakow, Poland (from the team at Sazka) is notable because it's a restaurant that can be experienced in one year without ordering the same thing again. With more than 1,000 dishes (3x the number of flavors on a standard menu), it serves traditional Polish cuisine atypical for a restaurant.
However, it does this with its best value for your money. From traditional Polish dumplings to rock-like chicken soup (leśnik), this one-time dining experience provides everything you need to know about what Poland offers in terms of cuisine.
Restauracja Gody (restaurant year), Krakow, Poland, also attracts guests because of its original concept, dating back to 2004. The restaurant has the most creative menu in Poland and the only one of its kind in Europe. It is not a simple Polish restaurant but a time machine that takes diners back in time. In addition, it offers an interactive menu from which customers can choose dishes from all over Poland. On your next tour to Krakow, ensure you check this destination out.
4.Art Restaurant
Art Restaurant in Krakow is terrific because they have these amazing Polish-style pancakes that are so good; they make you cry. You order three of them, and they come with this caramelized onion cream cheese that is just like heaven. They also have these other things on the menu that you can try, but trust me when I say the pancakes are all you need to get here.
The best part about Art Restaurant is the atmosphere. It's an intimate space with heavy curtains and comfy-looking furniture. There's a vintage vibe, too, because there are typewriters on the walls and old books everywhere where people can write. There's a section at the bar with a DJ playing music. The cozy aesthetic makes you feel like you are eating in someone's home.
5. Czarna Kaczka/ Black Duck Restaurant
Black Duck is a small restaurant that serves Polish food, but not just any type of Polish food–authentic Polish food. They have dishes like pierogi, blintzes, and more, as well as a kid's menu for those with hungry young ones! The menu at Czarna Kaczka has dishes for those who like to stick with Polish food and want to try something different. The prices are reasonable, and the service is quick.
It should be your go-to place in Krakow because they serve authentic Polish cuisine! The best part about this restaurant is that the food is amazing, and the service is quick and welcoming, which is quite hard to find nowadays.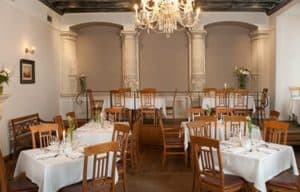 6.Farina Restaurant
Farina Restaurant in Krakow is an amazing place to eat because it incorporates history in its dining. It is the only one that uses the spoons used by the grand duchess Catherine Radziwill who, in turn, received them as a gift from Tsar Peter the Great. In 1717, she married Prince Adam Stanislaw Czartoryski. The couple was on their honeymoon when they passed through Krakow and left these spoons at the restaurant, which is why it became a local legend.
The restaurant is known for its great food and its history and atmosphere: wooden floors, chandeliers, and paintings depicting Krakow's history from before Pilsudski's times to modernism are displayed at the restaurant.
7.Garden Restaurant
The Garden restaurant in Krakow is impressive because it offers the best outdoor seating for people to have a coffee, read, and enjoy food. What makes it such a great place to sit outside is because of all the greenery. The atmosphere seems like you are in your garden with live plants and flowers. It is not a very large space, so there isn't much room to walk around, but it's perfect if you want to get some reading done or enjoy the scenery.
The garden restaurant lies in a warm and cozy square named Bulwar Filarecki. It's the perfect place to relax. The inside of the garden is a fantastic place to visit as well because of all the plants and flowers around. Also, many tropical trees make it perfect for indoor people to enjoy.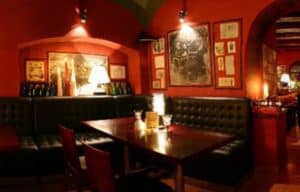 8. Starka | Restaurant & Vodkas
Starka | Restaurant & Vodkas is an amazing dining destination because of its irresistible atmosphere, delectable fare, and an impressive selection of 100+ premium vodkas to make your night wonderful. The Starka team is committed to delivering the highest quality, most satisfying dining experience that you've ever had in a restaurant. Furthermore, Starka restaurant in Krakow, Poland, is one of the premier Ultra-Luxe dining destinations in Poland.
The best part about Starka restaurant in Krakow is that they have the best pasta and pizza dishes in Poland! It's fantastic for any family wanting to come together over a meal, with all the affordable prices. The service is impeccable, the ambiance is cozy, and the food is top-notch. There aren't many restaurants that can compare to Starka. It has become a staple in Polish culture.
9. Cyrano de Bergerac
Cyrano de Bergerac restaurant in Krakow is amazing because the menu is not in Polish. It has English, German, and Japanese translations on the back of the menu, too, so you don't have to worry about speaking polish to get service. The food is deliciously filling, and so are the portions! Try them for yourself!
Cyrano de Bergerac restaurant in Krakow is terrific because it has a wide variety of dishes that won't leave you hungry. After all, they are very filling. They serve meat dishes like steak with mushrooms or burgers and vegetarian options like tataki mushroom or bean stew with tofu.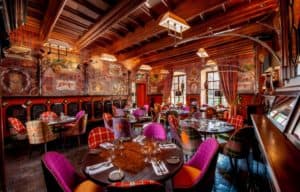 10. Szara Gęś w Kuchni Restaurant
Szara Gęś is a reasonably small restaurant located on Krakow's most exclusive strip of restaurants and cafes – Stradun. Next door to the restaurant is a large shopping mall, but Szara Gęś has a lovely outdoor terrace where you can dine under the stars or watch the orange sunset over Krakow. Szara Gęś w Kuchni Restaurant in Krakow, Poland, is amazing because it has the best Polish food.
They have pierogies, Polish dumplings with sweet or savory fillings, and stew. They also have homemade jams and jellies made from fruit that can't be found elsewhere in the city, like blackberry jam with spices, apricot spread with ginger, and cherry jam with vanilla extract.
It is a little bit more expensive than some other places around Krakow, but it is worth every penny because of how good their food tastes.
The beautiful city of Krakow is known as one of the most cultural cities for food tours in Europe, and it doesn't disappoint when it comes to food! Several restaurants are sure to satisfy and delight you. The next time you're touring Krakow, stop by one of these restaurants and experience their unique delicacies. Krakow food tours are one of the most exciting experiences one can have while visiting the city.