Lunch time is always a tricky meal when visiting Paris, whereas one is usually well aware of a place to have dinner, the lunch on the other hand can turn into a nightmare leading you to the closest fast-food for fear of getting in a bad restaurant.
In order to help you, here comes a list of 10 places we (the guides and I) enjoy for our meals.
I have tried to take many locations so it will help you regardless of where you are.
Bouillon Pigalle – This is a classic Bistro that serves typical French dishes all day long till late, a great value for money as the taste is authentic but the atmosphere as well; do not look for the silver and porcelain, people come here for the choice and the quick service. Do not be scared by the queue at the entrance as service is fast, the lounge is fairly noisy as in all bistros so this is not the place for slow pace eating. For between 12$ to 18$ you will experience a typical French dish that we, French, enjoy for meals, nothing fancy just efficiency and taste. Bouillon Pigalle was also awarded the Best Egg Mayonnaise of the World title in 2019
Metro Line 12 and 2 – Pigalle, you are close to Montmartre and Moulin Rouge
Crêpe Henri – You are bound to see French eating crêpes on the go and that is usually the way to do, of many crêpes booth, Henri has got one of the nicest batter, the filling are generous and usually a single savoury crêpe suffice till the tea break, you can enjoy both batter, classic white flour or grey buckwheat one, if you want to try a sweet one to get the most of the batter just order sugar/butter or lemon/sugar, my favourite is with Grand Marnier (Orange liqueur), 9$ for a savoury and 6$ for a sweet crêpe.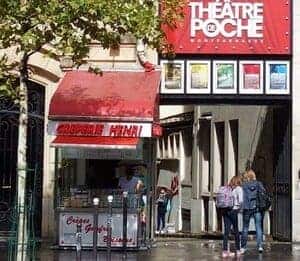 Metro Line 4, 6 , 12 and 13 – Montparnasse, between Montparnasse Tower and rue de Rennes shopping Street
Ippudo – If you want a bit of change from French food you can in the Odeon district enjoy a bowl of Ramen noodles, prepared with the thick Tonkotsu pork broth, these Ramen will give you plenty of energy to stroll around the art galleries of St Germain's district. It's better to order the pastas Al Dente so they keep on cooking in the soup (Kata is the word to use). Expect 15$ for a bowl.
Metro Line 4 and 10 – Odeon, close to St Germain Church and Notre Dame
Dame Tartine – Just by the Pompidou's Modern Art Museum fountain place is Dame Tartine, tartine stands for slice of bread, so there you will find a large selection of hot and cold toasted sourdough bread slices served with salad, a terrace serving is also available on good weather's day. Usually around 20$/person.
Metro Line 3 – Rambuteau or Line 1 – Hôtel de Ville, just next to Pompidou Center
Louchebem – The meat restaurant of Paris, the Louchebem is the slang used by butchers since 1876, it also is the oldest meat restaurant of Paris, they have a "at will" menu for 27$ with 3 meats (Beef, Lamb and Ham) served with mash potatoes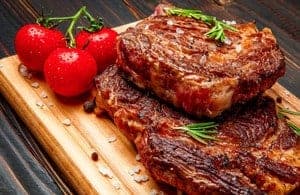 Metro Line1, 4, 7 and 11 – Chatelet Les Halles, you will be within walking distance of Notre Dame or Louvres Museum
Breizh Café – In the heart of le Marais you will find a small sanctuary of Brittany and a great place to enjoy a Galette (buckwheat crêpe). 18$ for a menu with two crêpes.
Metro Line 8 – St Sébastien Froissart, you are merely minutes away from Picasso's Museum and close to Place des Vosges
Le Nemrod – Crossing the Seine River to reach the left bank, le Nemrod is a typical brasserie both inside and terrasse service, their Fresh Salads are great and I have a soft spot for their Confit de Canard with Aligot (potato/cheese/garlic purée, what can go wrong?). Around 15$/20$ per dish.
Metro Line 12 and 10 – Sèvres-Babylone, not even 5 minutes away from Le Bon Marché department store
Le Marché des Enfants Rouges – If you want to know more of the oldest street market of Paris you can always wait for our Marais tour to become available but if you are there you can enjoy all sorts of ethnic food, from North African couscous and Tagine to Italian and Japanese, French quiches and tarts and even a vegetarian booth, you will have understood, everyone gets to find something to enjoy there. Price will vary with the type of food.
Metro Line 11 – Temple or Arts et Metiers (a fantastically Steampunk looking station), the location is the northern entrance to the Marais area
Pasta Del Nonno – You are near the Eiffel Tower and a bit lost, Pasta Del Nonno is a life saviour in this fairly residential area of Paris, prices are very correct and who doesn't like pastas? 13$ for a pizza and 15$ for a dish of pastas.
Metro Line 6 – Dupleix
Otium – For a change Otium is a great place for vegetarians and vegans, not very large it's better to arrive early for lunch, all of course is organic, freshly cooked and of season. Expect 20$/person.
Metro Line 2 and 12 – Pigalle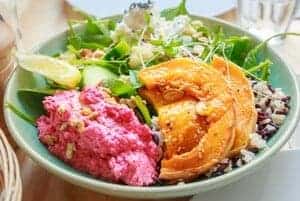 If you do not know where to start from, just book our Secret Food Tours in Paris:
Get a taste of the city with the help of expert local Parisians who are passionate about French cuisine. On our Paris food tours, we love nothing more than to share our love of French food with you, whether it's a pastry and chocolate tour of Paris, a tour of Le Marais, Montmartre, or something else just as delicious.
Taking our Secret Food Tours is also a highly recommended activity for Team Building!