The City of Lights, the Capital of Fashion, the most romantic city in the world. Many are the titles that Paris is known for. As one of the most touristic cities in the world, the capital of France overflows with culture, heritage and unmatched beauty.  Its charm captivates millions of visitors each year, making it one of the most sought-after tourist destinations in the world.
When it comes to choosing an ideal destination for a memorable family vacation, few places rival the numerous attractions that Paris has to offer. Often celebrated as the "City of Love," the capital of France is also warm in its embrace to families, with enriching experiences for all ages. From first-class museums and iconic landmarks to delightful parks and family-friendly activities, Paris is a destination that caters to the diverse interests and needs of every member of the family, of all ages. From the artistic vibe of Montmartre to the bohemian charm of Le Marais and the upscale elegance of the Champs-Élysées, every corner of Paris offers a different experience.
Paris is certain to amaze visitors of all ages and interests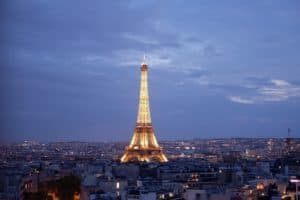 Paris indulges in its rich history over centuries, from its origins as a Roman settlement to its transformation into a powerful medieval city and a center of the Enlightenment movement. This history is reflected in its architecture, monuments, and museums. Iconic landmarks like the Eiffel Tower, Notre-Dame Cathedral), and the Louvre Museum stand as witnesses to the city's historical significance, allowing visitors to connect with the past in a tangible way. The city has nurtured countless artistic movements, from Impressionism to Cubism, and has been home to legendary artists like Picasso, Monet, and Van Gogh. The Louvre, the world's largest art museum, houses an unparalleled collection of masterpieces, including Leonardo da Vinci's Mona Lisa and the Venus de Milo. It is also home to some of the world's greatest wonders, worldwide famous architectural buildings and monuments. Periodically, the fashion scene is also responsible for bringing hundreds of thousands of visitors every year for fashion weeks, runway shows, or even for shopping the best of luxury.
Paris' ability to offer something for everyone, whether they're history enthusiasts, art aficionados, food lovers, or fashionistas, contributes to its universal appeal – and to cater to families, either small or big, with different interests.
Why Parisian cuisine is the perfect treat for the family
French cuisine is celebrated globally, and Paris is its epicenter. From patisseries offering delicious pastries to charming bistros serving intricate dishes, the city offers a unique and unmatched gastronomic experience. Local markets are a must, and trying authentic croissants and macarons is sure to delight every tourist and visitor to the city. Savoring gourmet cuisine in Michelin-starred restaurants isn't all bad either! While the city is famous for its gourmet dining, it also offers a variety of options that cater to children's tastes. Local bakeries and patisseries present an array of delicious treats, from croissants and macarons to pain au chocolat, that captivate younger taste buds.
Family-friendly restaurants provide menus that cater to both adult and children's preferences, ensuring that every member of the family enjoys a remarkable culinary experience. Exploring the local markets is an opportunity for children to learn about fresh produce and engage in the joys of selecting ingredients for a meal. But as much as Paris is as prepared as it could be for catering to tourists and families, getting to know the best places to go, curated and preferred by the French themselves might not be the easiest task, as some of them are secret spots, known to little. That's when hiring an authentic guide in Paris, or a food tour for families might come very much in hand.
Unveiling Paris' Culinary Treasures in Family
When it comes to experiencing the heart and soul of this city's cuisine, our Paris Food Tours for Families stand out as a captivating and enriching program for the food aficionados. Catering to a diverse range of tastes and preferences, the tours offer families an opportunity to bond over delicious delights while exploring the hidden gastronomic gems that define Paris.
Paris Food Tours for Families with Secret Food Tours offer an array of options for different tastes, preferences, and ages. What makes these tours perfect for families is their ability to create memorable experiences and transcend generational gaps. Each tour is designed to provide both education and enjoyment, offering children an opportunity to learn about culinary traditions while parents can indulge  in their own preferences, whether it's wine tasting or exploring gourmet cheeses.
Furthermore, there is no larger sense of togetherness for a family than sharing a delicious meal, all while navigating the streets of Paris and engaging in conversations about culture and history. The carefully curated stops ensure that every member of the family finds something to cherish, making it an inclusive experience for all. In a city renowned for its culinary excellence, our secret food tours for families offer families a chance to delve into its culinary heart while strengthening bonds. Below, check out a few options of Parisian food tours for families, carefully curated by our team and local experts.
Paris Montmartre Food Tours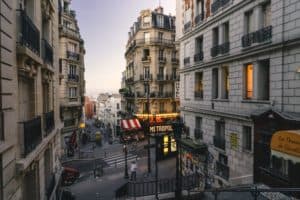 The enchanting Montmartre Food Tour is a journey through Parisian traditions, where families can immerse themselves in a world of flavors. From rich chocolates to delicate macarons, every step offers a taste of artistry and passion. A visit to a boulangerie opens a window into the art of Parisian baking culture. But the tour doesn't stop there: exploring savory cheeses and sausages to the exquisite wine tasting that caters to parents' palates. This tour is a symphony of tastes, making it an ideal family experience, where each member can find a culinary treasure to cherish.
Paris, Le Marais Food Tour
Embark on an award-winning culinary adventure with the Le Marais Food Tour. The journey begins with a buttery croissant, a universally loved treat that transcends age barriers. A bakery visit is a chance for kids to witness the artistry behind the pastries they enjoy. The tour then leads to the iconic croque monsieur, a French classic that brings smiles to both adults and children. In the Jewish district, falafels become an exploration of diverse tastes and heritage. This tour encapsulates the harmonious blend of cultures that define Paris.
Paris, Saint Germain Food Tour
Indulge in the opulent side of Paris with the Saint Germain Food Tour. Sweet caramels offer a sugary welcome to families, while a visit to a fromager introduces them to the world of artisanal cheeses. A bakery stop provides a glimpse into the art of crafting exquisite pastries.  The allure of this tour lies not just in the flavors, but in the stories behind the delicacies.
Notre Dame Food Tour – The Heart of Paris
The Notre Dame Food Tour, centered around the iconic Notre Dame Cathedral, introduces families to the heart of Paris. Visits to islands around the city offer an intimate encounter with Paris' culinary soul and tasting Macarons, the epitome of elegance and precision, certain to impress both adults and children alike. Exploring cheese and wine provides a sophisticated experience for older family members.
Pastry & Chocolate Tours Paris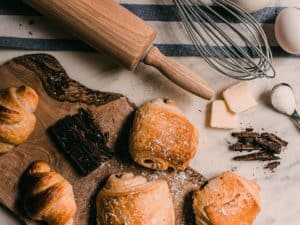 For families with a sweet tooth, the Pastry & Chocolate Tour is an irresistible temptation. This tour is designed to cater to the cravings of children and adults, with the promise of chocolate, pastries, and delicate treats. It's a journey of discovery that showcases Paris' sweeter side. From velvety chocolates to intricately designed pastries, every bite is an adventure in itself. It's an opportunity for families to connect over their shared love for confections, and for children to experience the magic of Paris' patisserie culture.
Conclusion
Secret Food Tours' culinary journeys offer families an unparalleled adventure. Our tours showcase a large arrangement of Paris' culinary identity with options catering to both young and mature palates, where families can immerse themselves in a world of tastes, history, and bonding. In a city that celebrates life through its food, Paris' food tours become the perfect program for families.