Guys
I won't be lying to you this « best neighbourhood » will be divided in at least two parts as I can see no less than two great neighbourhoods for a sweet tooth person, so this first one will be pastries as in cakes, the next ones will be about chocolates and bites but more may follow as we are opening the Pandora's box of sweetness.
St Germain des Prés is the place to be when you are talking about pastries, the history behind the district itself explains why it's riddled with tiny but lovely artisanal pastry shops. The St Germain district is the known area where writers and artist loved to seat, sip a coffee or a glass of wine and observe people from the open bars such as les Deux Magots, le Café Flore or le Procope, getting inspiration from the passers by and then returning to their tiny flat to translate what they observed into their novels' characters. Hemingway, Camu, Zola have all enjoyed the location.
I shall split the list in two with two take-away traditional pastry shop styles and two that also offer tea salon options for you to enjoy on the spot.
"Arnaud Larher" – Is a by far my favourite, MOF (Meilleur Ouvrier de France aka Best Craftsman of France) in the Pastry category since 2007, this long shop rue de Seine is a trap, one cannot enter this location without leaving with something fantastic, you will face a selection of single pastries at around $4 to $7/piece either chocolate based or fruits based, I fell in love with the "Toulouse Lautrec" an all chocolate cake that achieves the right balance between bitterness and sweetness, the "Monte Christo" is also a must with the contrast of the raspberries against the dark chocolate and in a hot weather their "Tong Lola" passion fruit/raspberry flavour cake shaped in as a flip-flop (tong) with a gentle and refreshing acidity.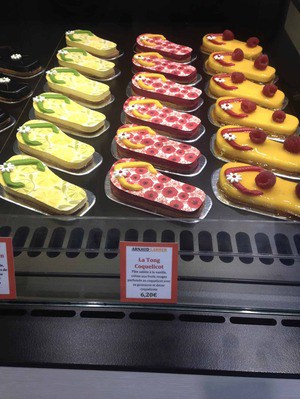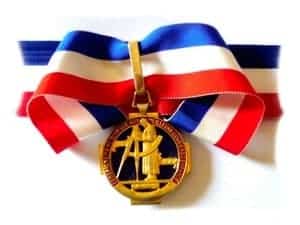 M.O.F medal
Metro Line 10 – Mabillon
"Gerard Mulot" – Nearly across the street from Arnaud Lahrer stands at the intersection the famous bakery/delicatessen Gerard Mulot, with over 40 years of experience they stand in St Germain's district as a cornerstone of gourmet pastries, still for more or less $6 you can enjoy two of my favourites the "Paris-Brest" hazelnuts cream filled doughnut looking choux pastry or the "St Honoré" whip creamed lovers' pastry.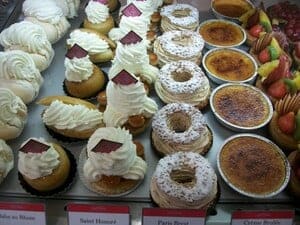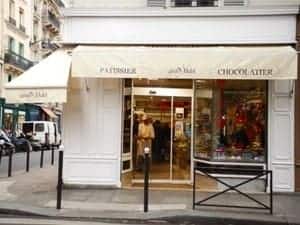 Metro Line 10 – Mabillon
"Un dimanche à Paris" – A rather unusually long name for a venue but a fantastic location for chocolate lovers it translates in "A Sunday in Paris", initially known for its hot cocoa drink the venue has developed into a shop/tea salon where you can enjoy the hot cocoa/several coffees and teas combined with their pastries (many are seasonal) ranging from $8 for just the hot cocoa, $15 for cocoa and 4 small pastries and around the same for a drink and a regular pastry. I usually opt for the cocoa along with the Salted butter caramel vanilla flavoured shortbread cake, and then I burn the calories walking the Daedalus of small streets riddled with art galleries.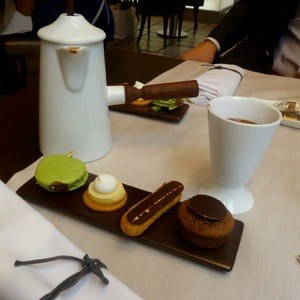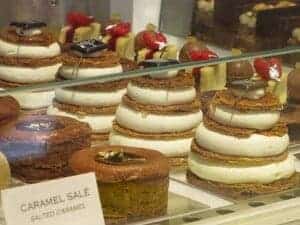 Metro Line 10 or 4 – Odeon
"The Patisserie Viennoise" – Does exactly what it says on the tin, viennoiseries (croissant, apple turnover….) were introduced to French when Marie-Antoinette married Louis the XVIth and settled in the Louvres. This Tea Salon opened nearly a century ago in 1928, fairly small; it's a cosy location but very quickly cramped, better to come outside of the rush hours in a small party of 3 or 4. There you will enjoy a tea or Chocolat Viennois (with the whipped cream on top) that in France has been renamed Chocolat Liegois following the siding of Austria systematically against France during the Napoleonic wars. The Walnuts cake is a winner and with a beverage it should cost you no more than $10.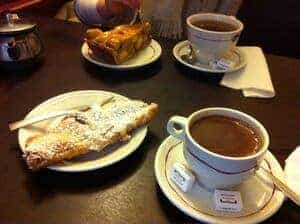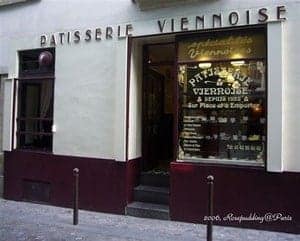 Metro Line 10 or 4 – Odeon
All our tours will introduce to lovely pastries, please check them.
Stay tuned for other posts of my second favourite neighbourhood for sweets, Montmartre.