Compared to Europe and its millennial old churches, America may look like a newborn, yet the continent hides a varsity of beautiful styles that is second to none in a single country and this is thanks to the many different confessions that came and settled in the early years of the nation's birth.
Ever since the forefathers set foot on the new continent they have been building Churches & Chapels with the unique signature of their cultural background and nowadays you can find them ranging from wooden buildings to ultra modern unconventional architectures, standing in the heart of our cities or hidden in forests or deserts.
Although we are Secret Food Tours are normally focussed on the cuisine of a city, we could not be more impressed by these amazing buildings and places of worship. Let's have a look at some landmarks you want to add to your journey "to visit list", be it religiously, architecturally, or simply curiosity motivated:
1 – The tiniest
The Christ's Chapel is located in Townsend (GA) and was constructed in 1949; it was destroyed by an arson fire in 2015 and rebuilt in 2017, with room for maximum twelve people it doesn't have a vicar so no mass is being read.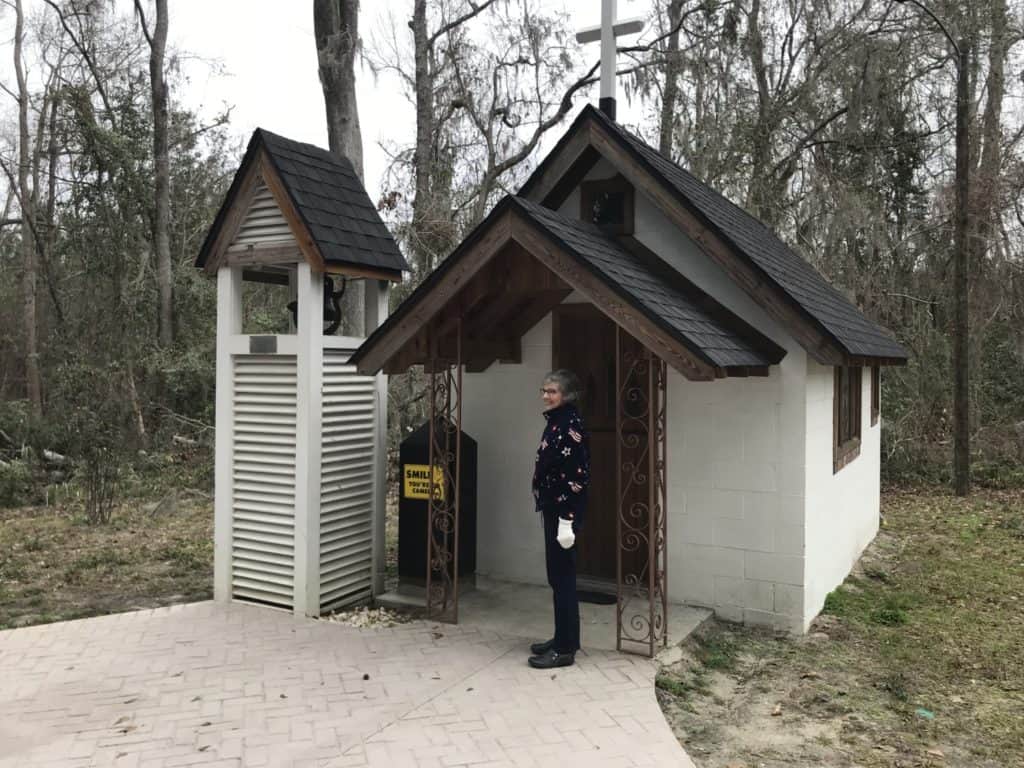 Copyright [Karen] @ [Sharing Horizons]
2 – Megachurch
In complete contrast with Townsend's Chapel and it's 12 seats we have in Houston (TX) the Lakewood Church a former Baseball Arena with over 16000 seats, the weekly broadcast gather 7 millions watchers from all over the world and is lead by the famous Pastor Joel Osteen and in 2019 Kanye West even held a 20 minutes service on the premises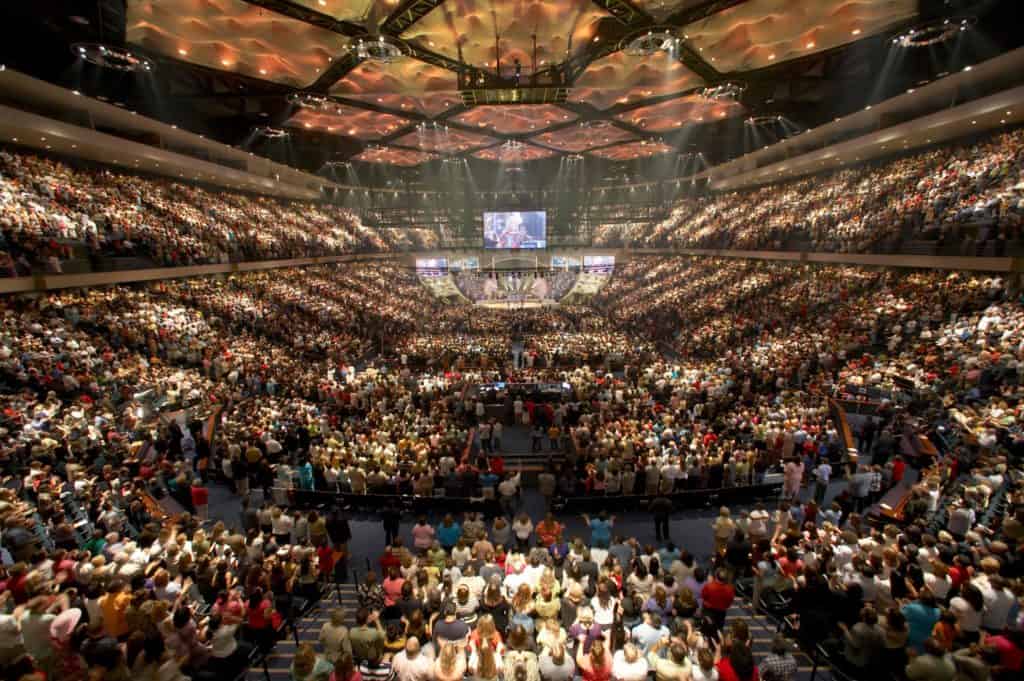 Copyrights ToBeDaniel @ Wikipédia italien
3 – Expressionism Modern Style Chapel
The Air Force Academy Chapel in Colorado Springs (CO) is a very unique design that breaks aesthetics of the classic churches, nevertheless it remains very impressive even from afar.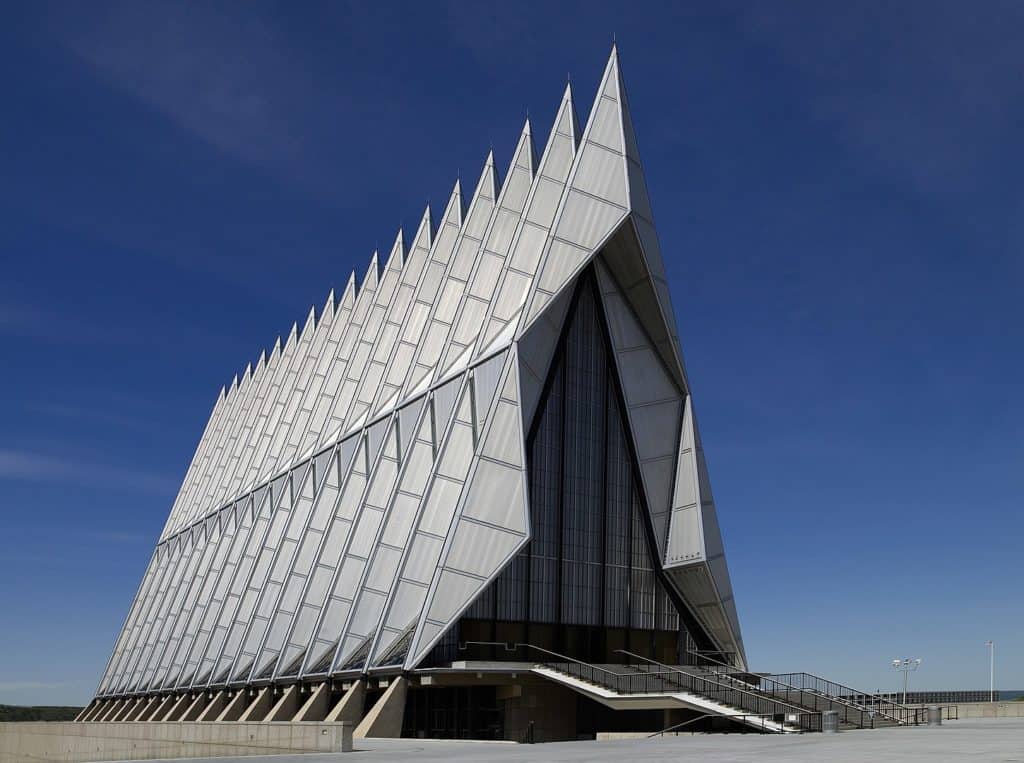 Copyright by Carol M. Highsmith
4 – A diamond on earth
Garden Grove's (CA) Christ Cathedral (formerly known as Crystal Cathedral is a fantastically impressive monument, the see through walls and roof combine to the fantastic Californian weather means that more often than not one must feel in Heaven when attending a service, also it houses the 5th biggest pipe organ in the world (with over 17 000 pipes) and is fully playable.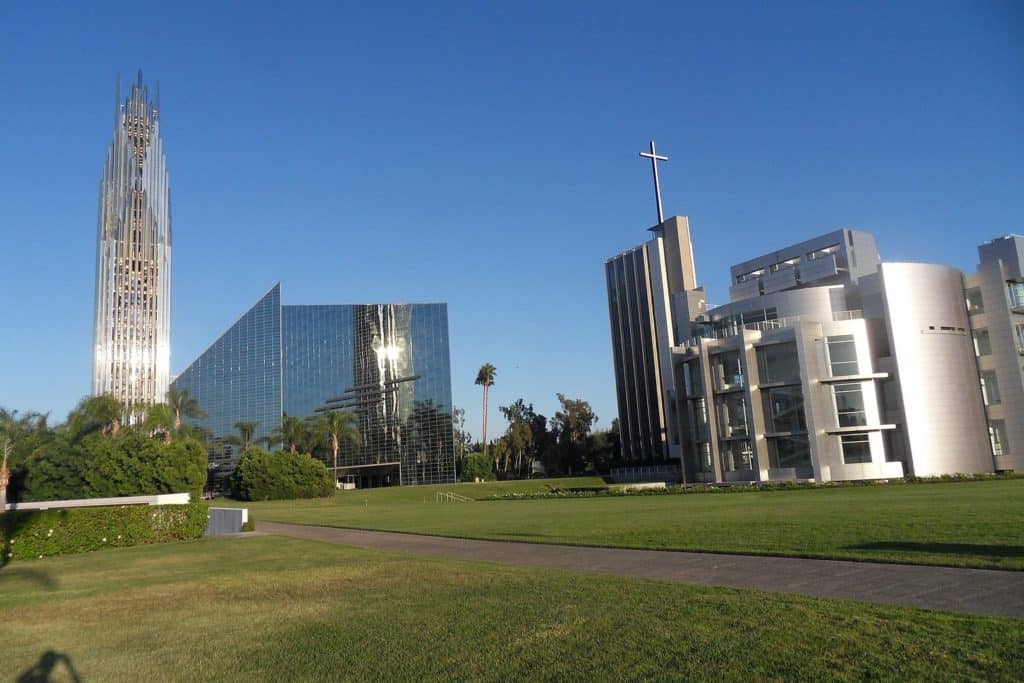 Copyright by Ischa1
5 – The oldest of North America
French and Cathedral have a long history so it is not surprising to find out that the oldest church in North America is located in the heart of the French Quarter in New Orleans, make sure to stop by the Cathedral St Louis during your visit.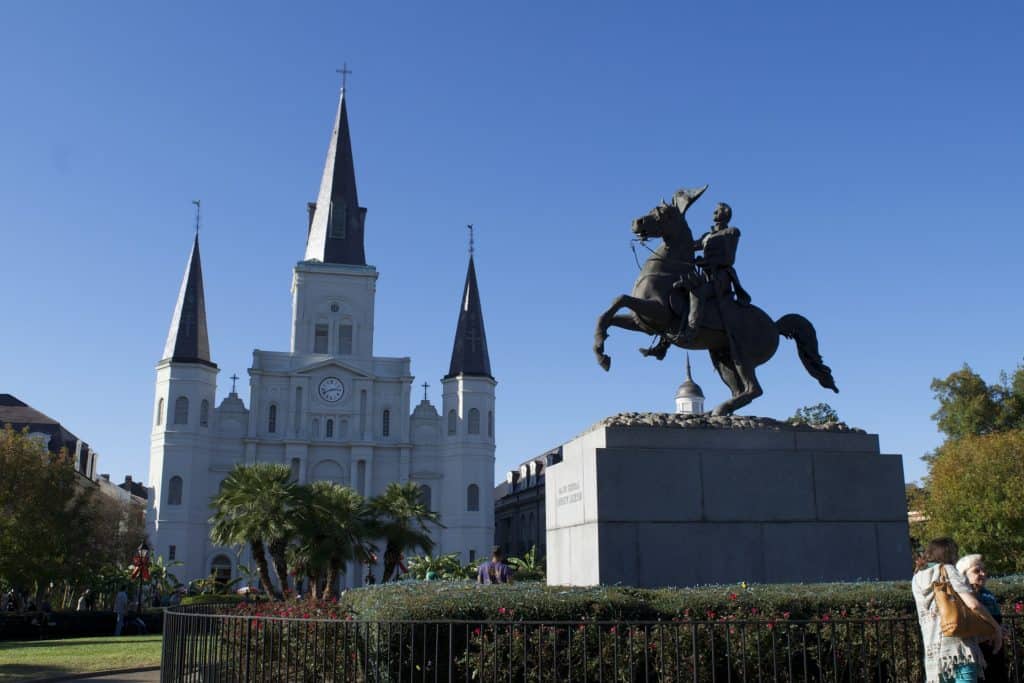 Image by eileendengel from Pixabay
6 – With nature
Probably one of the most harmonious chapel we ever got to visit, Thorncrown Chapel in Eureka Springs (AR) has a wooden structure and large window that enables it to fade in the scenery.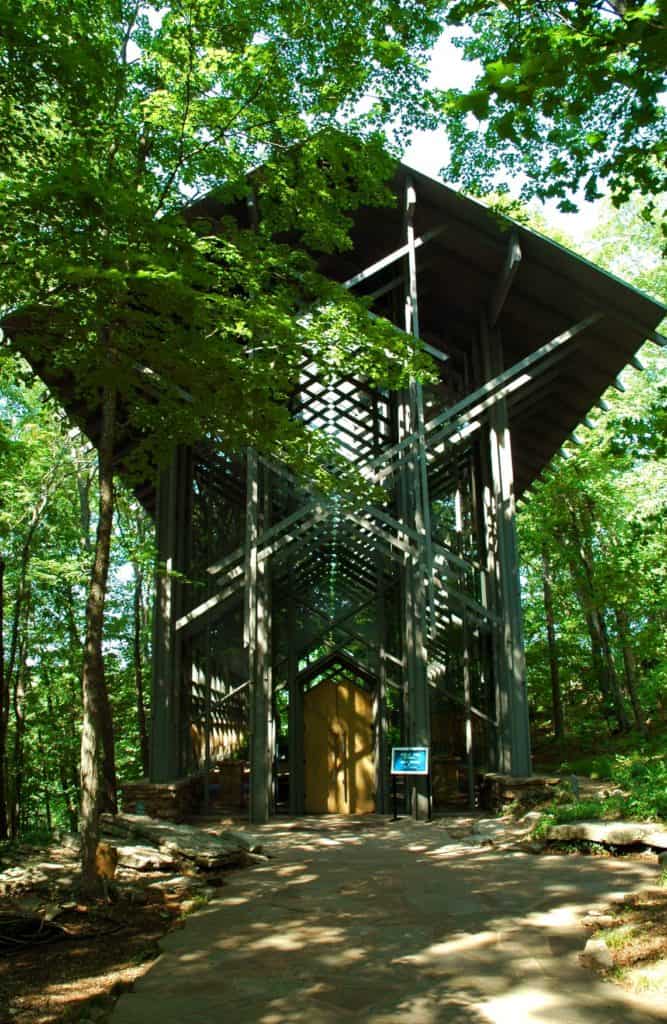 Copyright by Clinton Steeds
7 – Modern Architecture
The Cathedral of Christ the Light in Oakland (CA) stands out because of its controversial architecture away from the traditional styles; the design achieves an extraordinary level of lightness and luminosity and the best feature of the Cathedral is enjoyed from the inside where you can admire the wooden structure.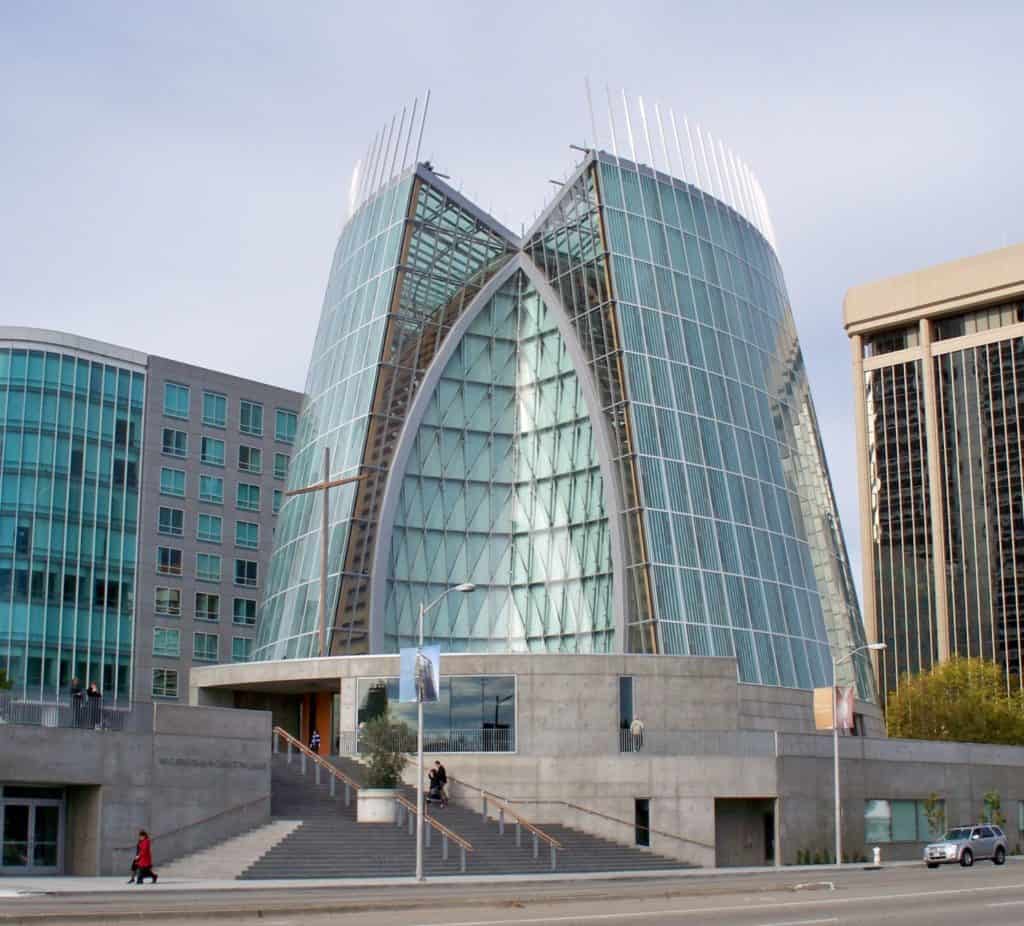 Copyright by Skier Dude
8 – History was made there
San Fernando de Bexar Cathedral in San Antonio (TX) is not only a pretty gothic style cathedral, it's the oldest in Texas, and also stands near the location of the famous Battle of the Alamo. James Bowie, hero of the defence of the Alamo, got married in the then church and died there 5 years later during the assault of Santa Anna's army. A Few minutes walk will take you to the Alamo memorial and the Cenotaph.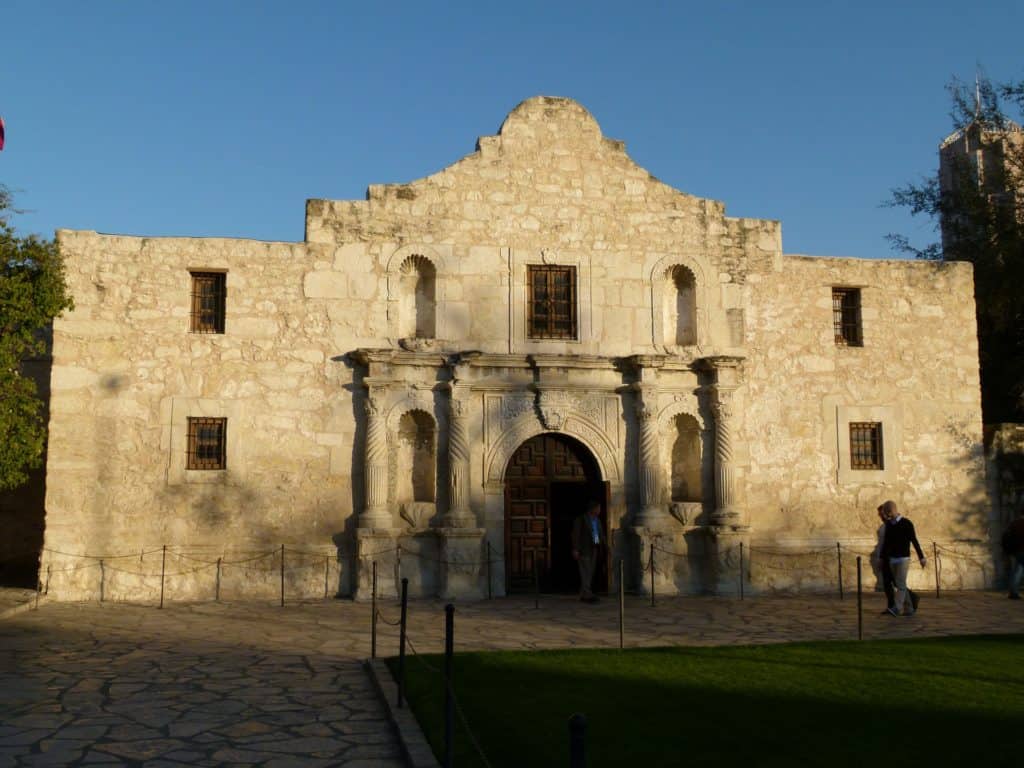 Image by Wolfgang R. Zissler from Pixabay
9 – The desert and the Chapel
It's said that Faith can be found underneath a rock, if you make it to Sedona (AZ) the Chapel of the Holy Cross is a must visit place, standing a benevolent watch above the desert it will welcome you after a steep climb where you will enjoy a closer look at the architectural marvel.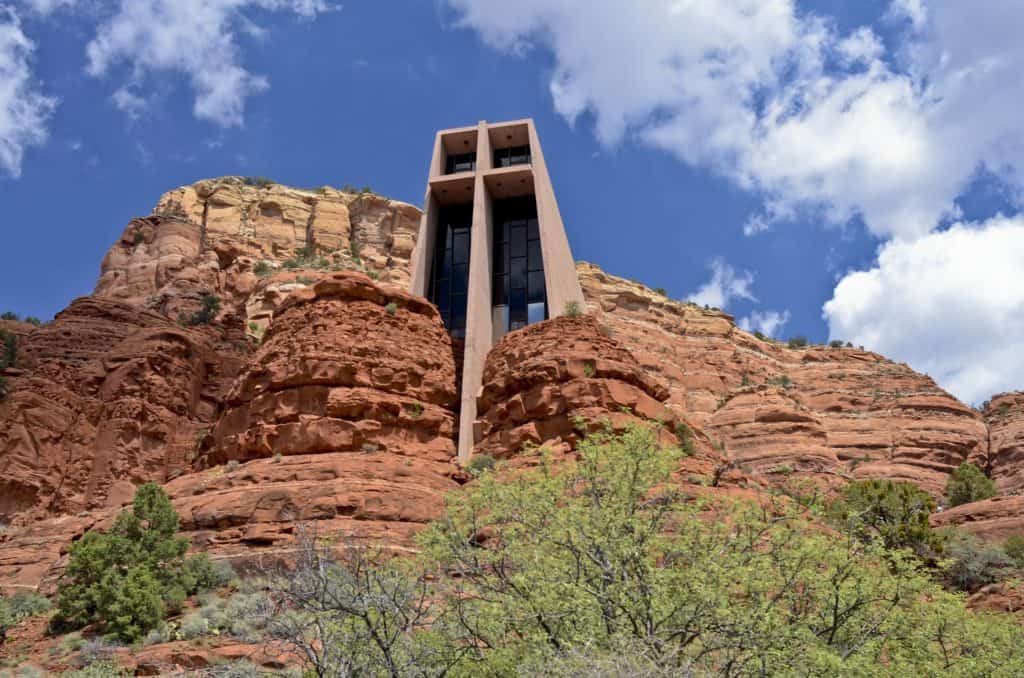 Image by Tom Kranz from Pixabay
10 – A European touch
Near Milwaukee (WI), the Basilica of St. Josaphat's massive copper dome, stained glass windows, and decorated interior are a treat for the soul and the eyes. Built by the Polish immigrant community in the late XIXth century, with stained glasses from Austria and oil painting and decorations (including the "marble looking" columns) done by Italian artists, this Catholic church is as close as a European one as it gets. Pope Pius XI declared it a Basilica in 1929.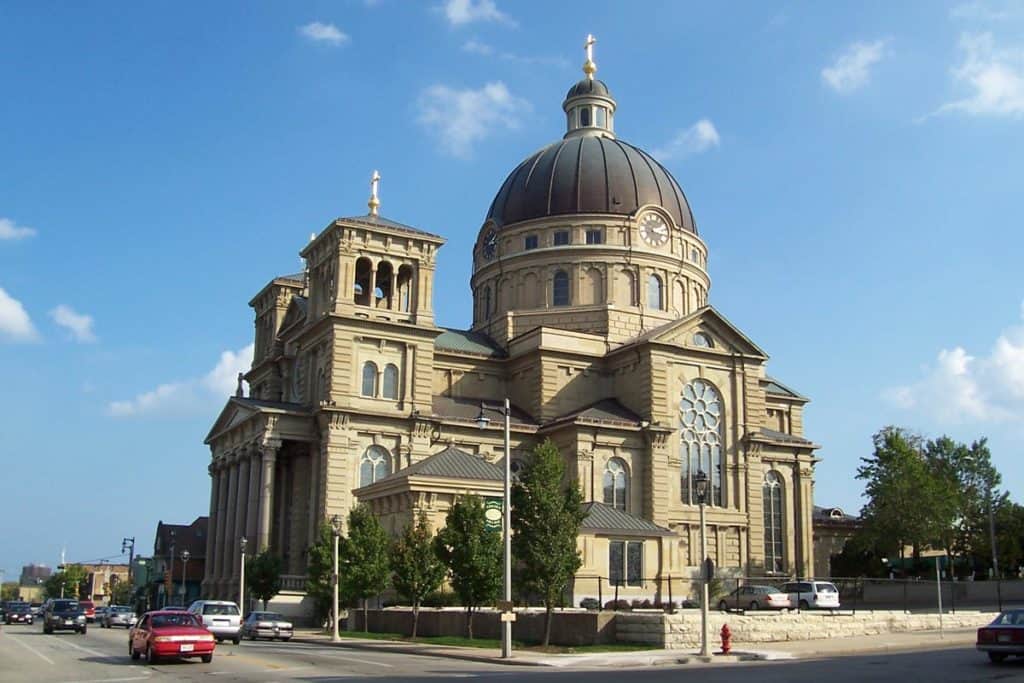 Copyright by Sulfur
Did you know ?
Through this blog we have mentioned Chapel, Church, Cathedral and even Basilica but do you actually know the difference between them? 
A chapel is a place of worship that has no pastor or priest and no permanent congregation; it's all about the physical space
A church is any place of worship that has a permanent congregation and is run by a pastor or priest.
A cathedral is a church that's run by a bishop; it's the principal church within a diocese, the area of land over which a bishop has jurisdiction. It's all about the bishop. As long as it's where the bishop sits, it's a cathedral.
A basilica, there are two types: basilicas major and basilicas minor. The basilicas major are the four personal churches of the pope and are in and around Rome. Basilicas minor are found around the world and are granted that status by the pope