Authentic Bolognese Sauce
Bolognese originated in the Italian town of Bologna in the late 18th century. Ragù is the Italian word for bolognese sauce. Ragù has regional varieties throughout Italy, one of which being bolognese.
Ragù is derived from the French phrase "ragout," which denotes long-cooked meat and vegetable stews. The impact of this cooking practice spread to the kitchens of the Neapolitan Bourbon Court and the Vatican in the 1700s.
Bolognese sauce is never served with spaghetti pasta in Bologna. Rather, it is served with tagliatelle, a typical Emilia-Romagna pasta, or lasagna.
The first published recipe for bolognese appeared in Pellegrino Artusi's cookbook, The Science of Cooking and the Art of Eating Well, in 1891.
The guidebook contains approximately 800 dishes from all around Italy and is currently regarded as one of the most well-known Italian cookbooks of the contemporary era.
The recipe was taught to Artusi by Alberto Alvisi, the cook of the local cardinal who would later become Pope Pius VII.
The recipe called for a lean veal filet, pancetta, butter, onion, carrot, celery, stock, flour, nutmeg, and salt and pepper. Before serving with spaghetti and Parmigiano, Artusi suggested completing the sauce with mushrooms and a little cream.
Authentic Bolognese Sauce, also known as Ragu alla Bolognese, is one of the most hearty and flavorful dishes you'll ever eat and has been featured in several food tours. A hearty beef ragu with pancetta, tomato, and white wine featured in Rome Urban Wine Tour served with tagliatelle pasta. This ancient recipe is really simple to prepare at home and requires very little preparation.
Authentic Bolognese Sauce is an Italian pasta sauce made up of pancetta, vegetables -onion, carrot, celery,- ground beef, and tomato passata.
Bolognese, often known as ragu alla Bolognese, is far more than a simple beef sauce. It's the ultimate way to turn a package of ground beef into something spectacular. What sounds better when the temperature drops than pasta slathered in deep, meaty, umami-bomb bolognese? Nothing.
Bolognese is not the same as the simple red sauce used in popular Italian American dishes such as our favorite spaghetti and meatballs recipe. Bolognese is distinguished by an Italian sofrito (boiled down celery, carrot, and onion), a generous pour of wine, and the addition of milk, which results in an extremely creamy and velvety sauce. In the last 10 minutes of simmering, add fresh chopped herbs to boost the taste even more. Oregano, marjoram, and basil are all excellent choices.
It takes some effort to create these delectable flavors, which are featured on Secret Food Tours. Two hours, or more, if time allows. That may appear to be time-consuming, but it is not. Each ingredient has time and low heat to "perform its work," adding its particular taste, combining, and converting your bolognese into something amazing. So, yes, we'd say it's worthwhile. Here's how to do it right.
There aren't any AROMAS in this classic Bolognese sauce, meaning no laurel, parsley, rosemary, garlic, nutmeg, or red hot chili pepper.
Bolognese sauce is well-known around the world, yet the majority of variants available are far from original.
The truth is that the genuine recipe is not at all difficult to prepare at home.
In actuality, the official recipe was presented to the Bologna Chamber of Commerce in October 1982 by the Delegazione di Bologna dell'Accademia Italiana Della Cucina.
It's one of the most renowned Italian recipes in the world, and it's popular throughout Emilia Romagna, not just in Bologna (thus the name). It should not be confused with classic Italian meat sauce, Neapolitan meat sauce, or Piedmontese white meat sauce.
All of these beef pasta sauces are from the Italian culinary tradition. Every region has its own recipe, and each family has its own variation. Whatever variation or variety of this dish you use, the extended cooking time of 2/3 hours is what unites them.
This recipe was formally registered with the Bologna Chamber of Commerce by the Academia Italiana Della Cucina in 1982.
So the recipe we'll show you is for true Italian Bolognese sauce. In terms of ingredients, doses, and cooking time, this is the classic Italian recipe.
Fresh homemade pasta, such as tagliatelle or pappardelle, goes perfectly with Bolognese sauce. Bring grated Parmigiano cheese to the table when serving spaghetti with Bolognese sauce so that your guests can sprinkle it on top.
Bolognese sauce is also the traditional beef sauce used to prepare Bolognese lasagna.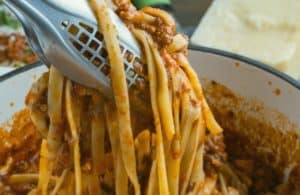 Ingredients
The ingredients are basic, but there are a few critical elements to remember if you want to make a great taste sauce.
Ground beef: If feasible, use high-quality organic grass-fed beef, and choose a cut of ground beef that is NOT extremely lean because the fat contains a lot of flavors.
Pancetta: Use a complete piece of pancetta and finely cut it with a knife or mezzaluna. Because pancetta can be rather salty, wait until the end to season the sauce and taste it before doing so since you might not need any.
Milk: Milk is an important component in a real Bolognese sauce since it helps to level out the acidity of the tomatoes while also adding a rich and creamy flavor.
If you're serving the sauce with dry pasta, you can add cream, but it makes the ragu too rich; I find milk to be the ideal balance.
Other ingredients include:
Carrot
Onion
Stock
Celery
White wine
Crushed Strained Tomato
Steps
Chop the carrot, celery, onion, and pancetta finely. In a large pot, heat the olive oil and add the veggies and pancetta; sauté until the vegetables are softened but not browned (5-10 minutes).
Cook until the steak is browned, then add the white wine and simmer by half. Stir in the strained tomatoes (passata) and stock to mix. Cover the saucepan and let it simmer for 2 hours.
The sauce may get overly thick and dry during cooking, risking burning. In this scenario, add a little meat broth or water and season to taste.
Add the milk at the end to balance out the acid of the tomatoes. Apply salt and pepper to taste.
If you want to season dry spaghetti, add the heavy cream once the sauce has finished cooking. Its use with tagliatelle, pappardelle, and other fresh pasta is prohibited.
Serving the authentic way
In Italy, Bolognese sauce is used to dress pasta or as an ingredient in the lasagna alla Bolognese, from where it gets its name.
However, you can also serve this delectable Italian meat sauce with slices of handmade bread.
Another way to experience ragu alla Bolognese is with polenta, a traditional northern Italian dish made from cornmeal.
Traditional accompaniments are tagliatelle or Lasagne alla Bolognese, a lasagna cooked with Bolognese ragu, fresh spinach pasta sheets, and bechamel sauce, as seen on Trastevere Food Tour.
If using tagliatelle pasta, top with freshly grated parmesan cheese and serve with crusty bread to clean up every last drop of sauce.
Pasta is traditionally served as a primo or first meal in Italy. Hence servings are minimal. This recipe yields 4-6 main meal-sized pieces, so it will serve roughly eight people as a first course.
Tips
Don't rush it – Allow the ragu to simmer low and slow; this is not a recipe that can be sped up and still have the same exquisite and authentic flavors.
Prep ahead of time – Because this dish, like most sauces, tastes better the next day, you can make it ahead of time and reheat it when ready to serve.
Handmade pasta – If you want to go all out and make some fresh tagliatelle to go with this, check out our homemade pasta recipe and tutorial.
No Variations – To get an authentic Bolognese sauce, don't add any herbs (fresh or dried) or any ingredients not listed in the recipe.
Storing Bolognese Sauce
Make a batch of real bolognese sauce ahead of time and reheat as needed
Refrigerate it in a tight food container for no more than 2-3 days
If you like, you may freeze it and keep it in the freezer for up to 3 months
Best meat to make Bolognese Sauce
This recipe's major component is meat. When aged cows could no longer work in the fields in the Emilia Romagna region in the last century, they were used to make bolognese. As a result, they required at least 5-6 hours of cooking time.
They now use milk that breaks down the meat fibers. The milk adds a "sweet" flavor to the sauce while eliminating the acidity of the tomatoes.
With the meat available nowadays, 2 hours of cooking time is all that is required.
The Beef
The chuck is the best cut of beef for an authentic Bolognese sauce recipe. Because of its high-fat content, beef chuck is ideal for creating ground beef.
It must not be very lean but must have enough fat to withstand extensive cooking times.
When making this real Italian Bolognese sauce to season pasta, grind the beef only once. The sauce will have a coarser texture this way. If you wish to use Bolognese ragu for lasagna Bolognese, however, grind the beef twice.
The Pork
Pork is used in the authentic Italian bolognese sauce recipe. In addition to beef, pancetta can be used. Finely chop it using a very sharp knife or a food processor. If you can't get pancetta, you can use minced pork. Pork sausage is popular in Italy.