Along with most of the rest of Europe, Britain had severe food shortages during the Second World War.
But because the country was never invaded, no one starved or was reduced to eating grass – for many, the diet and the rations imposed led to greater health. The present-day disease of obesity was virtually unknown and while many foods were unobtainable, people did not suffer over much.
Food rationing started early in the war under the auspices of the Ministry of Food. Meat (March 1940) was first, followed by fat and eggs, cheese, tinned tomatoes, rice, peas, canned fruit and breakfast cereals.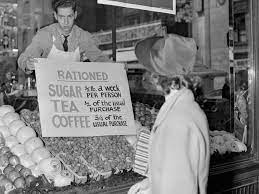 Remember this was a world where even in the pre-war days of plenty, olive oil was sold as a medical aid and dried pasta was confined to a few Italian shops. Rice was mainly for puddings.
Some foods such as fruit, vegetables and bread were not rationed in wartime. But shortages meant some foods such as onions and bananas were often unobtainable.
People were encouraged to grow their own – leading to many gardens and parks turned over to food production.
Rationing did not stop until July 1954 – much later than most other countries.
Every person had a ration book which contained various coupons. Purchasers had to register with one retailer for each type of food. As you bought things, your coupons were cancelled.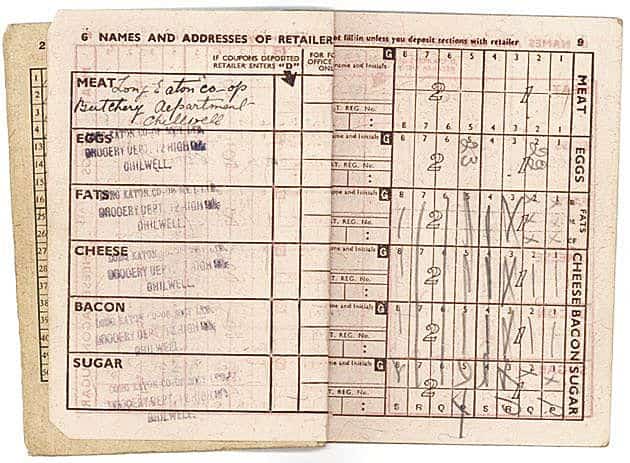 Beer and cider were never rationed although wine – always a minority drink – was virtually unobtainable.
There were two main ways of getting around the rules, especially for those with some money.
There was no rationing if you could afford to eat out – there were special British Restaurants serving low cost meals to those who had no home due to bombing – as well as other places.
Or you could buy food on the black market. There was a continual battle between officials and "spivs" – the usual word for those selling food illegally. This continued after the war – the 1984 film A Private Function is about the battles to keep an illicit pig.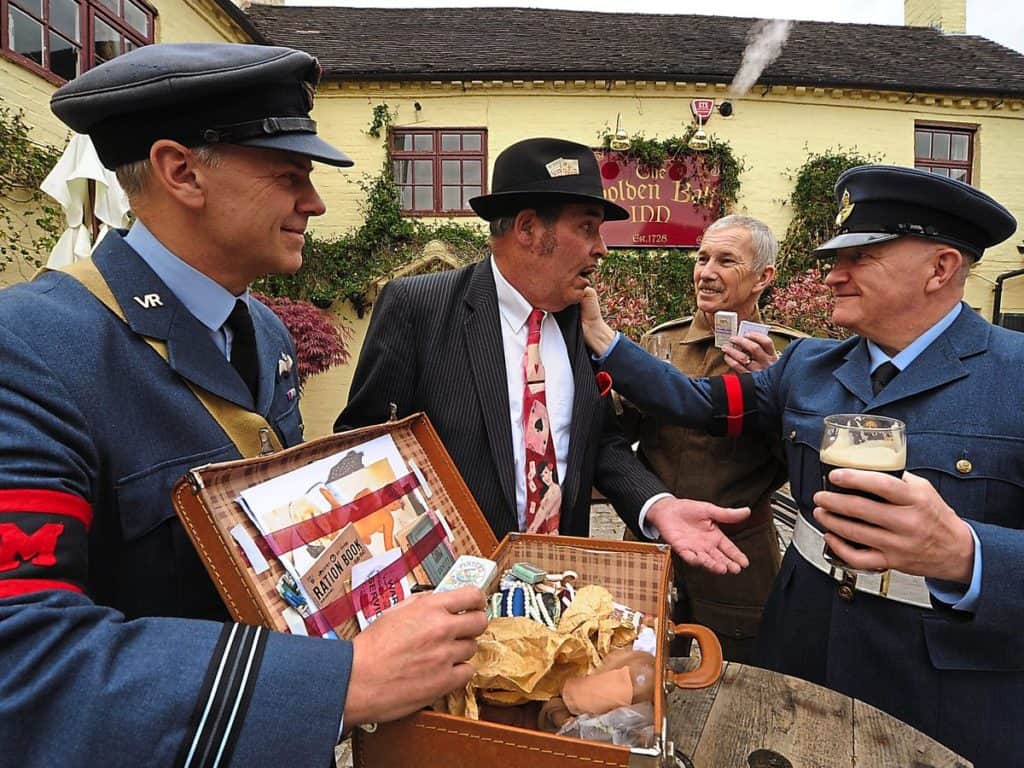 There were various attempts to change dietary expectations. Most failed. Snoek was a pike fish caught in the Atlantic and canned. It was never popular.
Nor was whale meat. This mostly ended up as dog or cat food despite Ministry attempts to popularise it with "inventive" recipes.
Then there was Woolton Pie. This was a pastry dish of vegetables, widely served when rationing and shortages made other dishes hard to prepare. It was created at the Savoy Hotel in London by its then Maitre Chef de Cuisine, Francis Latry and publicised by the Ministry of Food. It was named after Lord Woolton (1883–1964), who popularised the recipe after he became Minister of Food in 1940.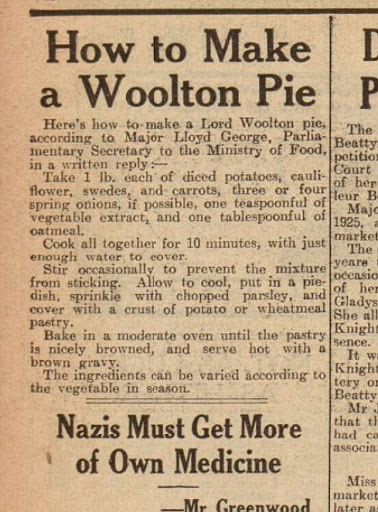 Perhaps it was ahead of its times given the number of vegetable-based recipes currently available!
Dried egg and dried milk fared better but soon disappeared when better choices became available.
Yes, food was plain but a lot of attention was paid to nutritional content including vitamins. Yes, it was boring – although given the diet of many Brits before the war, perhaps little worse than before.
When taking a tour of London with us you can be sure that our guide will have many small stories such as this one to share with you