If you like Street Food, there is one city in the World dedicated to it and it's name is Bangkok. But without further ado, let us give you one piece of very important advice; don't look for street food on Mondays. Why? Because Monday is the street cleaning day in the entire city and therefore becomes the unofficial Day Off for those businesses even in highly touristic areas the activity can drop down to 50% or less, use this day to enjoy some restaurants. So amidst the confusion of bright pink Taxis, Shopping Malls and the tidal waves of motorbikes where to find those food Oasis in Bangkok?
1. Victory Monument (Anusawari Chai Samoraphum)
This massive roundabout is like a circular buffet with at its North East the famous Boats Noodles, of course on the key food to enjoy are the rice flour flat noodles especially the Kuay Jab Nam Sai (rolled rice noodles). You can find them at the following addresses:
Doy Kuay Teow Reua, Ratchawithi 18 Alley, Thung Phaya Thai, Ratchathewi, Bangkok 10400, Thailand
Kuay Jab Jaedang, 2/16-18 Phahonyothin Rd, Samsen Nai, Phaya Thai, Bangkok 10400, Thailand
Kuay Jab Uan Pochana, 24 Ratchawithi Rd, Thanon Phaya Thai, Ratchathewi, Bangkok 10400, Thailand
2. Ratchawat Market & Sriyan Market
In the Dusit district you will find two of the oldest and traditional markets of Bangkok; they are also a bit more quiet and relaxed than the rest of the city. Ratchawat is the first with a large selection of boodles bars and roast duck stools but if you are careful you can even enjoy some pan fried sharks' curry.
Less than a mile away you have the Sriyan Market, another jewel added to the crown of Thaï Food, again a vast selection of noodles and curry with for us the best one the "Jungle Curry"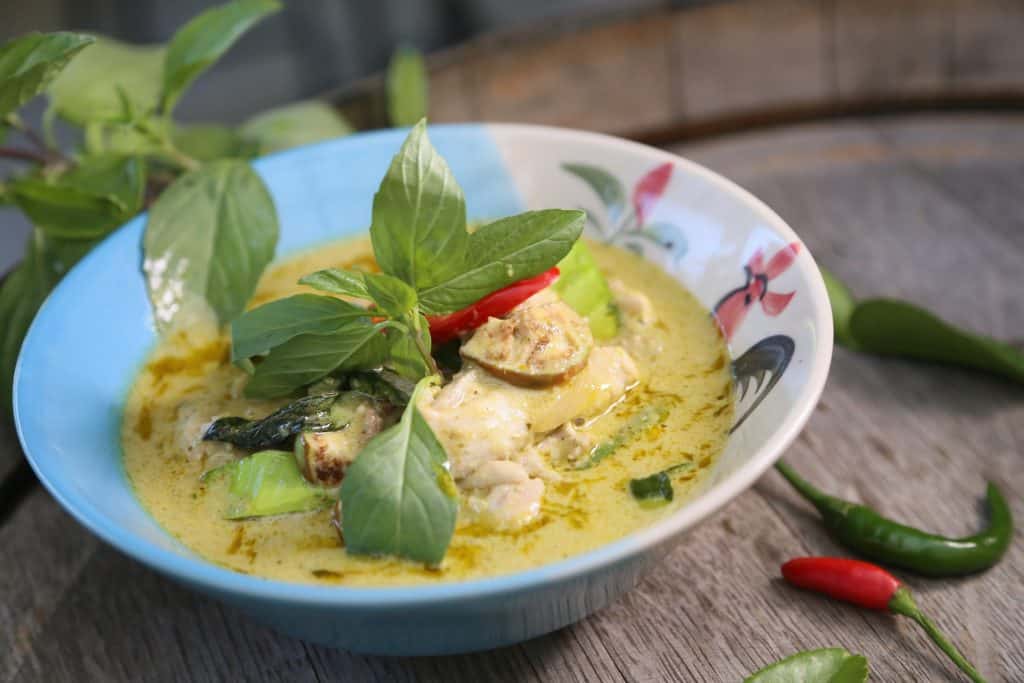 Unlike many other Street food areas this one is best enjoyed during day time.
A few addresses
Ran Gaeng Pa Sriyan (Jungle Curry with frogs or wildboar), 954 2 Thanon Nakhon Chaisi Rd, Thanon Nakhon Chai Si, Dusit District, Bangkok 10300, Thailand
Ratchawat (Roast duck and sauted noodles), 1444 97 Thanon Nakhon Chaisi Rd, Thanon Nakhon Chai Si, Dusit District, Bangkok 10300, Thailand
3. Charoen Krung
A stroll down Charoen Krung Road will always end up with a full belly as it is humanly impossible to resist the smells and vista, roasted garlic, fragrant noodles, steamed meatballs or grilled duck will trigger your appetite.
If you are vegetarian give a try to Tien Sin around the corner and if you like fish try Khao Tom Pla Thao Thuy and its speciality of rice soup with fish, you can't miss the venue du to its massive fishes hanging from the rafters of this silver stall
Tien Sin (vegetarian Thaï cuisine), Silom, Bang Rak, Bangkok 10500, Thailand
Home Cuisine Islamic Food (Halal biryani & curry), 186 Charoen Krung 36 Alley, Bang Rak, Bangkok 10500, Thailand
Larb Pla Duk (catfish Salad)
4. Bang Khun Non
Bang Khun Non is ranked number one among the highest street food quality. Much quieter than other major street food areas, you will be able to enjoy a meal outside without being bumped into. While in Bang Khun Non do try "yen ta fo" (pink noodles soup) and "khao ka moo" (pork thigh with rice)
5. Petchaburi Soi 5
Hidden between the Siam modern shopping centre and the Victory Monument the district wakes up at the end of the day when workers head back home. Because of the nature of the clients, most of the stands there are take-out food, but don't worry you can still find places to sit.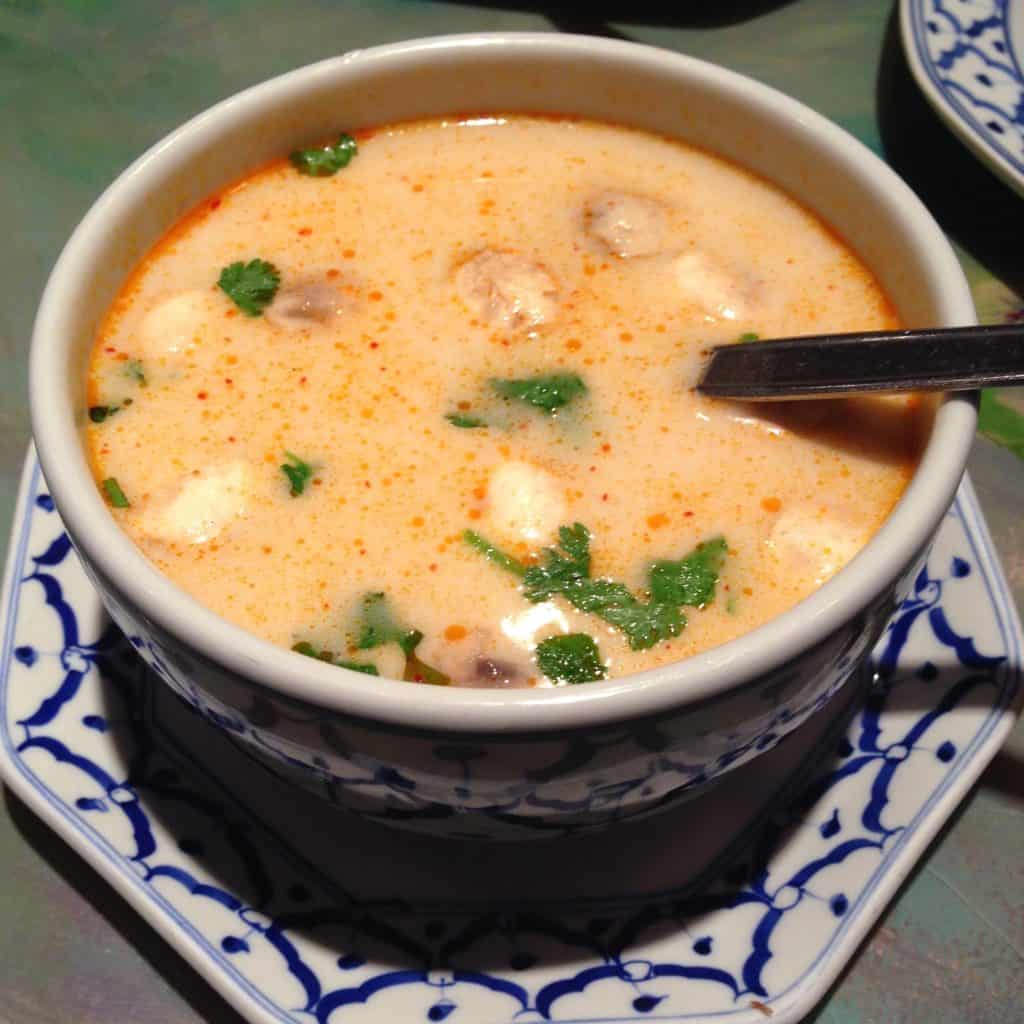 Among the dozens of stalls, if you are to pick one location, we advise you to try Pe Aor for a fantastic bowl of "tom yum goong"; the noodles marinating in a thick and thick and creamy sweet and sour broth and if you are still hungry Gai Pad Pongali (Chicken Curry with eggs)
Pe Aor 68, 51 Phetchaburi Rd, Thung Phaya Thai, Ratchathewi, Bangkok 10400, Thailand
6. Talat Phlu
Talat Phlu is an area where many venues have received local prizes for their food and you may even spot the old cart displaying all his received prizes on the lamp post (prizes earned for the some kanom buang yuan, a traditional Thaï snack)
Lan Thung Khao Khao Tom Hua Pla (steam dishes), 453 Thoet Thai 24, Talat Phlu, Thon Buri, Bangkok 10600, Thailand
Somsak Boo Ob (Crispy pork sauteed), 2 Charoen Rat Rd, Khlong Ton Sai, Khlong San, Bangkok 10600, Thailand
7. Rangnam (รางน้ำ)
This area is much more touristy but between the hostess bars and international restaurants you will find lots of stalls, especially later in the day.
There you will be able to try many dishes from the Isan Province (Northen Thailand) and some seafood stands
Kuang Seafood (SeaFood restaurant not really street food but for sea food it's better), 107, 12-13 Rangnam Rd, Thanon Phaya Thai, Ratchathewi, Bangkok 10400, Thailand
Rod Ded Isan Restaurant (Isan province dishes), 3, 5/6 Rang Nam Alley, Thanon Phaya Thai, Ratchathewi, Bangkok 10400, Thailand
8. Sukhumvit 38 (aka Suk 38)
In Bangkok Suk 38 by night time becomes a cheap street food heaven within the expensive and prestigious district of Thong Lo à Bangkok.
Not the highest quality but accessibility, varsity in the dishes and friendliness of the street vendors in this highly touristic area makes Suk 38 the best ground to have your first experience in Street Food in Bangkok.
Typically you will be able enjoy "khao neow" (Isan style sticky rice), som tam (green papaya salad) or even the classic Pad thai (stir fried noodles)
9. Tha Pra Chan & Banglamphu
Near the river Chao Phraya, Tha Pra Chan & Banglamphu are both old districts of Bangkok, some venues look like they have been in business for a few centuries? Let your senses guide you through the Market at Tha Pra Chan while enjoying a "kanom buang" (sweet crêpe).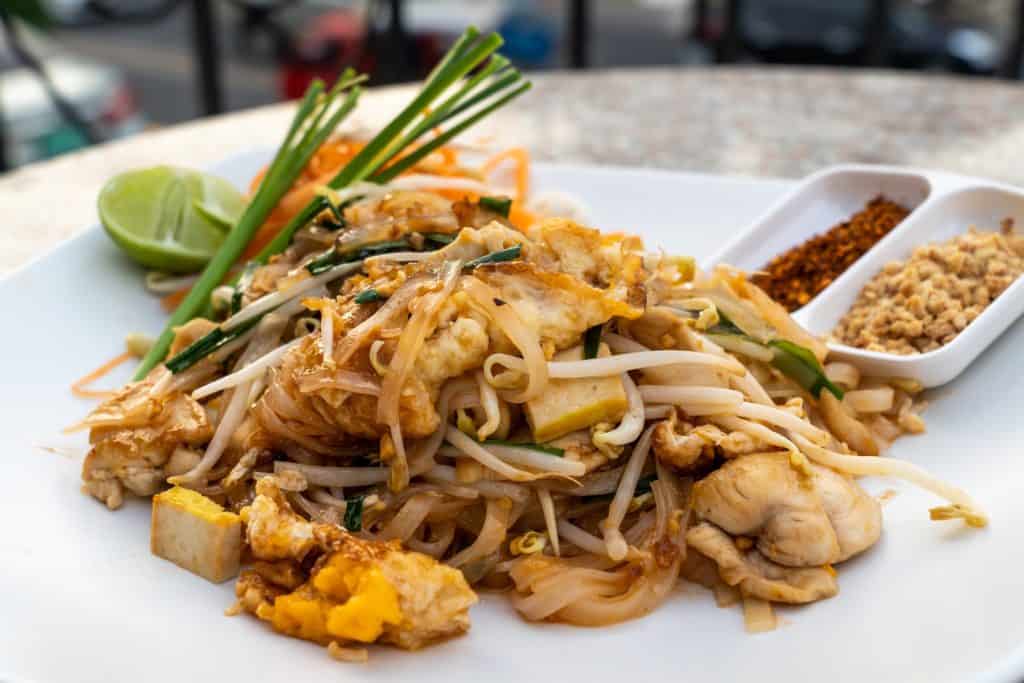 Thipsamai (The best Pad Thai in Bangkok), 313 315 Maha Chai Rd, Samran Rat, Phra Nakhon, Bangkok 10200, Thailand
Khao Kluk Kapi (Fried rice with shrimp paste), 313 315 Maha Chai Rd, Samran Rat, Phra Nakhon, Bangkok 10200, Thailand
Aisa Lote Dee (Halal Thaï), 103 105 Thanon Tani, Talat Yot, Phra Nakhon, Bangkok 10200, Thailand
10. Wang Lang Market by the hospital Siriraj
Snacks in their hundreds there is everything at Wang Lang Market, this is by far the most diverse Street Food location in the entire city.
Because of the easily overwhelming quantity and variety of food it may be good to have a first look, take a pause and then go fetch your meal but make sure you go there by day time (no later than 5pm)
Another tip is too look for hospitals, shopping malls and universities, the high number of passers-by will guarantee a high turnover of the food and you will always enjoy freshly cooked street food
11. Nang Loeng Market
One of the last traditional markets, its picturesque look is the reason for you to visit it, a sort of time travel with old wooden structures and old ladies that have been cooking the same dish over and over again for all their life. Weekdays at lunchtime the centre of the market is a busy food court with tens of dishes to pick from, such as "khao gaeng" (Thaï rice and curry), "Nam Tok Moo" (roast pork salad) or even the fruit shake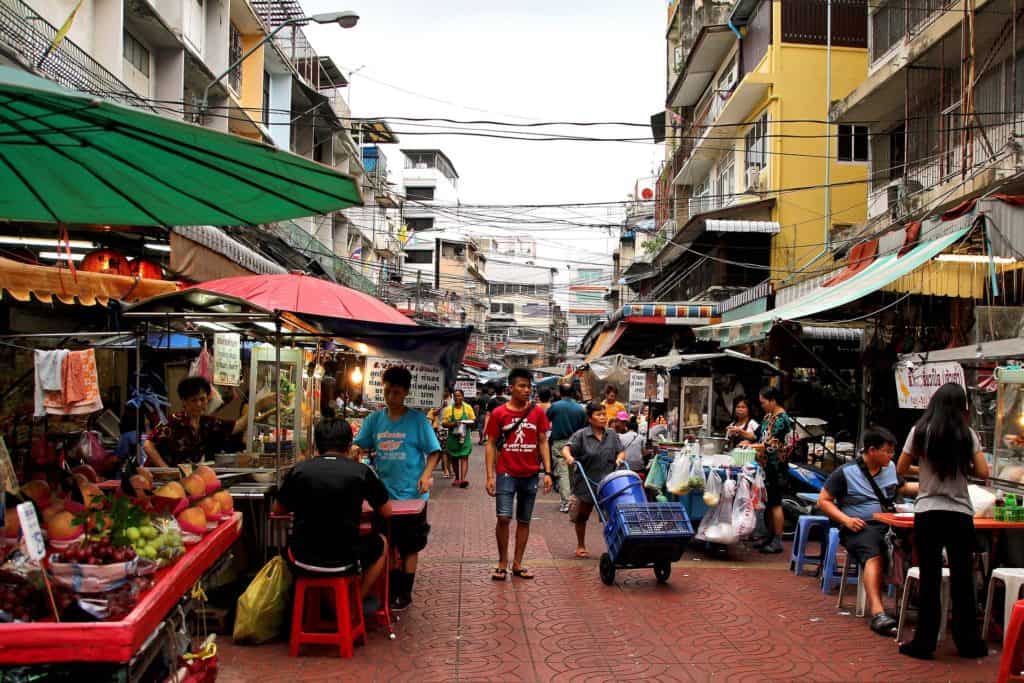 12. Soi Ari aka Phahon Yothin Soi 7
Easily accessible from BTS station Ari and open till late at night the convenience of this area is its main point but if you are vegetarian you will have to make a stop at the cafeteria Baan Suan Pai.
13. Ramkhamhaeng (Opposite side from the university)
As to validate our second tips you will see the relation between student and great and tasty Street Food.
Just outside the entrance of the largest University of Bangkok a sea of stalls awaits the starving students. And because of the important community of Southern Thaïland students many venues will offer many Thaï dishes in their typical southern style flavours.
14. Yaowarat (Chinatown)
Don't be afraid to wander the narrow streets of the district and follow your nose instinct, in Yaowarat a natural selection happened and only the good street food prevailed over the mediocre one.
To get the full picture of the area the evening is the best time and will offer you the largest choice. This is in fact where our Secret Food Tours Bangkok goes.
This is also the place for the adventurous ones between suckling pigs dishes and swallow nest soups, you won't be disappointed, however as a rule of thumb valid throughout the city, when ordering food to take-out make sure it is freshly cooked or grilled in front of you and do not hesitate to insist or walk off.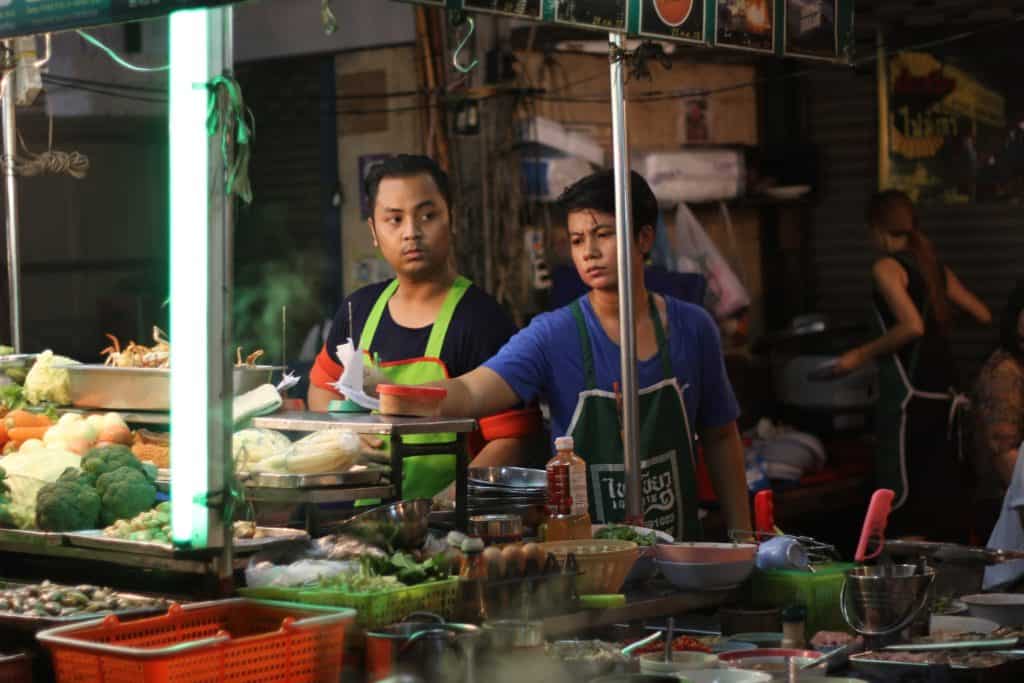 T & K Seafood (Seadfood)
Kuay Jab Uan Pochana (rice noodles rolls), 408 Yaowarat Rd, Chakkrawat, Chakkaphat, Bangkok 10100, Thailand
Khao Gaeng Jake Puey (rice and curry), 25 Mangkon Rd, Pom Prap, Pom Prap Sattru Phai, Bangkok 10100, Thailand
Bua Loy Nam King (Thaï desserts), 411 413 Yaowarat Rd, Samphanthawong, Bangkok 10100, Thailand
15. Sam Yan Market (สามย่าน)
And last but not least, in the heart of Bangkok and all around the University of Chulalongkorn, the market is a real treasure chest for food, however one location called Steak Today is the hideout for meat lovers with a large selection of street meats. By the end of the meal you will have added a notch or two to your belt.
The morning visit of the market is the best time for you to make the most of it.
Now as landing in a new foreign country can be a little daunting especially when facing so much choice between dishes, how about getting onboard one of our award winning Food Tour of Bangkok https://www.secretfoodtours.com/thailand/ as not only will you get to try some of the of the most famous dishes in Thaïland but also will the guide give you valuable advice for you to use during your stay.