1. Western Lake Chinese Seafood Restaurant
Western Lake Chinese Seafood Restaurant is a place where you'll fall in love. It is truly a fantastic experience from the time you enter to your meal and service. The setting and atmosphere are warm and relaxing. You will be delighted to know that it serves only seafood, making it one of the best Chinese seafood restaurants in Vancouver. Their primary food, Dim Sum is to die for; you will think about it for months.
The Dim sum is made from minced pork, shrimp, and vegetable with a unique crispy texture and a sweet and sour sauce. The Pan-fried dumplings are steamed in a double layer of pastry with minced pork. The dumplings are delicious, and they come in 3 different types: Pan-fried ground round and veal, pan-fried shredded pork with shrimp, and pan-fried shredded beef with black pepper. Other Dim Sum includes steamed shrimp dumplings, steamed chicken dumplings, and roasted duck buns.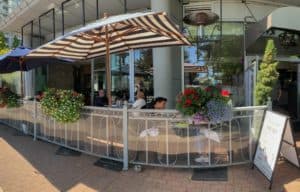 2.Provence Marinaside
There is no better place to get a seat on the waterfront than at Provence Marinaside. It has been a landmark in Vancouver for many years, not just due to the great food. It's because of the spectacular views. Those views are just as impressive as what you'll find when you begin your meal at this modern French restaurant. The menu is varied, and there is something for everyone. Their main dishes include Seafood, steak, and pasta dishes. If a great view is what you are after, this is the place to be.

Check out our amazing food tours in hong kong We offer amazing walking, driving and VIP experiences that will leave you wanting more!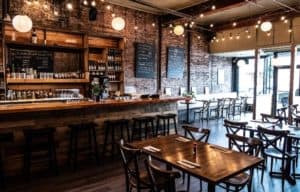 3. Dosanko
Dosanko is a small quirky Japanese restaurant that has barely changed since 1993. It's a place with an old-school yet modern atmosphere and a simple layout. They serve sushi, sashimi, and other dishes such as fried chicken and tempura. It's a great place to relax and enjoy a unique dining experience. The menu is creative, and it's not something that you will find at many other restaurants. Some of their famous dishes include hot ramen in winter, Dosanko burger, and chicken noodle soup. The restaurant also has a patio which is excellent in the summer. It enables you to sit and enjoy the cool breeze and the view of the city at your own pace.
4. Pepino's
Pepino's is one of the best Italian restaurants in Vancouver. It has a casual yet romantic and relaxed atmosphere. It's also a great place to go with your family and friends or with the special someone you care about. You will enjoy their unique dishes such as Pasta Speciale, The Original Pizza, Chicken Parmigiana, and Garlic Butter Shrimp. This restaurant is open 24 hours a day, so you can enjoy eating it whenever you want to. They also have a famous brunch buffet on Saturday and Sunday. It includes a variety of authentic Italian dishes, including pasta, meatballs, and chicken or veal parmigiana.
5. Hawksworth
Hawksworth is one of the best restaurants in Vancouver. It's been around for many years, and it's known for its great food, good service, and beautiful atmosphere. It's a great place to go with your family and friends or with the special someone you care about. Their menu includes Beef, lamb, salmon, and game dishes. Some of their famous words include Yacht House steak salad, Duck breast salad, and Black Garlic prawns. Cocktails are one of the best in the city; they prepare their martinis with freshly squeezed pineapple and have a great selection of wines. They also provide different dinner sceneries, which include high ceilings, chandeliers, candlelight, and the ambiance of a traditional European restaurant.
The restaurant was voted one of the best restaurants in Vancouver, and it has been featured in several magazines. It's also an excellent place for special events such as birthdays, anniversaries, and other celebrations. They have several private rooms to ensure a party is a great success. You can choose to have your party outdoors or indoors, whatever suits your needs the best. The friendly and efficient service ensures you enjoy a fantastic night out with friends or family.
6. Hy's Steakhouse & Cocktail Bar
Hy's Steakhouse & Cocktail Bar is an excellent place for a romantic date. They have the best ambiance and are known for their great food, excellent service, and beautiful city views. They offer steakhouse dishes such as beef tenderloin, ribeye, and lobster tail. Their main dishes include breaded chicken, pork tenderloin, ribeye, and baked salmon filet. Their famous cocktail consists of the Pink Lady, which has pastis because that was their first drink creation. The place is always packed with locals, so you must make a reservation. Their prices are affordable, and they have a quality menu.
They also have one of the best happy hours in the city. The portions are enormous, and you will leave there very full. You'll want to come back for more, and you'll also like to recommend it to your family and friends. It's one place that makes you want to come back again and again because you don't want to leave there thirsty or full.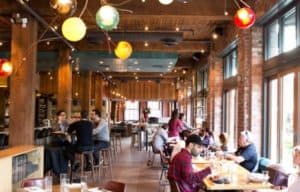 7. Chambar Restaurant
Chambar Restaurant has been a favorite restaurant of the locals for many years now. It can be considered an excellent place to go with your family and friends or with the special someone you care about. The warm and welcoming atmosphere is a great place to grab a bite while enjoying drinks and some good music. They serve French cuisines such as duck confit, grilled chicken, and salmon. Their main dish is the confit de canard, a French dish that is very popular in this restaurant. It is made from duck legs, duck breasts, and confit. The duck confit can be served with mashed potato or rice, and the sauce is a mixture of marjoram, thyme, and white wine.
It has a cold and contemporary feel, with tables in the center and pillars running along the wall. It is known for its great food and good service and also for its unique atmosphere. They have a diverse menu to suit all tastes. Their signature dish is Truffle Fries which is truffle oil, parmesan cheese, fried onions, garlic chips, and spicy ketchup.
8. Marutama
Marutama is a Japanese restaurant that has been around for many years. It's a great place to go if you want to enjoy their delicious sushi and sashimi. Each piece of sushi is cooked perfectly to enhance the taste, and the way it looks makes it an experience worth coming back for more. The atmosphere is fantastic and has a traditional feel, making you feel like you are in Japan. Their main dishes are also delicious and include specialty rolls such as Dorayaki and gyoza. They also make noodles daily; you can taste their freshness by how they taste and look.
Vancouver food tours are a great way to explore different areas of Vancouver. The food tours can take you to the best restaurants in Vancouver that serve the best local foods. It is a great way to discover the best eats in Vancouver and learn about their culture and traditions. These secret food tours will allow you to become more acquainted with the diverse food available in Vancouver. Even if for a day, indulge yourself in the taste of Vancouver and its culinary diversity.