The city of Miami boasts tropical weather, which is downright amazing. Besides, it is home to sunny white beaches and stunning seascapes. People also come to Miami, FL because of its exciting nightlife and hard-to-ignore Cuban culture. Well, it is because of these reasons Miami is sometimes referred to as America's most beautiful place.
This charming urban destination is the place to be. So, whether you are here for a secret food tour or simply want to enjoy the tropical weather, Miami has plenty to offer.
The following are the seven fun things to do in Miami, FL.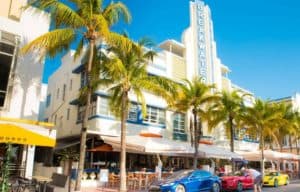 1. Visit the Art Deco Historic District
There is no better way to introduce yourself to the best culture and art scenes in Miami than to visit the Art Deco Historic District. The residents of Miami commonly refer to it as the Miami Beach Architectural District, and with a good reason. The thing is, the Art Deco Historic District is a stunning neighborhood in Florida that is on the National Register of Historic Places. What's even more interesting about it is that it is the first 20th-century neighborhood in Florida to be added to this coveted list.
The buildings and structures you will come across when you visit the Art Deco Historic District were mostly built between the 1920s and 1940s. This gives the architectural appearance of this place a somewhat old-fashioned "futuristic" look. A look that is always seen in dated sci-fi movies. Ideally, you will love the spaceship-like structures and shapes that invite you into this neighborhood. There is also the Art Deco Museum that you should not forget to visit. Plus, make sure you go on a walking tour that stretches around 90 minutes. One reason why the Art Deco Historic District tops our list is that, in addition to providing you with maximum fun, it presents an opportunity to learn a lot.
2. Have a Memorable Time at South Beach
Most of the time, you will find this famous beach packed with many visitors. The people here call it "SoBe", and they really like it. So, if you are looking for the hottest and probably the best place to relax and enjoy your time out, SoBe is for you. The cheery and bright aesthetic of this beach will definitely melt your heart. Besides, some buildings and structures exhibit an art deco style to further make the place insanely stunning. Palm trees add some visual appeal too, thereby, making South Beach one of the best spots to spend your weekend.
Maybe you're looking for a new way to explore los angeles? Why not try our los angeles food tours , which are guaranteed be both educational and delicious!
There is a lot to do at SoBe after the sun comes out. If the temperatures are surprisingly high in the morning, you can get into the water to cool out. Alternatively, you can get under one of the umbrellas and enjoy the sun from there. You can also let your adrenaline kick in by taking part in a number of water sports the beach offers. Activities at SoBe do not end when the sun sets. That being said, you can visit a cocktail bar and have a yummy drink to sip while gazing at the stars.
3. Go Shopping at Bayside Marketplace
People love Miami for its nightlife, museums, and stunning restaurants that offer second-to-none food tours. But these are not the only things that should make you want to come to Miami. Shopping in this world-class city can also be a memorable activity, especially if you go to an exciting place like Bayside Marketplace. Located in downtown Miami on Biscayne Boulevard, Bayside Marketplace is a large shopping complex rich in eateries and stores, among others. You will come across brands as well as local shops, making it the perfect destination for everyone.
Furthermore, Bayside Marketplace spans two stories not to mention offering a panoramic view of the waterfront. It is a large mall that you can visit all day if you like. Another reason why Bayside Marketplace is famous is that it is conveniently located. A good number of popular spots in Miami, FL are near this shopping complex. This means it should be your stop if you prefer to explore Miami in a full tummy or after doing some shopping, perhaps for the essentials you will use in your recreation.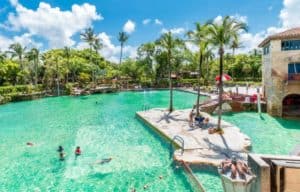 4. Swim at the Venetian Pool
Still into swimming? Then you should not forget to head to the Venetian Pool during your tour in Miami, Florida. Its novelty contributes immensely to making it a famous spot in Miami. But there is more; did you know that the Venetian Pool is the largest freshwater swimming pool in the U.S.? The pool is located in Coral Gables and was built in 1924. It stems from the leftover portions of a rock quarry, which had been abandoned. The pool's look is worth talking about too because it is beyond stunning.
It boasts a mix of Venetian grotto appearances and the Mediterranean style. As if that's not enough, this swimming pool has lots of connections to 100% grotto caves. These caves are real and suitable for exploration. So, in a nutshell, you will not just be swimming when you come to America's largest freshwater swimming pool; you will also explore real-life, natural caves. The pool also boasts a natural filtration system that keeps the water blue, clean, and crystal clear. This makes relaxing in it unforgettable. Another great fact about the Venetian Pool is that it is the only pool to be added to the National Register of Historic Places.
5. Take a Tour Around AmericanAirlines Arena
Forget the interesting name of the AmericanAirlines Arena; this is home to the Miami Heat team. With that said, the AmericanAirlines Arena is the best place to visit if you are into sports. Apart from basketball games, this sporting arena holds such events as tennis, boxing, and gymnastics. It holds these events both at professional and competitive levels. What's more, the stadium has 2,000 seats, 80 luxury suites, and 76 private boxes. This makes it a versatile place that also doubles up as home to the Waterfront Theater.
The theater is used for concerts, stage shows, and theater, among others. The arena was opened on Dec. 31, 1999, and it has seen lots of celebrities since that time. Great names like Lady Gaga, Taylor Swift, and U2 have all come here and put on shows no one will ever forget. Well, it is believed that one of the reasons why celebrities prefer the AmericanAirlines Arena is that the atmosphere is simply amazing. Grand chandeliers, a nice proscenium stage, fabulous lighting, and full-length acoustics all make the atmosphere of this place otherworldly.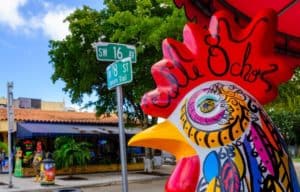 6. Eat at Little Havana
Little Havana can be described as the cultural capital for Cuban-Americans. It is located near downtown Miami, and it is one of the best tourist destinations in Miami, FL. Well, that is because Little Havana boasts innumerable fun and attractive activities as well as curiosities. The food here is one of the things that attract people both in and outside Miami. But what is so unique about the food at Little Havana? First, the food here is traditionally made and super authentic. It is prepared with flavor and spice known to make Cuban foods incredibly sumptuous.
Additionally, the general vibe at Little Havana combines with unrivaled aesthetic appeal to make anyone who comes here feel like they do not want to leave. If you are unsure what to do at Little Havana, you can start by visiting the El Pub, where they serve genuine Cuban food at competitive prices. After that, you can head to Maximo Gomez Park to play some dominoes or chess. Also, if you enjoy cigars, you can check out a cigar factory. Ideally, make sure you go to the Calle Ocho Music Festival if you are here in March. It is a massive festival that promises lots of fun.
7. Go on Shallow Tails Fishing Trips
If you are a fishing enthusiast or simply looking for more adventure in Miami, FL, going on shallow tails fishing trips should be a frontier for you. This activity offers an unrivaled way to explore fantastic fishing scenes in Miami. We are talking about areas near and in the flats and backcountry of Biscayne Bay. Shallow Tails Fishing Trips in Miami also give you a chance to explore the Upper Keys, Islamorada, and Flamingo Everglades.
Captain Raul Montoro, a professional fishing guide, pilots all the fishing trips. He has over 20 years of experience; hence, we bet you will learn a lot from him. Besides, Raul specializes in the realm of light tackle fishing, plus all fishing trips with him include the necessary fishing equipment as well as licenses. These pieces of fishing equipment include spinning and fly-fishing items. What's more, you will be using a Kevlar skiff boat on these trips. If you are not familiar with it; this is a specially-designed boat that accommodates up to a couple of fishers.
Bottom Line
It is not just the Miami food tour that makes visiting this city worthwhile. There is so much more, including shopping at some of the world's most beautiful malls, visiting historic places, and swimming in America's largest freshwater swimming pool. That being said, we hope that you already know where to go and what to do the next time you visit Miami.