French Foods That You Can Make at Home
French food is popular across the globe for its taste, uniqueness, and flavor. There is a whole list of french Foods from wine to cheese, brie and Burgundy to camembert and Chardonnay you can try. Secret food tours offer highlights on French cuisine that will add something special and unique to your table. You can bring this fine taste to your home with simple French recipes from a paris food tour.
Secret food tours list top French foods you can make in your kitchen. Here is a list of some of the popular food you will learn about from food tours french.
French Foods to Try at Home: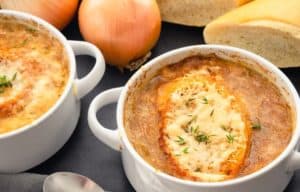 This traditional French soup is a mixture of onions and beef stock and is served with croutons along a melted cheese on top. It has a unique flavor coming from the caramelization of the onions.
Soupe à l'oignon
• Butter
• Flour
• Beef stock
• White wine
• Baguette
• Gruyère or Emmenthal
Method
1. Peel the onions thinly
2. Put them in butter to soften
3. Stir regularly in a tablespoon of flour
4. Heat on low, medium heat for 3 to 4 minutes
5. Put in boiling beef stock and a glass of white wine
6. Cover and leave to cook for 45 minutes.
7. Ladle in heatproof bowls and put thin slices of toasted baguette on each.
8. Cover with Gruyère or Emmenthal and bake for 20 minutes until the cheese melts and the bread is toasted.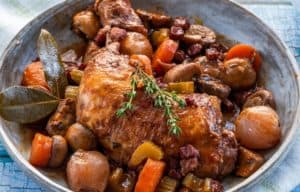 Coq au vin
Coq au vin is one of popular Julia Childs's signature french Foods. It combines braised chicken, mushrooms, salted pork or bacon, onion, garlic, wine, and sometimes brandy. You can make your own using local wines. This recipe makes six servings.7
Ingredients
• 4 Chicken thighs and legs
• 2 cups of Red wine
• Salt and ground pepper
• ½ inch dice of 8 ounces Slab bacon
• Three tablespoons of olive oil
• One onion
• Two tablespoons of Cognac
• One chopped chicken liver
• Two bay leaves
• Five thyme sprigs
Method
1. Marinate the chicken with wine in a large bowl overnight at a low temperature
2. Dry the chicken and season with salt and pepper
3. Cook the bacon in medium-low heat for about 20 minutes
4. Cook chicken until golden brown
5. Add onions and cook for about 5 minutes
6. Put flour and tomatoes paste and cook for 2 minutes
7. Add cognac and stir
8. Put the bacon and chicken together with chicken liver and herbs into a pot and pour reserved wine
9. Cook for 45 minutes to 1 hour until vegetables are tender and chicken soft. Remove herbs and skim and serve.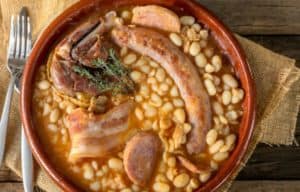 Cassoulet
Cassoulet is a classic French food mixture of white beans and meat cooked slowly. This dish uses pork, sausages, goose, mutton, or duck. It's popular in Toulouse, Carcassonne but you can also cook it at home. This recipe is a serving for four to six people.
Ingredients
• 140g of pork and smoked bacon
• Garlic sausages about 30g
• ½ kg of dried haricot beans
• One celery stick
• One big carrot
• Six garlic cloves
• One white onion
• Two ripe tomatoes
• 25g goose fat
• One bouquet garni
• Sea salt
• Lemon juice
Method
1. Soak the beans overnight and dry up
2. Add pork and lardons and mix with cold water.
3. Boil for 20 minutes and drain the water
4. Cut the celery, onion, tomatoes, and carrot.
5. Heat the fat, add celery, onion, carrot, and garlic, and stir for 5 minutes. Add tomatoes and bouquet garni and leave to cook for five minutes.
6. Add sausage, beans, pork rind, and lardons, and pour a liter of water. Leave to boil, then add salt, pepper, clove, and lemon juice.
7. Take the casserole to the oven and cook for about two hours, stirring every hour until the soup is thick.
8. Remove from the oven and dip duck legs. Sprinkle the goose fat or olive oil, garlic, and breadcrumbs. Put back to heat for about two hours.
9. Serve with chopped parsley in a bowl.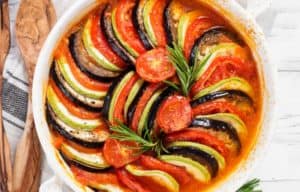 Ratatouille
This dish isn't just lovable but also rich and heartwarming french Foods. It is a mixture of baked shallow-fried vegetables with the casserole. You can easily prepare this at home as an appetizer, side dish, or even a complete dish. You can serve it with red wine and fresh bread for a great taste. This recipe is for six to eight servings.
Ingredients
• Virgin olive oil
• Two eggplants
• Finely chopped garlic cloves, salt, and black pepper
• Four zucchini
• ½ thyme
• One onion
• 1 kg of tomatoes
• Two red capsicum
• ½ liter tomatoes juice
• Two tablespoons of chopped basil
Method
1. Heat oil over a low heat
2. Put1/3 of garlic, eggplant, squash, and zucchini. Set aside with onion, salt, and bell pepper, stir until tender, and add tomatoes. Stir well for a proper mixture.
3. Season with salt and pepper and sauté with onion, capsicum, and remaining thyme and garlic until tender.
4. Mix in a pot, add tomatoes and juice, and cook for about 2 hours while simmering gently.
5. Cover with foil and bake for about 40 minutes.
6. Uncover and bake for another 20 minutes until the veggies are soft.
7. Serve hot
You don't need to worry anymore as the Paris food tour and Nice food tour will help you get a taste of these delicacies. This nice food tour offers comprehensive information on the French foods you can conveniently cook in the comfort of your home. Get in that kitchen now and prepare any of these wonderful dishes.