San Francisco is known for its beautiful and iconic landmarks, such as the Golden Gate Bridge, Alcatraz Island and the Painted Ladies, but what about its farmer's markets and incredible restaurants and cafes?
That's why we've rounded up our picks for the best markets and local culinary destinations for you to try this season. Some are local legends, while others are hidden gems. Food tours in San Francisco will surely give you some special insights.
Alamo Square Farmers Market
You must pass by the Alamo Square Farmers Market. Our favorite time to visit it is on Sunday afternoons, as a weekend treat. The market is a perfect place to catch up with friends over lunch or enjoy the sights and sounds of this city.
Besides being filled with fresh products and tasty dishes, the market features live music on weekend afternoons. And, of course, there'll be plenty of kids from the neighborhood who aren't afraid to let you know how much they love your dog!
How to find this market? Get off the 8-O'clock bus at Haight and Steiner and walk a couple of blocks north to Steiner Street.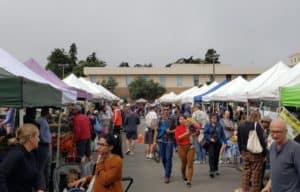 Divisadero Farmers Market
You'll find a San Francisco's popular foodie destination at the Divisadero Farmers Market. Since 2006, the market has been a go-to spot for every local, it does not matter if they are looking for a salsa or a special honey. Stop by on Saturday and Sunday afternoons, and you'll find local farmers selling their own product. Even a butcher won't be shy to be there and sell his meat. Saturday hosts some amazing food trucks, Sunday is the flea market's day, and on both days there is plenty of other fun activities like live music, wine tastings and kids' events.
Dan's Community Market
Dan's Community Market is just across the street from the famous Haight and Ashbury neighborhood. The market officially opened in 2012 and it mostly features fruit and local farm products. It's open every Saturday and Sunday from 8 a.m. to 1 p.m.
You'll find a great selection of the season's best — including heirloom tomatoes, fresh herbs, and summertime strawberries. Plus, you can head to the meat counter for locally raised meats and eggs or stop by the pastry section for tasty homemade goodies.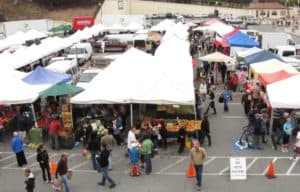 Fort Mason Farmers Market
It's all about the food at the Fort Mason Farmers Market. This has been a San Francisco staple for over 30 years, and it's still going strong. We are talking about a weekly farmers market that features a variety of fresh, locally grown produce, as well as flowers, baked goods, and other specialty items. The market is held every Sunday from 9am to 1pm, rain or shine. It is a popular destination for both locals and visitors, and offers a great opportunity to support small farmers and food artisans while enjoying the beauty of the San Francisco Bay.
Mission Community Market
San Francisco's Mission District is known for its Latino culture, hipster vibe, and a strong sense of community. The Mission Community Market captures the neighborhood's flavor and history while featuring various local vendors, artists, and musicians.
Overall, Mission Community Market is also a great place to spend a Thursday evening, whether you're looking to buy fresh produce, enjoy some live music, or just take in the atmosphere of this vibrant neighborhood.
Stop by on Sundays from 10 a.m. to 2 p.m., and you'll find a little bit of everything. Plus, the market is a great place to learn about city's diversity.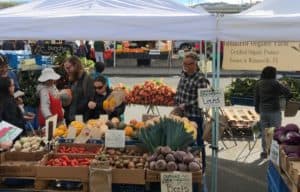 Alemany Farmers Market
The Alemany Farmers Market is one of the best markets in San Francisco, featuring everything from produce to flowers, food and art. The market also offers a variety of activities like cooking demonstrations and workshops. California's agricultural bounty is displayed all over: here you'll find local honey, cheese, meats and more. Alemany is an open-air show of community and cultural diversity, with so many vibrant backgrounds and influences which might truly inspire you.
Hayes Valley Farmers Market
Here we are getting into a popular neighborhood of the city, with restaurants and shops all over. Hayes Valley Farmers Market is the epicenter of all the things we might call San Franciscans, with various food, art, and music on display. Local farmers, many of who work right outside of their homes, sell everything from fresh produce and meats to flowers and artisanal foods.
Kezar Farmers Market
Kezar Farmers Market is not huge, but still one of the most-visited markets in the city, with plenty of great products and even better food. You'll find flowers, again, specialty goods, cheeses, charcuterie and even prepared meals.
Lime Tree Bay View Farmers Market
The Bay View neighborhood is one of the most diverse in town, reflecting the city's many cultures. The Lime Tree Bay View Farmers Market has all kinds of vendors, from hipster foodies to local farmers and artisans. Next time you're in the neighborhood, stop by for a taste and some fresh juices. You'll also find things like prepared foods, arts, crafts, and more.
Lombard Farmers Market
Lombard Farmers Market features local food and produce from all over the Bay Area, from farms up and down the coast. This place hosts a lot of homemade goods. Plus, at this colorful market you're sure to find a little something for everyone.
Masonic Avenue Farmers Market
Masonic Avenue Farmers Market has been a neighborhood meet up spot for more than 100 years, offering residents and visitors the chance to stock up on fresh produce, meats and local food. There's even a local herb shop that sells fresh herbs and organic products which many love buying for their darlings.
Ocean Avenue Farmers Market
The Ocean Avenue Farmers Market is a treasure for the Outer Sunset neighborhood. The market is not that old, it has been around since 2005 and offers sustainable and organic products from local farmers and artisans. You'll find something from all over the city and the country and some fun local vendors selling crafts and other specialties. There's often a lively atmosphere with live music and dancing too.
Ortega Farmers Market
The Ortega Farmers Market is the only market in the Lower Haight neighborhood. The market, only runs on Saturdays and it's a favorite among the local community, with plenty of fresh local produce and food. It's a great place to stock up on ingredients for a tasty meal or cool treat: do you like cooking?
Potrero Hill Farmers Market
The Potrero Hill Farmers Market has been an annual stop since 2007. This year-round market features hundreds of local vendors, food booths, and arts and crafts. If you're in the neighborhood, stop by for a taste of all things local at this vibrant market.
Presidio Farmers Market
The Presidio Farmers Market is one of the most popular seasonal markets in the city. The market, which features hundreds of vendors, has been around since 1995, offering seasonal fruits and veggies. Vendors also sell their own products, which might range from cheese to flowers.
Rainbow Grocery Cooperative Farmers Market
The Rainbow Grocery Cooperative Farmers Market has been around since the 1970sIn addition to the fresh stuff, you can find prepared foods for takeout and even dog treats for your furry friends.
Sunnyside Farmers Market
Located just off Interstate 280, the Sunnyside Farmers Market is a popular neighborhood fixture. The market has been open since 1983 and features local food, craft vendors, and live music. This San Francisco market also runs on Saturdays and features a variety of vendors, as well as prepared food.
SOMA StrEAT Food Park
The SOMA StrEAT Food Park is one of the most unique places in the entire city. The food park, which doubles as a mobile kitchen incubator, has been a neighborhood fixture since 2011. The park hosts a variety of food vendors that offer everything from empanadas to cupcakes, which might sound quite hipster too in 2023. But no worries, here you can also find fresh produce and other snacks and beverages which can't be missing.
Is that way too many markets? Then we highly recommend you get started visiting them as soon as possible.
Check out our amazing Secret Food tour in San Diego too.