In our blog, we always strive to bring our readers through a real food journey. The world is so vast, filled with flavors and gastronomic experiences that exploring all these pleasures and unraveling all these culinary secrets has truly become our obsession. And let me tell you something… we're REALLY GOOD at it!
Today, once again, we will try to transport you to one of our favorite destinations: India! And we apologize if Indian Curry is not for you, but we just can't live without it. That's why we have already talked about this subject here. But there are so many options, so many colors, so much culinary inspiration that we cannot express all of our love about curry in just one blog post.
Indian curries are, without any doubt, among the most well-known and appreciated types of food in the world. They are an explosion of flavors, aromas,and emotions in every single bite. And although in many places, Indian cuisine is already part of the daily menu, this is one of those journeys that never ends.
Before we jump into the diverse and tantalizing array of curries that you must try, let us introduce you to our Indian Food Tour in East London – a gastronomic journey specifically designed for curry lovers!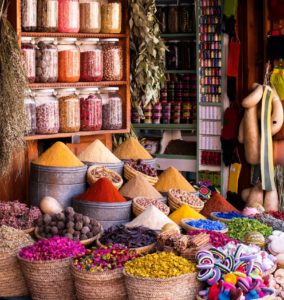 And without further ado, let's start our spice voyage!
1. Murgh Makhani – Butter Chicken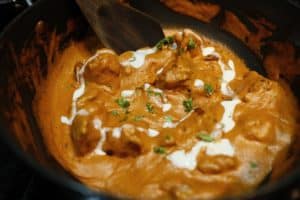 Murgh Makhani is a classic in Indian Cuisine. This dish originated in the early 1900s, in a restaurant in Delhi, India, and till today, remains one of the most requested Indian curries worldwide. It is characterized by its creamy texture and mildly spiced tomato sauce that is infused with the richness of butter and cream. This dish goes well with naan or chapati.
The origin of the name can be translated to "Butter Chicken" because of its primary ingredients. The term "murgh," on the other hand, is the Hindi word for "chicken." This curry is a perfect choice for those who are discovering Indian cuisine's versatility, and it's a good start for the rest of this list.
This Indian curry is prepared by marinating chicken in yogurt and spices such as ginger, garlic, cumin, and red chili powder. The marinated chicken is grilled or baked to perfection and then added to the tomato-based sauce. For the sauce, you have to cook the tomato puree with the spices, herbs, butter, and cream. The result, creamy and savory chicken in a tomato-based sauce with a mild sweetness that melts in your mouth.
2. Rabodi Ki Sabzi
Rabodi Ki Sabzi is a spicy curry made out of dried lentil nuggets called Rabodi or deep-fried urad dal dumplings. This dish is entirely vegan and gluten-free, making it a great choice for vegetarian foodies. It is mainly eaten with chapati or rice.
Rabodi is a traditional Maharashtrian ingredient used in curries and chutneys. It is made from urad dal soaked in water for around 6 hours, ground into a paste, and shaped into small nuggets. These nuggets are then sun-dried until crisp and last for a long time without spoiling. This dish is prepared by frying these nuggets till golden brown, adding onions, tomatoes, and spices, and cooking it with water to make a spicy and flavorful curry.
3. Red Lentil Dahl
The red lentil dahl is a variation of Indian curries that is a must-try for vegetarians and vegans. A simple yet wholesome meal with a slightly thick and creamy texture, this dish is traditionally served with rice. The primary ingredients are red lentils, onions, garlic, ginger, turmeric, and tomatoes.
This dish is rich in protein, fiber, and iron, making it a healthy option. The red lentils are boiled until they are soft and then added to a fried spice mix of onions, garlic, ginger, and tomatoes. The turmeric adds a beautiful golden color to the curry while bringing in its health benefits. This dish can be versatile in the way you serve, for example, you can add spinach, kale, or some other vegetable of choice.
4. Malvani Fish Curry Recipe
Seafood lovers, this one is for you! Malvani fish curry is a highly popular dish from the Malvan region of the Konkan coast (western India). The unique blend of Malvani spices makes this dish out of the box. This curry is best served with steamed rice and a side of Kala Masala Kelyachi Bhaji
The fish is marinated with tamarind pulp, red chili powder, turmeric, ginger, garlic, and Malvani masala before cooking. Malvani masala is a spice blend that typically contains coconut, coriander seeds, cumin, cinnamon, black pepper, chili powder, and cloves. Coconut is a primary ingredient in Malvani cuisine, which adds a nutty flavor to the curry. The curry gets its slightly sour taste from the tamarind pulp added while cooking the fish.
5. Pork Vindaloo
Pork Vindaloo is another popular Indian curry that has its roots in the Portuguese colony of Goa. This dish is prepared with pork, vinegar, and a host of spices like chili, ginger, garlic, and cumin. You get a dish that is mildly spicy, tangy, and bursting with flavors.
Back in the day, this dish was made with preserved pork but can now be made with fresh pork. The authentic version of the dish is quite spicy, but you can adjust the heat according to your preference. It is traditionally served with rice or Goan bread and can be enjoyed any time of the day.
6. Macher Jhol
Macher jhol is a widely popular Indian curry among fish lovers. It's one of those dishes with a very distinct flavor and spice profile that you can't forget. It originated from the Eastern region of India and is commonly found in Bengal.
This curry is made with Rohu fish, traditional spices, and lots of love. The primary ingredients are onions, garlic, ginger, tomato, and chili. The spices used are coriander, cumin, turmeric, and garam masala. The Rohu fish is marinated with turmeric, chili, and salt before cooking. The fish is then added to the sauce, and it's ready to serve!
This dish is perfect for those who love their food to have a bit more spice in it. You can serve it with rice or bread and garnish it with coriander leaves.
7. Jackfruit Seeds Curry
Jackfruit seeds curry is a dish that is rarely heard of outside the Indian subcontinent. It is a vegan dish and is easy to make. The main ingredient is jackfruit seeds.
The seeds are treated much like any other legume or vegetable. Boiled or roasted, and made to absorb a variety of flavors. The spices used in this dish are concentrated on the complex side with your cumin, coriander, turmeric, and other habitual curry spices. The nutty and slightly sweet flavor of the jackfruit seeds makes this dish irresistibly delicious.
Jackfruit seeds curry makes a great side dish, and its unique flavor pairs well with steamed rice and a salad.
8. Shimla Mirch Aloo Ki Sabzi
Shimla Mirch Aloo Ki Sabzi is a vegetarian dish made from potatoes and bell peppers. This dish is popular all over India and is a favorite among vegetarians. It is an easy recipe that requires only a few ingredients and is perfect for a weeknight dinner.
The dish is prepared by frying potatoes and bell peppers in a spice mix. The spice mix is usually made from cumin, coriander, turmeric, and chili powder. It gives the dish a beautiful color and a nice flavor. This dish can be served with roti or chapati and jeera rice.
9. Chettinad Chicken
Chettinad chicken is a world-famous Indian curry from the Chettinad region of Tamil Nadu. The dish is spicy, flavorful, and aromatic. The primary ingredients are chicken, tomatoes, onions, and a blend of spices that are dry-roasted and coarsely ground. It's a dry curry that goes best with steamed rice or biryani.
The signature flavor of this dish comes from a unique blend of spices called chettinad masala. It typically consists of cloves, cardamom, cinnamon, fennel seeds, coriander seeds, cumin seeds, poppy seeds, and black pepper. This blend of spices gives the chicken a smoky, earthy taste that pairs perfectly with rice.
10. Mutton Roganjosh
Mutton Roganjosh is a classic dish from the Kashmiri Cuisine. It is a slow-cooked dish that is rich and hearty. The dish is mainly prepared with lamb and lots of spices. The Kashmiri chili powder gives the dish its characteristic deep red color.
The preparation of this dish can take a while, but the wait is worth all the time. The meat is marinated with a blend of yogurt and spices. Then, it is slowly cooked with onions, tomatoes, and more spices, including coriander, fennel seeds, and saffron. This dish is typically served with steaming hot naan or rice.
11. Meen Moilee
Meen Moilee is a seafood curry that is made with coconut milk. This curry is a specialty of Kerala and is usually made with pomfret or seer fish. It's a mildly spiced curry with a creamy coconut milk base that goes perfectly with steamed rice.
The curry paste for this dish is made from a blend of ginger, garlic, green chili, onions, and tomatoes. The coconut milk is then added to the curry paste, along with turmeric and other spices, and simmered until the fish is cooked. Tamarind pulp is added at the end for a tangy flavor that balances the sweetness of the coconut milk.
12. Cavolo Nero Mallung
Cavolo Nero Mallung or Kale Mallung is a healthy dish that is made with kale. The dish originated from Sri Lanka but is now popular worldwide. The unique blend of spices and the freshness of kale make this dish a must-try for health-conscious foodies.
The kale is cooked with a blend of spices, including mustard seeds, cumin seeds, and chopped garlic. The dish is easy to make and goes well as a side dish or main course. It can be served with rice or any other bread.
And there you have it! 12 delicious Indian curries that you might not know yet, but that will surely make your taste buds dance. From creamy and savory like Murgh makhani to a healthy option like Red lentil dahl, to spicy seafood like Meen Moilee and a vegan option like Jackfruit Seeds Curry, Indian cuisine has something for all of us.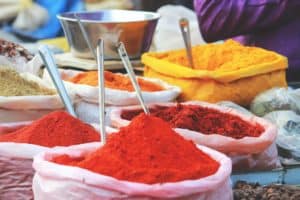 Next time you visit your favorite Indian restaurant  — in India itself would be perfect, but if that's too far we do have some recommendations, like in the UK or maybe in NYC — be sure to try something new. You never know, maybe your next favorite dish is one of the 12 Indian curries that we have talked about today.
If you still feel like you want to know more about spices around the world, make sure you check our blog post entitled "Top Herbs And Spices In British Food"!