The French have two ways to do a family Christmas meal.
Christmas eve dinner with everyone opening the presents at midnight
Christmas lunch starting around 1pm finishing …. At some point
Christmas meals are by far one of the longest because very often it will be family orientated while New Year parties are usually amongst friends.
Here is more or less the order in which we we eat
Nibbles and sweet wines like Port
Appetizers and Champagne
Starter and Wine
Main Dish, sides and Wine
Cheese and Wine
Dessert and Wine
Coffee or tea
Brandy and sweets
1/ Nibbles and Port
Typically these are set on the living room table and help people to wait for everyone to arrive. Nibbles are usually very simple – a selection of olives, crackers and chips/crisps, sliced dry sausage, all fairly salty. The Port or any other sweet wine is sipped slowly
2/ Appetizers and Champagne
We can share the Champagne (with our children too but usually from dipping their lips to a couple of mouthfuls, so they feel like grown ups when toasting). The appetizers are usually bite size amuse bouche, often handmade, such as lukewarm mini quiche or saucisse brioche.
3/ Then everyone gathers around the table, usually from the youngest on one side finishing to the oldest on the opposite side. Then wine and starters such as Foie Gras, Oysters, Quails Eggs,Tiger prawns or Lobsters and Smoked Salmon – a selection or just one or two.
4/ Next more wine and the main dish arrives, very often roast leg of lamb or poultry (pheasant, turkey …). Traditionally one of the sides will be chestnuts while the others can be a purée or roasties or veggies baked with the meat in the oven.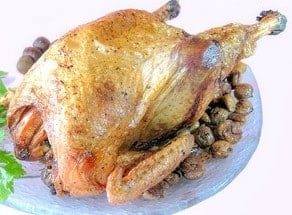 5/ A cheese plate with five or six varieties, often everyone bringing their own favourite and sharing with others. And, of course more wine.
6/ The customary dessert is a sponge cake shaped as a log called "La Bûche de Noël", the flavours will be chestnut, chocolate or hazelnut with variations or sometimes the ice-cream version. Again more champagne or sweet wine will be served
7/ Coffee or tea, if in the evening some may ask for an herb tea or caffeine free coffee
8/ As all guests either go and open their presents or just seat more comfortably , cognacs are often served along with chocolate truffles or iced cured chestnuts called "Marrons Glacés"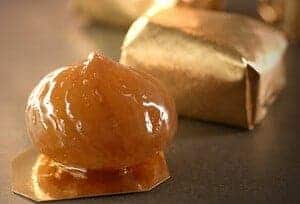 Left overs are usually eaten for the next two or three days!
You may have noticed that I did not mention truffle, because truffle is a condiment that you will find in foie gras, in the sauce to accompany the meat or the cheese, but rarely on its own. So yes, truffle is part of our French Christmas party