If you are an oligarch or an Arabian sheikh, eating at the most expensive restaurants makes little difference to dining somewhere cheaper.
For the rest of us, money is an object. But there are reasons why you may wish occasionally to go super
expensive.
• Special occasion or treat
• Need to impress someone
• Want to see what all the fuss is about
It's impossible to agree on London's most expensive. All we can say is these three listed are among the capital's priciest.
But first, some items of advice
• You may find yourself sitting among the afore mentioned super-rich. And tourists who know no better. Don't expect many Londoners.
• You generally don't need to dress up – smart casual works but not jeans
• The house wine will be fine – and save you a substantial sum
• In the UK, service is usually added to the bill – don't tip twice
• Many pricier places have lower cost lunchtime and early evening menus.
• Most super-cost places score on ambiance and service rather than food
We cannot claim to have road-tested any of these but here are some of London's costliest.
Bob Bob Ricard (1 Upper James Street, W1F 9DF, bobbobricard.com) has a reputation for champagne.
There's a gold button at every table which, when pressed, sends a bottle-wielding waiter to the table in
seconds.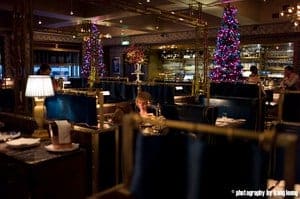 The Russian-influenced menu (clue to the clientele) features baked oysters brezhnev topped with truffle, lobster and cheese, lobster pelmeni dumplings and the legendary chicken Kiev.
Main courses are around £16 to £40.
Champagne is £75 to nearly £350 a bottle.
Go there to gawp rather than eat of the best.
Much the same can be said of Park Chinois 17 Berkeley Street, W1J
8EA, parkchinois.com
Certainly the picture below shows 1930s Shanghai opulence. As for the food, Harden's gives it two out of five with one comment saying it was little more than a good Chinese with a veneer.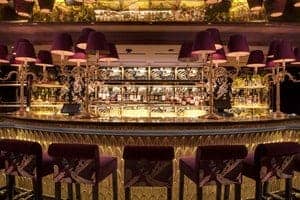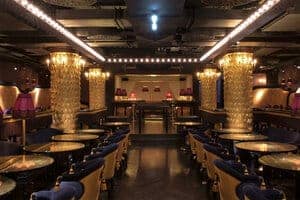 You wash your hands under golden swan-shaped taps. And every detail clothes diners in red velvet richness.
You get live music every night upstairs, downstairs Club Chinois has cabaret shows.
Service is theatrical.
The Ritz in Piccadilly is legendary.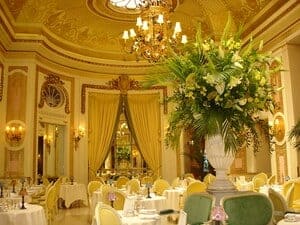 It's been the top in London luxury for well over 100 years. Tea at the Ritz has become a cliché especially for tourists. Lunch or dinner at the restaurant is more relaxed.
The three course lunch without drinks costs £93. But you get a free copy of the Ritz London cookbook.
Men have to wear jacket and tie. The food, according to Harden's is good, but not excellent.