For too many people Sri Lanka = India but this would be saying that Corsica is French, Sardinia, Italian or the Bahamas, American. Just because much is shared in the language (Tamil), history and culture doesn't mean it's all the same and dishes are usually where you can spot the local differences. Here is a list of 40 dishes you can pick from during your journey to Sri Lanka to eat like a local.
Curries
Curry is probably one of the most spread dishes around the globe between West India to Far East and Japan. Highly nutritious and served in a variation of vegetable, meats or fishes, rather inexpensive ($1 with meat/fish and less if only veggies) it's extremely popular
1.Fish Curry usually served with the fish of the day's catch
2.Deviled Sweet and Sour Fish Curry a variation of the above where the fish was deep fried and drowned in a sweet and sour sauce and lightly fried again
3.Chili Fish Curry with and extremely fragrant & oily sauce
4.Sri Lankan Dhal Curry is one of the most commonly consumed staple dishes in Sri Lankan cuisine. The dhal are red lentils often cooked in a blend of spices with a few spoons of coconut milk
5.Young Jackfruit Curry or Polos Curry, unripe jackfruit is used. The fruit is cut into large pieces and let to simmer in a blend of rich spices.
6.Sri Lankan Beetroot Curry, diced beets unique flavour is the perfect match to the curry spices it's such a wonderful dish.
7.Chicken Curry
8.Thai Eggplant Curry known as ela batu reminds you of a typical Thai green curry but Sri Lankan tasting green curry sauce makes it less sweet and more spice filled.
9.Candied Shrimp Curry is a marvellous blend of curry spices coating each and every part of the shrimp bodies.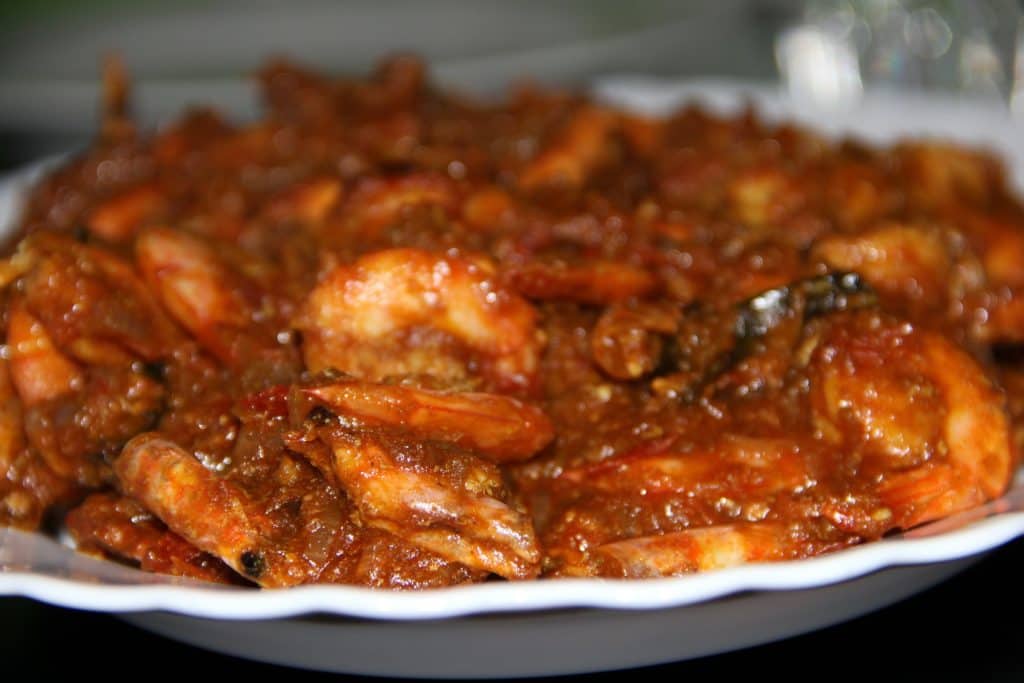 10.Cuttlefish (Squid) Curry, the squid is chopped into small pieces before being fried with peppers, onions, and a spice filled tomato based sauce.
Godamba Rotis (aka Roti) and Kottus (chopped Roti)
Rotis is white bread dough (water, flour, salt and oil some will add an egg) from Southern India and Sri Lanka that is left to rest soaking into oil overnight, once ready, it's stretched to a wafer thin layer and cooked on a hot griddle and served with curry or flavoured with other ingredients. Kottus are several Rotis strips cut down to stamp size bites, the roti are slightly undercooked to give it a pasta-like chewiness it is then mixed with other ingredients to make a dish.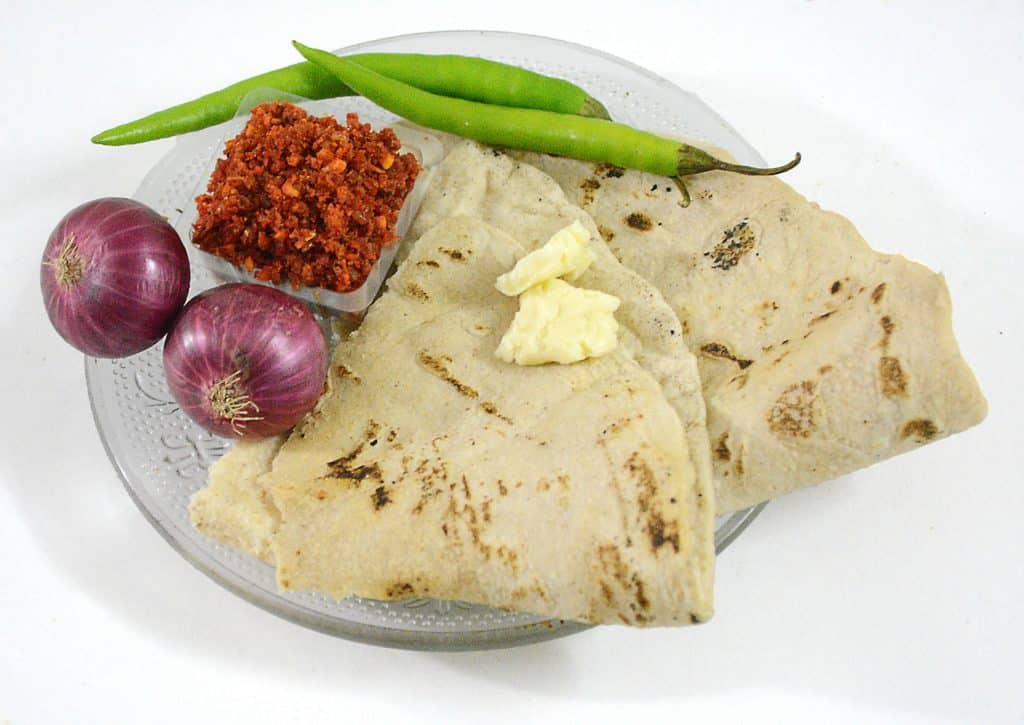 11.Roti Protein (aka Sri Lankan Chorizo) made out of soy protein and tastes nearly identical to Pork Chorizo
12.Pol Roti are made with freshly grated coconut, flour, water and salt.
13.Coconut Roti and Chili Salt is a little piece of coconut infused solid flat-bread topped with a marvelous flaky salty chili sauce.
14. Fish and/or Vegetable Roti. Triangular looking pockets in shape they are filled with fish or nice vegetarian options. Unlike deep fried samosas, triangle roti's are just skillet fried.
15. Meat Kottu composed of shredded pieces of roti it is stir fried with an assortment of spices and a choice of meat, it also often accompanies curries
16.Vegetarian Kottu as above but with a large selection of vegetables (some roti being not prepared with egg they can even be suitable for vegans)
17.Egg Kottu, another variation of kottu is with vegetables (often leek, onions, and cabbage) and egg
18.Cheese Kottu, Yellow curry powder flavor is bumped up a few notches with cheese kottu and the cheese is not traditional yellow cheddar like cheese, but rather more like cottage milk cheese.
Other dishes, there are so many choices in Sri Lanka's cuisine that it's almost impossible to eat twice the same dish on a journey in the country.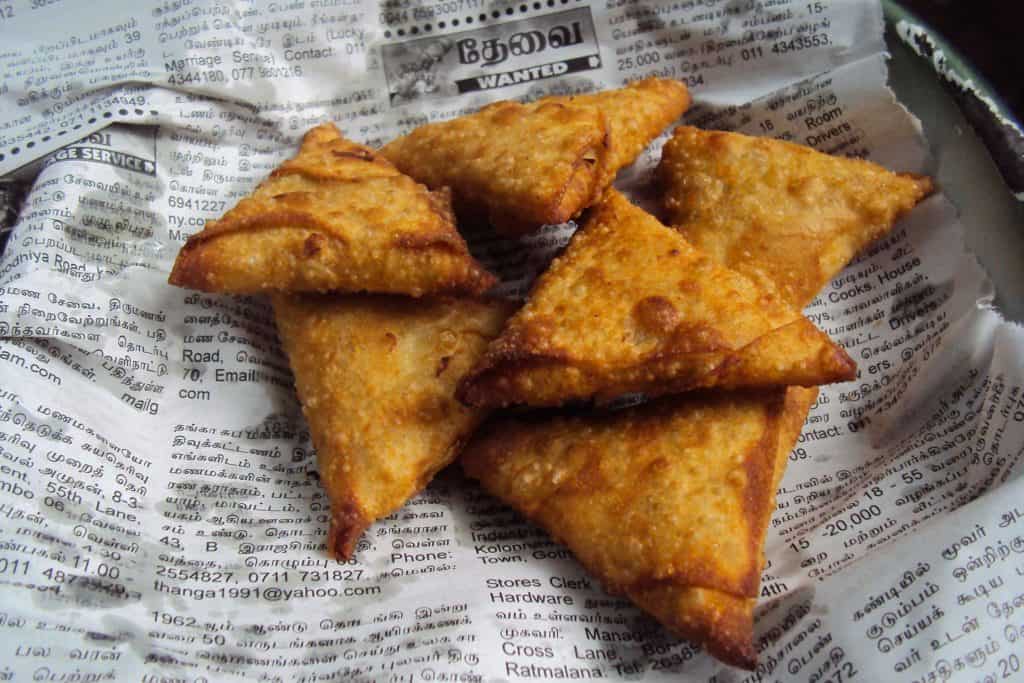 19.Gotukola Sambol, Gotukola is the word for Asiatic penny-wort, a small leafy green vegetable that's common throughout south-east Asia it is first sliced very finely, then mixed with grated coconut meat, red onions, and a few extra spices for seasoning.
20.Deep fried and salted Fish, very crunchy, their texture and flavour goes well with a plate of vegetarian curry and rice.
21.Deep Fried Chicken Fried Rice a mix of fried chicken and fried rice, so simple that we wonder why it's not more widespread
22.Egg Fried Rice, even if the name sounds Chinese, Sri Lankan fried rice still tastes like Sri Lankan food with noticeably a hint of cumin
23.Brinjal Eggplant is cooked to death with salt, oil, soy sauce, and sugar until it falls apart tender and the sugar begins to caramelize, closer to a pickle for us foreigners it quickly becomes addictive and you end up eating it with everything.
24.Cobra Chillies, may be the least Sri Lankan of all the dishes they are still worth mentioning for their hidden strength.
25.Jaffna (Northern Sri Lankan Tamil Food) is a complete meal of yellow rice, veggies and seafood curries with paranthas.
26. Egg Hoppers (Appa) are pancakes cooked in a wok giving them a thick and soft middle contrasting with the thin and crunchy edges.
27.Pol Sambola – Spicy Coconut Garnish, without coconuts there would be no Sri Lankan cuisine, Pol Sambola is a mixture of shredded coconut, chili powder or dried chillies, lime juice, red onions, and salt.
28.Lunus Miris (Onion Sambola) is the combination of chillies, onions, salt, and occasionally a few bits of Maldive fish for extra flavour, all of this ground with a mortar and pestle until getting a sauce that goes well with just anything and is often served as a side.
29. Pittu (Flour and Coconut Funnel Cakes), small cakes made of flour, shredded coconut and desiccated coconut and that are steam cooked in a bamboo stick, it's served freshly cooked with sweetened coconut milk.
30.Paratha Flatbread thicker and greasier than the Roti it nevertheless melts in your mouth and you can easily develop a craving for it.
31.Sri Lankan Omelet, the eggs are mixed with local spices such as cumin and curry powder and it's cooked simmering in coconut oil.
32.Ulundhu Vadai, another Tamil recipe, the fritters are often doughnuts shaped, made out of daals lentils and combined with tasty spices, always crunchy.
33.Cassava Chips, the Cassava roots are cut in thin slices and deep fried.
34.Deep Fried Jackfruit Seeds; simple yet efficient popular snack.
35.Deep Fried Morsels seasoned with fried curry leaves.
36.Sri Lankan Samosas, familiar triangular shape dish the use of local spices make them stand out from their cousins, they come in meat or vegetarian choices.
37.Sri Lanka Fish Cutlet Balls; often made the days catch the flavour varies but is always fantastic.
38.Full Cream Curd and Sweet Syrup, creamy, slightly sour, the sweet syrup on top makes it absolutely fantastic.
39.Woodapple Juice, that one is not for faint hearted people, if you struggle with Durian then skip it, if not then there is no better final note to a Sri Lankan meal than a cup of Woodapple juice.
40.Ceylon Milk Tea, known as Ceylon until 1972, the island is one of the world's leading producers of tea , it would be inconceivable to visit the island without having several cups of tea each day.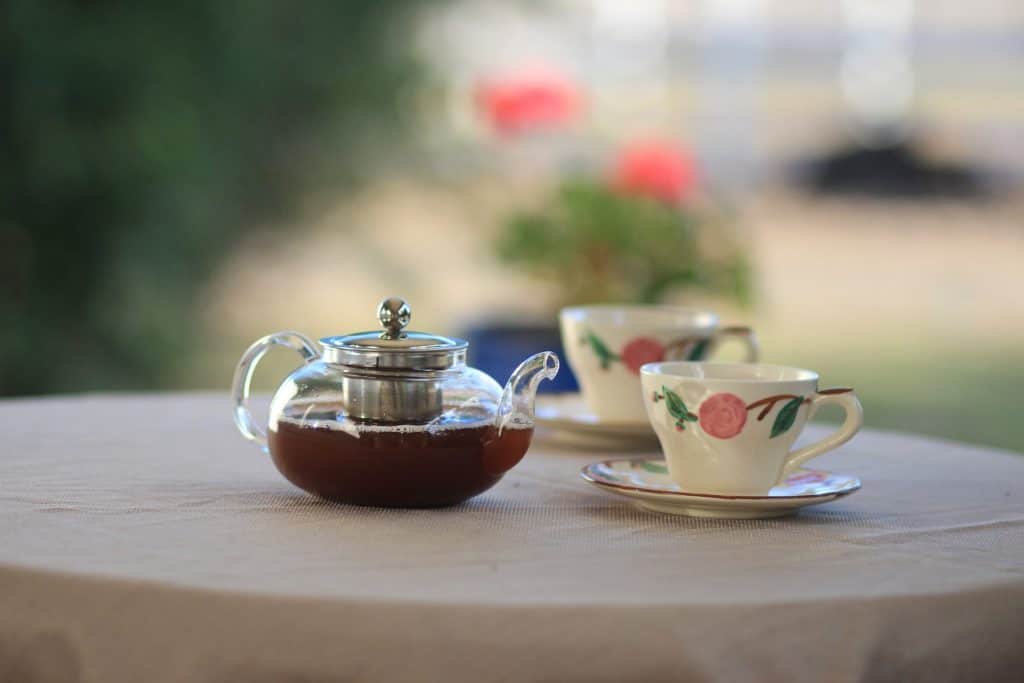 If like us, food is an important part of your journey, how about checking our award winning tours https://www.secretfoodtours.com/ , with 65 locations (and growing) all over the world we surely have one for you to enjoy.