Here, at Secret Food Tours, we are always on the lookout for new ideas and new concepts to share with our guests, so of course we had a try and we want to share the idea of 'Pay as you like' restaurants. 'Pay as you like' is becoming more and more popular and the idea is simple, you only pay for your meal with what you think it is worth or at least what you can currently pay. So how does it work and where can you find these places? Let's have a closer look at the latest pay as you like places from around the world:
But first how does this work in practice ?
Many of the owners or chefs want first to share their passion for food or introduce someone to their culture through the food but they also understand that not everyone can afford to go to the restaurant. For the concept to work it relies on several factors
Volunteer chefs (often the owners) and staff
A small menu in choice but usually of a high quality in products
Establishing a trusting relationship between the restaurant and its patrons
The restaurant having access to cheaper or self-grown ingredients
Unsurprisingly vegetarians' choices are more common than meat dishes yet many restaurants will try to offer a selection.
Once you have enjoyed your meal depending on the location you are offered with options such as paying what you like or offering some of your time as a volunteer.
Here is a selection of our favourites locations all over the world
Der Wiener Deewan in Vienna, Austria
Probably the first, it's a Pakistani restaurant in Vienna where they serve a delicious buffet for anyone who wants to enjoy Pakistani food. The all-you-can-eat and pay-what-you-want buffet offers five different curry dishes, it's vegetarian and gluten-free friendly with three vegetarian dishes options . Very conveniently, Wiener Deewan is open 23 hours every day except on Sundays so when visiting Vienna you don't really have an excuse not to go and you may even enjoy their play as you wish Jam-sessions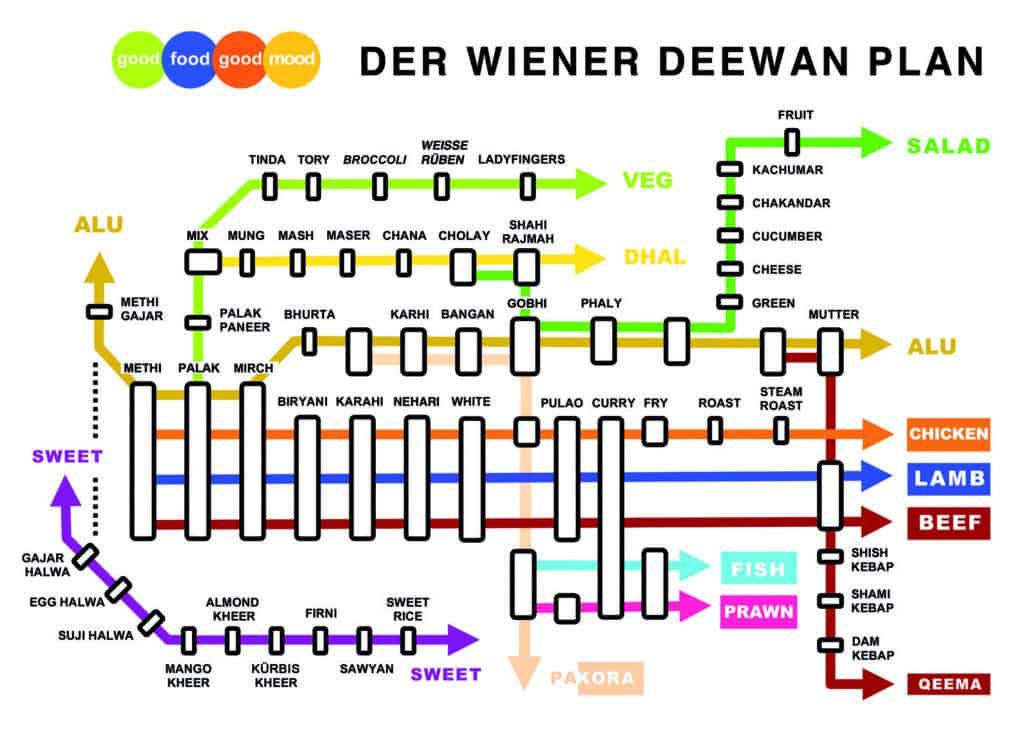 Picture courtesy of Der Wiener Deewan http://deewan.at/wp-content/uploads/2011/07/WD-plan-2011.jpg
Website: deewan.at
Lentil As Anything in Melbourne or Sydney, Australia
Eating a healthy meal does not have to be pricey. It has now grown to become a chain of Vegetarian and Vegans restaurants with three locations in Melbourne (where it all started) and one in Sydney, all four "Lentil As Anything" restaurants will serve organic and freshly prepared vegetarian meals on a pay-what-you-want basis. Nutrition and health is their reason to exist and for now over 15 years the restaurants have successfully promoted community values and provided everyone with wholesome and nutritious meals.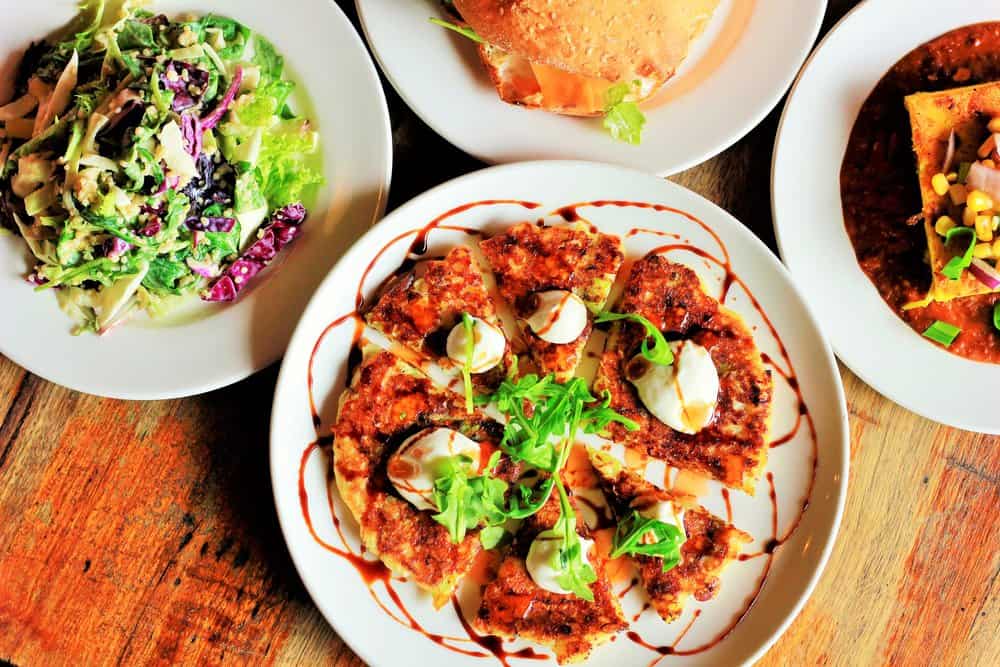 Picture courtesy of Lentils As Anything (no permission asked)
Website: lentilasanything.com
JBJ Soul Kitchen in Tom's River and Red Bank, New Jersey, USA
When seeing the name JBJ Soul Kitchen one Rock lover can wonder if the initials stand for Jon Bon Jovi and rightly so because it does, born in New Jersey Bon Jovi has always wanted to go the extra mile for his community and with now two restaurants the JBJ Soul Kitchen serves up food and dignity to the local community. To set the bill patrons are offered with two options : to pay for their meals with dollars or to volunteer their time. The food is great and the menus are different between Tom's River and Red Bank and they are all made with soul seasoning.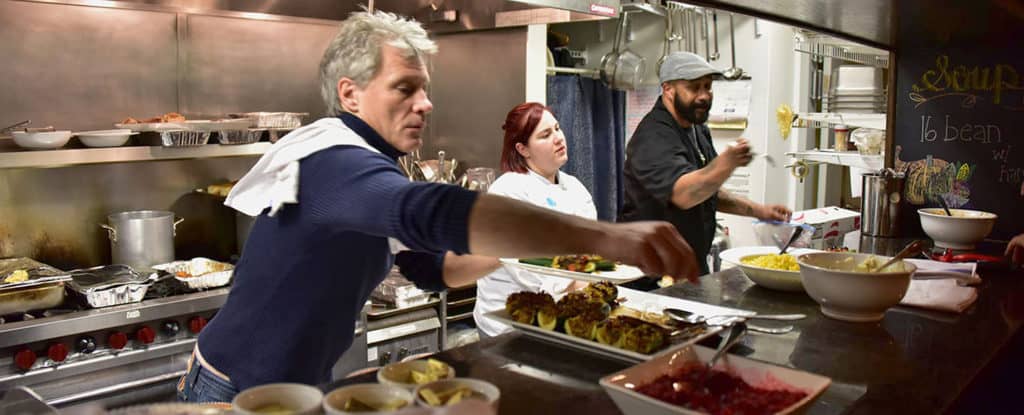 Picture courtesy of JBJ Soul Kitchen (no permission asked)
Annalakshmi Singapore
Singapore's Annalakshmi is run by a third generation Tamil family. It offers an all-you-can-eat and pay-what-you-want service with a fantastic selection of South Indian dishes, the food is vegetarian and fresh, they are well known for their buffet but as we write this, the current Covid had it closed for social distancing, make sure before visiting by calling if you want to enjoy it. The decorum is also fantastic. The concept also contrasts as the Annalakshmi is known to be a high end expensive restaurant while it's a hidden and inexpensive restaurant here in Singapore.
Ziferblat, Coventry, United Kingdom
Now for a variation on the concept this café offers bottomless coffee and beverages with snacks and what you are expected to pay is the time spent in the premises. The first hour is charged $6 and the $4 for the consecutive ones, needless to say that it is still a great value/time ratio.
Picture courtesy of Ziferblat
Website : www.ziferblat.co.uk
Why are there not more restaurants offering such service?
Studies show that only 5% of the clients pay less than the value of the meal yet not many restaurants opt for this style and the reasons are usually on the legal/tax side of the action.
In many countries prices and taxes have to be displayed on the menus to avoid tax evasions or potential discriminations, this is the case for France, Germany, Italy and Spain. In some states in the US a restaurant can decide not to charge for meals but then have to register as a charity to be able to accept donations.
So you can see administrative burden can turn a lovely idea into a nightmare.
Some places try to go around thanks to some grey areas of the law, in France, a restaurant does it two months per year as part of a special event that enables the chef to set his menu for the coming season. Sadly many are the ones that would like to delve further into the idea but that are hampered by the difficulty to comply with local regulations or requirements.
Although we are Secret Food Tours don't go to any Pay as you Like restaurants, we love the idea and fully support them. We also try our best to help our local guides and communities as well. So why not join one of our award winning tours https://www.secretfoodtours.com/ you don't just get to enjoy local food and history you also have a local guide to provide you with lots of cool tips and advices, hidden gems and "locals only know" venues, this is why we would highly recommend you to book our food tour for the first few days of your journey, so you can make the most of your guide's knowledge and see the larger community.