The Siam/Indochina peninsula is the Heaven of foodies, from adventurous, meat eaters to discerning vegetarians, Ho Chi Minh Ville/Saigon is yet another jewel on the crown of tasty food, the quality of the food from the insanely cheap less than a $1 stalls to the $50 gastronomy restaurants. Let's have a look at our favourite places
Cyclo Resto
Upon your arrival in Hô Chi Minh-Ville the first address to visit for is the Cyclo Resto, it's the perfect introduction to Vietnamese food and their sense of welcome, located in quiet street it's a few steps away from the Ben Thanh market that you can visit prior to your meal to tease your appetite.
Their introductory menu will fill your senses with dishes such as sliced lemongrass fried chicken, Vietnamese spring rolls or a fish stew in a clay pot not to forget the coffee candle heated.
Also if you have a little spare time they offer great cooking classes to learn how to prepare local dishes
Cyclo Resto 3 Dang Tran Côn, Ben Thanh, Q.1
Rang Dong Hotel
The hotel's restaurant offers a variety of Vietnamese specialities among which the classic soup Phô and its variations and also some great BBQ meats and fishes. A very local atmosphere with low tables and chairs.
Rang Dong Hotel 83 Cách Mạng Tháng Tám, Phường Phạm Ngũ Lão, Quận 1, Thành phố Hồ Chí Minh 70000
Toi Bia Saigon
On the busy street food of Thang Long awaits you Toi Bia Saigon, the colourful owner will welcome you and her personality will charm you, one of the best address for Hot Pots and seafood as they are kept fresh on display in the restaurant's aquarium
Toi Bia Saigon ? 15 Thang Long, Q. Tan Binh
BunThi Nuong
Some time to find something you almost need to be lost, this is the case for Bun Thi Nuong, at the far end of the alleyway leading to Dong Khoi factory, past a metal gate is a corridor with tables and chairs, a scanty menu hangs on the wall but if you made it this far it's to try their fantastic Bun Thit Nuong (Bo Bun rice vermicelli served with a sweet and sour fish sauce dressing and crispy spring rolls). Just be careful the restaurant closes at 5pm
Bun Thi Nuong ? 88 Ngyen Hue, Q.1- Dong Khoi Factory dead end
Quan Ôc Ngon
This place is the Mecca of the Street Food, there, you will be able to eat everything and anything, not recommended to vegetarians as the live stocks (geese, rabbits and chickens) or fish stand in cages and aquariums at the entrance, freshness guaranteed. It's a bit noisy but so very typical and a couple of Tigers beers will make you feel like a local in no time.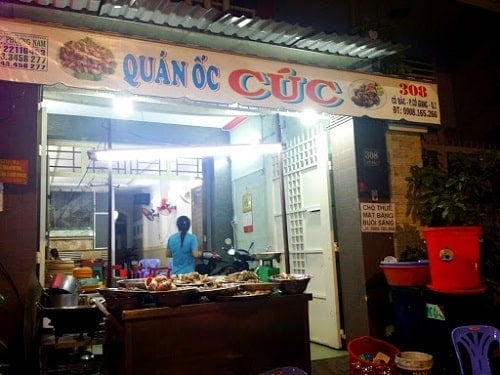 Quan Ôc Ngon 1 – 220 Pasteur, Q 1
Quân An
Just behind Ben Thanh's Market, this three storey high air conditioned cafeteria is a heaven of freshness, the friendly staff will serve you a variety of spring rolls, soups and salads and if language becomes an issue the illustrated menu will save your day, by nightfall they turn the sidewalk into an open café
Quân An ? Thanh Binh – 140 Lê Thàn Ton Q.1
Lau Ca Kèo Ba Huyen
On a hot day sometime you will want to swap a restaurant for a lighter Bia Oi (Drinking Restaurant) Fresh beers and snacks (fried fishes, seafood, steamed veggies etc…)
Lau Ca Kèo Ba Huyen ? 87 Ba Huyen Thanh Quan Street, Q.1
19/15 NTMK Q.1 
This is one of the rare venues in the city that offers its own stout beer, tiny location for equally tiny prices they offer a decent selection of seafood, meats and veggies. Definitely a place that grows on you and becomes your local fallback
19/15 NTMK Q.1 ? 19/15 Nguyen Thi Minh Khai Q.1
Bo Tung Xeo
If for you visiting Vietnam consists of a tick list of "Dare and Do" dishes then Bo Tung Xeo is the place for you, roasted cockroaches, scorpions and other insects, frogs and goat penis hot pot await you. Very popular among locals it's a fairly smoky and noisy spot but at the end of the day, if the locals can do it, why couldn't you?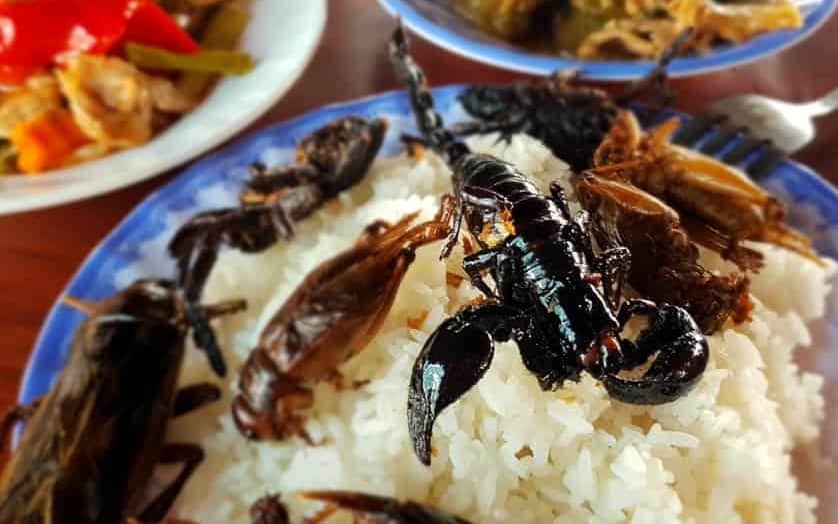 Rest assured that their menu also offers less daring dishes should your travel companions be less adventurous than you are
 Bo Tung Xeo – 31 Ly Tu Truong Q.1
Banh Mi Huynh Hoa
The national snack by excellence, heritage from the French colonisation this baguette sandwich is filled up with all sorts of tasty ingredients. Huynh Hoa is known as the best Banh Mi in town and it's also one of the biggest. No room for seating there, you join the queue outside the shop and then enjoy it as you wander the district. Best ratio value for money and size
Banh Mi Huyenh Hoa, "Best Banh Mi" – 26 Lè Thi Riêng, Q.1
5 Ku Station
Street Food Chain specialised in BBQ and hot pots, they set their business in unused locations or halted construction sites. As it's a BBQ you will bring home that beautiful charcoal fragrance with you, best enjoyed during the day.
 5 Ku Station ? 27 Lê Thanh Tôn Q.1
Ru Pho Bar
In a car-less quiet street, this restaurant is just the right size, neither too small nor too big and the flowers bring a nice touch to the open space, two menus, one authentic, the other healthy (perfect for vegetarians) we often enjoy their Pho Xao Bo Uc (fried rice noodles with Australian beef)
Ru Pho Bar,27E Trần Nhật Duật, Tân Định.
Quan Ban Xeo
Ban Xeo is a rice flour galette stuffed with a selection of pork, shrimps, onions and soy beans and served with salad or mustard leaves, as with many backstreet restaurants it's a little bit tricky to find the location but it's always worth it. Ban Xeo is a meal to share, it's always good to know when ordering.
Quan Ban Xeo 46.46 Đinh Công Tráng, Tân Định, 1
Turtle Lake
If you want to take a small break from the noise and proximity of the street food restaurants but still enjoy the flavour and authenticity, Turtle Lake is a clean and friendly place, with a small selection of only 6 or 7 noodles dishes. There you won't be bothered by noisy tourists as only locals come to enjoy their noodles
Turtle Lake, 2 Công trường Quốc Tế, phường 6
Lemon Grass
This is on of the best Gourmet restaurants in Ho Chi Minh, in the heart of District 1 and a typical narrow 3 storey high building, the presentation of the dishes is French but the taste is authentic and Vietnamese, the menu has an excellent selection of meal and in the evening, candle lights and live music bring a touch of romanticism
Lemongrass 4 Nguyen Thiep , District 1 
With over 60 destinations and 7 in Asia we surely have a Secret Food Tour for you, if you visit Northern Vietnam come and join us on our award winning Secret Food Tour of Hanoï our native guides will fill your senses, bellies and brain with wonderful memories