International travellers are drawn to Scotland mainly for its rugged natural beauty, unique culture and history complete with rolling mountains, locs and medieval castles.
What is less famous however are sometimes overlooked, is Scottish traditional foods, which are extremely delicious and made from natural and organic ingredients.
Therefore, to give you a introduction to Scottish food, we have picked the best and tastiest dishes to try when you are visit:
Haggis
Haggis of course has to come top of our list as the most famous of Scottish custine. It's extremely tasty and is maybe the most underrated national dish of all time. It's traditionally made from 'sheep's pluck', the finely chopped liver, heart and lungs, mixed with oatmeal, suet, herbs, spices and seasoning, packed into a natural casing (traditionally sheep intestines) and boiled or baked. But many Haggis recipes can be made only from vegetables and are very good as well. Often it's served with 'neeps' which means swede or turnip and the 'tatties' refer to potatoes. Haggis is delicious, don't knock it until you have tired it.
Grouse
Grouse is a type of Scottish game particularly treasured ingredient for its beautiful flavours. Often served roasted or in casseroles, each bird is normally enough to serve one person. It's a must try when you are there.
Cranachan
Cranachan is traditionally made with crowdie, a soft crumbly Scottish cheese, mixed with honey, cream, oats, a little whisky and fresh raspberries. Normally served in a glass, it is best often referred as The king of Scottish desserts, and is both rich and satisfying.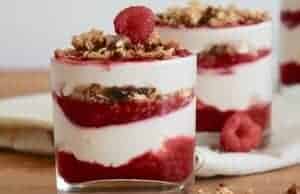 Ashet of caboc cheese and oatcakes
This dish has its roots in France, an ashet loosely translates to assiette in French, meaning a platter. Caboc is the oldest cheese in Scotland. This cheese is very creamy and eaten with oatcakes.
Cullen skink
A pure delight of a soup, this dish is made with smoked haddock, potatoes and leek. It's creamy, rich and very comforting. Perfect to warm you up on a cold day.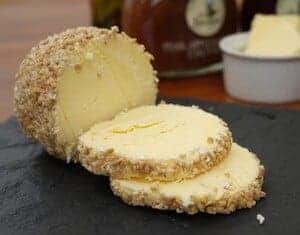 Tablet
The most famous traditional candy in Scotland, Tablet is a fudge-like dessert, filled with sugar, milk, butter and condensed milk, and then heated to cook it all together. The result is a perfect treat if you have a sweet tooth!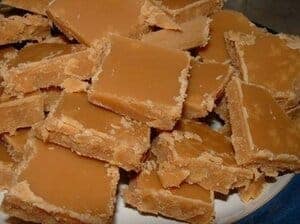 Whiskey Mac & Hot Toddy
Finally, although not technically a food, we could not write about Scottlish delicacies without mentioning whisky. As we would need a whole blog to go into this subject, we will just mention 2 whisky based drinks. Firstly, the Whiskey Mac is a combination of Scotch whiskey and ginger wine. It's very smooth and the ginger really adds a lovely spicy flavour. The second, the Hot Toddy, is best for a cold day. It's Scotch whiskey mixed with piping hot water, cinnamon, honey and other spices.
So there you have it, some of our top Scottish traditional foods.
There are many more to be found in this great country and if you would like to try the best examples in a day, why not try our Secret Food Tours Edinburgh Tour. Where you will get to try some of these mouth-watering dishes and learn more about its history or them as well.