British Cheese – a bite with plenty of bite
British cheese once had an appalling reputation, nicknamed "mousetrap" – because that was all it was good for. To say it was tasteless was to give tastelessness a bad name.
Now that has changed. These islands produce around 750 to 800 varieties; there are hundreds, if not thousands, of artisan cheese producers; and even those produced for supermarkets by industrial dairies have improved out of all recognition.
You can, of course, still find bad cheese. Avoid "mild cheddar" and "cheese slices".
Your best bet is a cheesemonger.
These are shops devoted 100% to cheese. It won't just be British cheese – they will have produce from all over.
The best known is Paxton & Whitfield – in London's swanky Jermyn Street (parallel to Piccadilly).
It's been around since the late 1700s. Also worth a visit is Neal's Yard Dairy in Borough Market (convenient for Secret Food Tours) and Covent Garden.
There are many others,in London and elsewhere, while some supermarkets such as Waitrose have specialist cheese departments.
Look for –
Origin – the best cheeses come from a known single maker.
Maturity – generally the longer the cheese has been kept from first making, the better. Expect to pay more for a 24 month cheese than a 12 or six month from the same place.
Strength – many put a number on cheese to indicate strength – one to five with five the strongest. A five is not a better cheese than a one – just a more pronounced taste.
Here's some of our favourites
Cheddar
A hard cheese and the favourite variety in these islands. Made from any milk but usually cow's. It can be cooked, (as in Welsh Rarebit) and forms the basis for the pub favourite "ploughman's lunch" (cheese, bread, onion, pickle and a pint of beer or cider). It can be produced anywhere. It can come in various flavours – anything from whisky to cranberry. Pay £10 to £25 a kilo.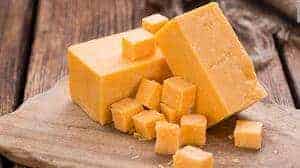 Stilton
A softer blue-veined cheese, traditionally eaten with a glass of port after a meal. It must be made in Derbyshire, Leicestershire or Nottinghamshire from pasteurised cows milk. But not in Stilton (to the annoyance of the people of that Cambridgeshire village). Expect to pay £13 to £30 a kilo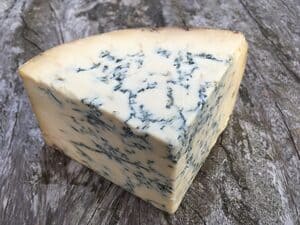 Bath Soft, Kidderton Ash are varieties of soft cheese – as is the more easily found Somerset Brie. Mild in flavour, the French might see them as imitations of Camembert or Brie. Expect them to be runny – great on crispy bread. Around £10 for a 250gr piece.
Stinking Bishop, Cornish Yarg, Wigmore are semi-soft types. The first has a pungent smell (hence the name) but a subtle flavour. Stinking Bishop costs around £25 for 500gr.
Cream cheese, cottage cheese, Colwick are varieties of fresh cheese. These should be eaten as soon as made – if they age, they go mouldy. Fresh cheeses tend to be white with a bright, fresh and sweet flavour. In the UK, the majority of artisan fresh cheeses are made using goat's or ewe's milk. A wide variety of prices.