Pie favourites
London may not be the pie capital of Britain. Many pies originated in far flung places – Cornwall with the pasty, Melton Mowbray (in Leicestershire) for pork pies, Scotland for a big variety, and go to any bakers in northern England and you'll see a wide variety at low prices.
But you can get all these – and gourmet versions – in London.
Still, London has a few unique pie connotations. There's Sweeney Todd, the mad barber of Fleet Street, who turned his customers into delicious meat pies. And linked, there is a Stephen Sondheim song called The Worst Pies in London.
A pie is almost any filling – meat, vegetables, savoury, sweet, encased in pastry.
Most pies can be eaten hot or cold, at table or on the go. Not so Eel pie and mash, which is usually eaten in a pie shop.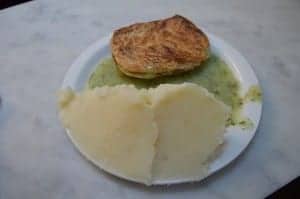 It's a truly London dish, pictured above at Manze in south east London. The green stuff is "liquor" – normally made of peas.
Sometimes described as a "working class staple", it is no such thing – most Londoners have never tasted it and have little idea where to buy it. There are only a handful of pie shops left. Expect to pay about £5. If eel is not your thing, most of these pie shops sell meat and vegetable pies as well.
You can find pies of varying quality in supermarkets. And the Cornish Pasty is often found at larger railway stations – thanks to the West Cornwall Pasty Company stalls.
Or you can go posh.
The Langham Hotel in Langham Place has an upmarket pub, The Wigmore. It's overseen by Michel Roux Jr. The pies have soft sides, and a well browned crispy top. Variety, beautifully browned. Varieties include venison, carrot and parsnip pie, steak and kidney, and sometimes an Indian-inspired Chicken Tikka. Around £18.
Putney Pies (2 Putney High Street, SW15 1SL, putneypies.co.uk) has a great Thames side location with a wide and changing variety – mostly £14.95. A pint of beer or cider costs £5.50. Pies include steak and ale, a Mexican-inspired chilli pie, and wild rabbit and apple pie, chicken, and mushrooms.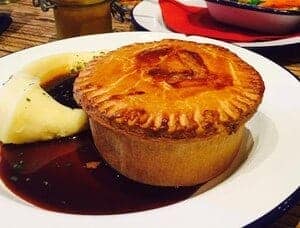 Most pie shops now sell vegetarian varieties such as mushroom or cheese. Pure vegans, however, need to look further as they must search pie crust ingredients as well.
Young Vegans in Camden Market (60 Camden Lock Place, NW1 8AF, youngvegans.co.uk) fills this need.
Its pies are totally animal product-free, with fillings including vegan steak (i.e. seitan) and ale, a katsu curry pie with vegan chicken, and a "Aussie Pie", where vegan mince meat is mixed with onions and a rich gravy. It also has more conventional vegetable fillings. Pay around £3.50 to takeaway.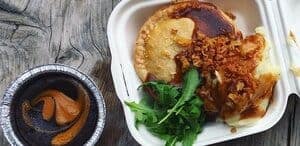 There are many more pies – expensive, cheap, takeaway, eat at table, on their own or served as part of a meal. So forget Sondheim and his worst pies. Forget Sweeney Todd and his human flesh pies. London is a pie eaters' paradise.