Ah, Nashville – when you hear this name, the sounds of Country, Bluegrass, and the haunting melodies of the Americana music genres come to life. This pulsating city, affectionately known as the "Music City," has long been a beacon for musicians and musical enthusiasts alike. As you step into this enthralling destination, the vibrant chords of its musical spirit reverberate through the bustling streets and historic honky-tonks, weaving a melodic tale that tugs at your soul.
But the city has more than just music to offer. Deeply embedded in Nashville's DNA is its love for food that transcends mere sustenance. Its culinary scene combines the warmth of human connection with the joy of taste, creating a delightful, shared experience. Behind every plate is a story that holds the essence of this city's diverse heritage: the flavors of the South, seasoned with diverse culinary traditions, with just a dash of grit and determination that's unmistakable to Nashville.
Within the historic neighborhoods that dot the city, Nashville's food landscape unfurls like a vivid tapestry of flavors and colors. As you stroll through its vibrant streets, a delightful aroma of Southern comfort greets your senses, with every dish inviting you to take part in a soulful dance of culinary discoveries. The city proudly flaunts its eclectic range of eateries – from long-standing, family-run establishments serving homemade goodness to trendy, artistic food joints dishing out innovative gastronomic creations.
Against this musical and culinary backdrop, we have curated amazing experiences for you – our Nashville Secret Food Tours. These carefully crafted journeys take you through the historic neighborhood of East Nashville and the famous  12 South Avenue, allowing you to not only explore the city's dynamic food scene but also touch the very soul of its rich heritage. As you embark on these Nashville food tours, you are not only satisfying your cravings for soulful southern bites and dishes that push the boundaries of traditional culinary norms, but you're also indulging in the fascinating narratives of Nashville's storied past that continue to shape its present and future.
Buckle up! We are about to take your senses on a rollercoaster ride through two of Nashville's most captivating food narratives. From thoughtfully curated dishes that capture the essence of Nashville, to the immersive stories that provide context, every detail on these tours has been crafted with love.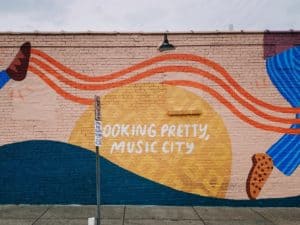 Step into the sophisticated world of 12 South – an evenue that shimmers like a well-preserved diamond polished by Nashville's industrious spirit.
A Glimpse of 12South: Where History Dances with Modernity
Brimming with a historic charm yet bustling with a lively, contemporary vibe, this area is a testament to Nashville's evolution over the years. Here, past meets present; time-honored traditions blend seamlessly with innovation; and Southern charm intertwines with cosmopolitan sophistication. Heritage buildings stand tall alongside stylish boutiques, each whispering tales of an era that has shaped the fabric of 12South.
Tastes of 12South: An Edible Tapestry of Southern Tradition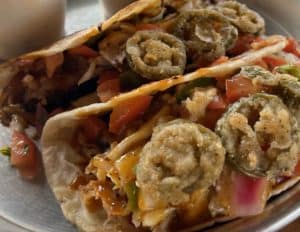 Our 12 South tour begins with a city-famous breakfast delight – the Breakfast Taco. Layered with mouth-watering ingredients like eggs and avocado, each bite invites you into a world where food is art and moments are savored. Next, lose yourself in the Southern hot pork & grits casserole that warms up the soul like a country song on a clear, starlit night. The ecstasy does not end here. Our tour also features a renowned Gourmet cookie and a very special Pear & Taleggio Pizza with an amazing ingredient: hot honey! And, of course, there is the Secret Dish… but you will only discover what it is if you join the tour! C'mon, we know how to keep secrets!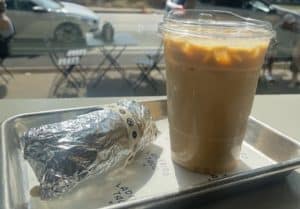 Quench Your Southern Thirst
Nashville's vibrant craft beverage industry comes to life in our 12 South Upgraded Drinks Package. Whether it's the refreshing Spring Fling drink made with Pineapple plantation rum, ginger syrup, and lime, the Southern classic Bourbon Tea, or an Iced Carmadillo for a sweet moment, we have you covered.
As we navigate away from the bustling 12 South Avenue, we find ourselves immersed in the rapidly evolving and increasingly vibrant neighborhood of East Nashville. This unique pocket of the city is not only steeped in history, but it also teems with pulsating energy from its thriving culinary scene, flourishing local businesses, and tight-knit community spirit. Here, we're poised to embark on a delightful voyage of delectable discoveries.
East Nashville is a beautiful juxtaposition of history unfolding amidst rapid growth and development, maintaining the charm of its storied past while adapting to embrace contemporary trends. From new, artistic eateries to the ever-growing number of revitalized establishments, each adds to the wonderfully varied culinary rhythm that underlies the heart and soul of East Nashville.
Flavors from the East Side: Comfort Food at its Best
When on our East Nashville Secret Food Your, the Hot Chicken boldly announces its arrival with a fiery sizzle, challenging the palate and warming the heart with its honest simplicity. (But don't worry, if you cannot handle spicy foods we have an excellent second option: Devil'd Eggs!)  As the ingredients mingle and melt, they pay a delectable tribute to Nashville's love for good ol' Southern comfort. But there's more!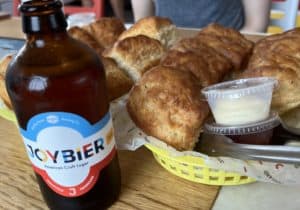 From a Buttermilk Biscuit that whispers tales of home cooking to the Pulled Pork BBQ Sandwich, a mighty symbol of Tennessee's BBQ culture awaiting your admiration, the East Side does not hold back, and of course…. there is also our Secret East Nashville Dish!
Extra: The Legacy of Hot Chicken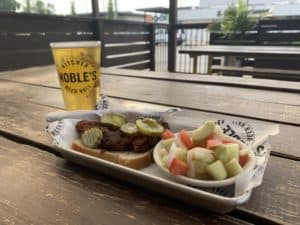 As we bring forth the most authentic Nashville flavors for you, the iconic Hot Chicken certainly steals the show. This mouthwatering dish, a unique concoction of fried chicken bathed in a cayenne pepper paste, has a long-standing history in Nashville, often epitomized in a plate of this lava-spewing poultry.
As per various Southern stories, the flame of Hot Chicken was kindled by a man named Thornton Prince. Thornton was a man with a reputation for having a good time, even in the direst of times, such as the Great Depression. Thornton was allegedly fond of indulging in infidelities, and the birth of Hot Chicken might not have been entirely unrelated to his betraying ways. After a notorious night out, Thornton's aggrieved partner decided to teach him a lesson by adding an excess of heat to his morning breakfast chicken. But the scheme backfired when he didn't just tolerate the heat but loved it. As a result, a legendary dish was born, and it rapidly became a staple of Nashville's food culture.
This zesty chicken recipe, while born out of one man's spirited love life, transformed into an iconic dish that now symbolizes the cultural idiosyncrasy of Nashville. Adopted and popularized by the Prince family, Hot Chicken has evolved and continues to spice up Nashville's culinary spirit.
So when you take a bite of our hot chicken, you're not just tasting spice. You're tasting Nashville's history, resilience, and love for life that's as fiery as the chicken itself.
Raise Your Glasses to the East
And amidst all the gastronomic extravaganza, let's not forget about the fantastic libations. Whether it's a chilled Local Craft Beer, a delightfully unique Cream Corn Ale, or the synonymous with Southern spirit – Lynchburg Lemonade, Nashville's thriving craft beverage culture shines in every sip of our East Nashville Upgraded Drinks Package.
We like to think of our tours as pulsed lyrics of a beautiful song. Each site a note, every dish a rhythm, and together they unfold the delicious composition that is the Nashville culinary experience. So, come along and fall in love with the symphony of flavors that awaits you in our beloved "Music City". Taste, savor, and explore the Nashville food tours, where every bite leads to an edible encore!