London is full of open spaces where you can picnic. These range from small squares with benches (and sometimes picnic tables) to large tracts of park where you can wander all day. It's what makes it different from most other big cities. It's also why London is not such compact city as Paris or Rome.
Surprisingly, given the legends and rumours, London is pretty much dry most of the year. And it rarely gets that cold.
Rule 1 is there are no rules. You can sit almost wherever you like, on the ground, on a bench. You can eat and drink without worrying – only a few open spaces have alcohol bans. The only real no-no is firing up barbecues.
Here are my favourite places to get away from everyone while not being far from anything.
Regent's Park (closest tube Baker Street).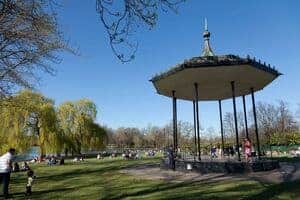 This is a Royal Park which leads onto Primrose Hill (convenient for Camden market and the canal). It contains London Zoo, one of the capital's oldest mosques. There are ice cream kiosks. And plenty of space.
Green Park (closest tubes Green Park, Hyde Park Corner) . Another Royal Park. This dates back to 1554. It was once a duelling ground but now it is best known for its long walks, tall trees, and all the peace and quiet of an urban oasis (if you exclude the joggers!).
Hampstead Heath (closest tubes Hampstead, Belsize Park, overground to Hampstead Heath).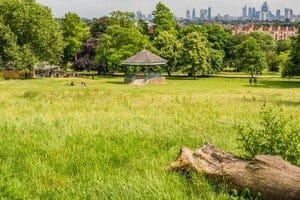 Exit the railway stations for some of London's best food shops. Many hectares of open ground where you can picnic. This is big enough to get lost in. Features include Kenwood (pictured above) , a stately home open free of charge, the mixed and women only outdoor bathing places, and plenty of surrounding history. Owned by the City of London.
The South Bank (nearest tubes Waterloo, London Bridge, Charing Cross) – not a park but there are many places to sit while people and Thames watching. And enjoying a picnic – there are plenty of food and drink stalls if you don't bring your own. If you start at London Bridge, you are close to Borough Market for all sorts of wonderful foods and drink. This is where the Secret Food Tours British Foods journey starts.
Kensington Gardens (nearest tube Kensington High Street) –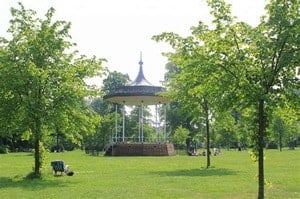 This melds seamlessly into Hyde Park, creating the possibility of 10 kilometre (6.5miles) walks. The tube station area has great food shops. The park itself contains Kensington Palace, where Queen Victoria was born. The whole area has been a shrine to the late Diana, Princess of Wales. You could sail your model boat on the Round Pond (pictured below).